Wayne Shorter: How the Future Would Be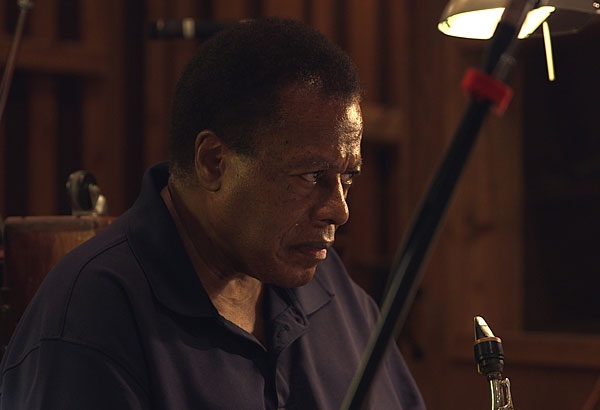 Wayne Shorter is 85. His mind moves at warp speed, a million miles from Art Blakey's Jazz Messengers, who rescued him from Newark, New Jersey—or the Miles Davis's second great quintet, for which the saxophonist wrote the compositions that would establish his genius. Shorter's constellation of classic Blue Note recordings from 1964–67—
Night Dreamer
,
JuJu
,
The All Seeing Eye
,
ETC
,
The Soothsayer
,
Adam's Apple
,
Speak No Evil
,
Schizophrenia
—is now but a dim cluster of stars in his ever-expanding musical galaxy.
Wayne Shorter is arguably the world's greatest living jazz composer, one of the music's finest tenor saxophonists, and its most brilliant and creative mind. From his breakthrough with Art Blakey's Jazz Messengers (1959–1964), to his innovative compositions and playing with Miles Davis's various groups (1962–1970) and his Blue Note solo albums, from his playing with the visionary fusion group Weather Report (1971–1985), which he cofounded with Joe Zawinul, to his many recordings with Herbie Hancock and Joni Mitchell, to his current quartet, this much-heralded musician never stops. Shorter's mind is in perpetual motion, tackling everything from CERN supercolliders and his own orchestral compositions (heard to wonderful effect on his latest Blue Note release, Emanon, footnote 1), to Buddhism, graphic novels, and the cosmic conundrum of the nature of existence following this terrestrial life.
Shorter's current quartet, one of jazz's most adventurous units, released four albums between 2002 and 2013: Footprints Live!, Alegría, Beyond the Sound Barrier (all on Verve), and Without a Net (Blue Note). Emanon (2018) seems to coalesce his entire body of work into three CDs: two of his quartet, recorded live in London, and a third of the quartet augmented by the Orpheus Chamber Orchestra. (The set includes a graphic novel by Shorter, also titled Emanon.) This very rewarding music takes a while to digest.
Ken Micallef: Your three-CD album, Emanon, is great. Why did you choose to record the orchestral CD in the studio, but the two quartet CDs live in concert?
Wayne Shorter: We only had a short time to be with the chamber orchestra. We recorded in the studio after a live performance at Carnegie Hall. The orchestra went on to Pennsylvania. In London, [the quartet] had more room to do what we do, as long as we depended on ourselves.
KM: You prefer to record the quartet live, with no rehearsal?
WS: We like to know what it's like to play without the rehearsal, and also to play with other people, with some of them rehearsing a little bit. Like the classical side rehearsing and our side still being spontaneous. But we don't demand that the orchestra change their personality, their muscle-memory system, to sound like jazz. They stay as they are. We stay as we are. It's the democratic thing that jazz was always going after.
KM: Since the quartet doesn't rehearse, what happens when the music takes an unexpected left turn on stage?
WS: We don't consider it as something that is devastatingly devastating to encounter, like an interruption or a shutdown. We view all those things as opportunities. I don't know if it's going be higher than the planes that other people have been on, but it's another portal.
KM: On Emanon, you revisit "The Three Marias" (from Atlantis), "Orbits" (heard on Miles Smiles), and "Lost" (from The Soothsayer)—but I don't recognize the last two. What changed?
WS: That's us. Whomever gets this and taps into something, it's because the DNA is there. We're attuned for this kind of thing, the unexpected. Even with something we've played before, we'll say, "Let's zero-gravity that one." Pull away from it. Don't hang on to what it was for too long. There is no such thing as a song or something being finished. It's finished? Who says? I consider Beethoven's Ninth Symphony as one—one entity. Or take Coltrane's "Nature Boy." I was asked what I think about that. "Nature Boy" is to be continued.
KM: You see all of your material in that way?
WS: Yeah, no beginning and no end. Only potential.
KM: Your current musicians, pianist Danilo Pérez, bassist John Patitucci, and drummer Brian Blade—how do they compare to the musicians who appeared on your 1960s albums, such as Herbie Hancock, Richard Davis, and Elvin Jones?
WS: To me, it's incomparable. It's like being in the orange orchard and trying to make the lemon tree do what the oranges do. It's like grading them. Back then, with those guys, they were hard to find, and now, ones like Brian Blade, they were hard to find. People weren't breaking their necks to play jazz back then. There was a resistance to studying jazz and playing it.
KM: Today's players have so much information available to them. Does your quartet interact any differently compared to earlier ensembles?
WS: The fact that they were playing jazz, modern jazz . . . I have my own idea of what jazz means: I dare you. I dare you to be democratic. I dare you to come out of the closet. I dare you.
KM: Jazz isn't popular at the moment in the US; it's about 3% of record sales. Is jazz healthy?
WS: When it seems like you are at a crucial ending of something or something being demolished, that's where the potential explodes. It's [about] individual awareness and getting off the bandwagon of gratuities, fame, and wealth.
KM: There aren't as many places left to play jazz in New York City as in the past.
WS: Yeah, out here in L.A., we have the Blue Whale. And at UCLA, there's the Thelonious Monk Institute of Jazz Performance. And Esperanza Spalding is teaching at Harvard, but not just jazz—they have her there to talk about music, jazz, and all the humanitarian stuff. Like, hey, music doesn't really soothe the savage beast, because people go to war singing and beating the drum! But we hope jazz can inspire people to go it alone. In other words, take the trail less trodden in life. That will open up a whole vista of multiverses.
KM: You've experienced great success and great tragedy in your life. At your lowest point, what kept you moving forward?
WS: What kept me going is my investigation and practice of Buddhist philosophy. A friend of mine, actor Ron Glass, from Barney Miller, was at a meeting at my house. He was asked by a new person, "Is Buddhism a religion?" Ron Glass said, "Buddhism is a philosophy which I practice religiously." And the kind of person I am propels me away from crying the blues.
KM: In the biography of you by Michelle Mercer, Footprints: The Life and Work of Wayne Shorter (TarcherPerigee, 2007), you talk about wanting to get back to that 15-year-old in Newark who drew comics. Is your graphic novel Emanon the fulfillment of that desire?
WS: Yeah, even though I didn't draw the comics, I didn't continue on being jaded by adulthood. I have much more to open up to. They say things like, "Don't take any wooden nickels." Or "Don't let nothing stop you." Or, as my mother would say, "Keep steppin'." You should admire a woman who can step!
KM: You're a fan of the work being done by CERN, the European Organization for Nuclear Research.
WS: Some good friends of ours have been working at Stanford, so we were invited to visit. They were working with a sister lab at CERN, in Switzerland. And when we went there, man, we were looking into infinity. They were talking about the so-called Big Bang. Fifty-five years ago, someone had said there was something behind the Big Bang.
KM: There are fears that CERN's Large Hadron Collider might unleash black holes or strangelets.
WS: Before he died, Stephen Hawking was on TV with a student in front of a blackboard. He said, "Today, Stephen wants to talk about black holes." He said if something fell into a black hole, either a human being or anything, it would be neither alive nor dead. You hear that phrase in Buddhism a lot, not one but two. Neither two but one.
KM: So are black holes a good thing, ultimately?
WS: Yeah. It's like that place between inhale and exhale, that is another kind of keyhole into something called eternity. If you control something, that can get [you] into trouble. That's why I called the album Emanon. Backwards, that is No Name. I read a book where the author said people can get into trouble when they start naming things. Because the name can transcend the meaning. Then people start believing in the label and they'll go to war over it. Or, "I don't like yellow people," or "I don't like black people." Get out of here with that shit.
KM: I've read that when writing for your group, you'll come in with a piece of music that is 10 pages long. Then you select a section as the composition.
WS: We're looking for a kind of color that you get; you can't say what the color is. There's a momentum and velocity and some kind of gravitational pull in every direction within our psyche, and everything opens up. It's almost like the challenge itself draws us to go forward and discover. In other words, you're discovering how to make movies for yourself and the rest of the world.
KM: What happens to the music that you don't use?
WS: That music is going to be revisited at any time because we have a plethora [laughs], a library of things undone.
KM: Did you ever consider working like Frank Zappa, who at one point had synthesizers (Synclavier DMS) perform his compositions?
WS: Yeah, I think that whole department, the technical department, is wide open. But I'm going to come from instruments made of wood and brass, and [not] have them imitate technology. Have them stay as they are. There are all these elements in the universe. They have a lot of similarities, but there is a lot of dissimilarity in the fact that—it's almost a fact—that you don't really see one completely imitating the other. There's something underlying. I say the phrase: no beginning, no end, it's open-ended potential. It's like in school—when a teacher berates a kid for not being good in math, the teacher says, "Why don't you use your brain? That was a gift to you." Another teacher might say, "Why don't you investigate your potential?" Then some people say, if you come to a fork in the road, you have to decide which fork to take. I say, jokingly, "When you come to a fork in the road, take both." The road that you take will have negatives and positives. It's up to you—not the road.
KM: Charlie Parker gave you a suitcase. What was in it?
WS: A French governess with Art Blakey's family was sitting on a bench in Central Park. Charlie Parker had just died, and he told her, "Give this to somebody, give this to somebody who you think will deserve it." It was a big paper bag. I met her when I joined Art Blakey and the Jazz Messengers—she had held the bag that long. It was 1955 when he died. I got out of the army in '58. She held on to this stuff, and I opened it, and there's a breakable record—a vinyl record—by French saxophonist Marcel Mule, the chord changes to "Blue Skies," and some other music paper, and a big, big violin book. "So Charlie Parker used a violin book," I thought. Then, when I met John Coltrane, he had a harp book, and he would play out of that too.
KM: What did Bud Powell say when he visited you in 1959?
WS: I was with the Messengers, and Bud was staying in Paris, where we were playing. We were there with Art Blakey and Lee Morgan, Jymie Merritt, and Walter Davis Jr. We played at the Olympia Theater one night. Bud was in the audience. We played a song that he wrote. Around 3:00 in the morning I went back to the hotel, which was across from Club Saint-Germain. Someone knocked on the door. I open it and Bud's standing there. He's wearing a beret and an overcoat for the winter; he walked in, didn't say anything. I said, "Hey, how are you doing?" He sat down on the chair. My saxophone was on the bed. Bud said, "Play me something." We had just finished playing that night. I picked up the horn, I put a towel in the bell, it was late. I just fingered the melody to his song "Dance of the Infidels." I did the whole thing. Then I put it down and Bud said something like this: "Uh-huh." He got up and went to the door, and I said, "Are you all right, Bud?" He turned around and looked at me with this intense look of satisfaction. Later, when we were doing the music for [the 1986 film] 'Round Midnight, his daughter was there and the director asked her, "Why did Bud go to Wayne's room?" She said, "My father wanted to see for sure how the future would be."
KM: That must have been a shock.
WS: I'm trying to stay away from patting my own back.
KM: How do you play recorded music at home in California? Do you have a stereo system?
WS: I do, but it's a Tyrannosaurus rex! No real big sound, nothing like that. I don't listen to music a lot. When a movie is on, the [music] filters around. When I'm watching something, I can make believe there is other music going along with it. I wonder how many people, how many movies, are using the same things over and over again?
KM: Wayne, you're a true original. What is originality?
WS: The first time we went to Japan with Art Blakey and the Jazz Messengers—we were the first modern-jazz band to go there—during an interview, they asked, "What is originality?" Art said, "Can you imagine a lake that has no inlet or outlet, and after a certain length of time, if everything that is in there stays in there, and has rebirth in there . . . the magnitude of life can be the same way." Then I added, "Maybe the search, the effort to do something called 'original' is perhaps one way we can thank the mystery of life by trying to add to the creative process [by being] as original as you can get."
Being original is not a hoity-toity, smoothie thing. It's got to be a joyful pursuit, a joyful endeavor. That's when you're having a conversation with everyone who's ever lived in the universe. They say, "Don't stop there, don't stop now." Like if someone wants to commit suicide, that's just a chapter in their story. It's a chapter in their essence. I would say the life is continued—it always has a human being or something equal to that. The next forms are probably as convinced as you are right now that we're not alone.
---
Footnote 1:
Emanon
was voted the 2018 Audiophile Recording of the Year by the Los Angeles and Orange County Audio Society. The award was accepted by Blue Note's producer Don Was the same day in December 2018 that Wayne Shorter was being presented with a
Kennedy Center Honor
.—
Ed.