VAC Statement 452 iQ Musicbloc mono/stereo power amplifier Page 2
The Bob Katz recording, made at New York's Church of St. Mary the Virgin, utilized but a single AKG C-24 stereo tube mike hung on a boom 30' in the air and about 40' from the Westminster Choir, conducted by Joseph Flummerfelt. Scott Hull at Masterdisk cut this reissue from the original tape; plating was at Mastercraft, and pressing was done at Pallas, in Germany.
Through these VAC amps, my room evaporated, leaving an enormous space, wide, tall and deep, near the back of which appeared the 25-voice choir—and, behind them, the Aoelian-Skinner organ. When John Atkinson came to measure, I insisted he listen to this recording. He let out an involuntary "Wow!" The presence of the images and the absence of reproductive artifacts were remarkable. It's what this hobby/pursuit is all about.
On the right recordings, the illusion of "there" produced by this amp, thanks in part to the sensation of shimmering soundstage air, is extraordinary. I believe this quality is what blew Herb away at last fall's Capital Audiofest, and what I heard more recently at the 2020 Florida Audio Expo, where the same system delivered the goods in another large room.
Manufacturer hype is usually best ignored, but with this amp I kept returning to what I'd read in the online blurb: "You will hear more deeply into the recording space, catch delicate nuances in a singer's phrasing you've not heard before," because that was the experience with just about every familiar record or file I played, even the Grateful Dead's American Beauty (Mobile Fidelity MFSL 1-014), a record I thought I knew inside and out.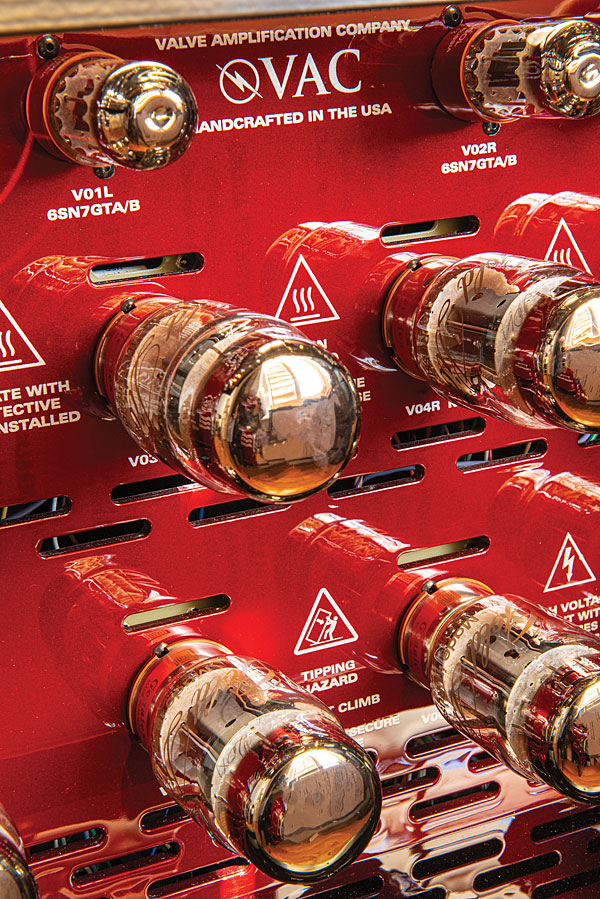 On "Friend of the Devil," percussive and reverberant details I'd never before noticed were revealed well toward the back of the soundstage, as if they'd been hiding for decades in plain sight. But the VAC didn't accomplish this analytically, as if by sharpening some sonic-detail control. Instead, these details and gobs of reverberant space floating behind appeared fully exposed, as if a previously undetected scrim had been removed—and suddenly, there they were! More important, the amps' even-handed timbral balance and unraveling transparency revealed previously buried or smeared musical threads—counterpoint and small percussive accents previously hidden in musical folds. Phil Lesh's bass, center stage, is presented with greater force and extension through my reference amp, but not with the elasticity and texture heard through the 452 iQ.
The 452 iQ produced stunning results with classical music, acoustic folk/rock, and jazz, where texture, touch, and harmonic structure play such critical roles in delivering musical verisimilitude. Yes, this amp can deliver the goods on music that requires a delicate touch, but what about something musically aggressive and not ethereal and/or delicate? Was image solidity at all compromised by this display of ethereality?
Well, yes, to a small degree. For instance, take Charles Mingus's almost violent The Black Saint and the Sinner Lady (LP, Impulse A-35). Here, the trombone had better growl like a wild boar, the sax had better taunt and make an ugly sound, and the drums should pile up and knock you over. The 452 iQ didn't quite kick it like my solid-state reference amp, but it came close enough that the music didn't suffer. A well-regarded music writer visited recently to do some comparisons on a big rig for a feature he's writing. After we'd finished his work, we had some fun. I played him the 45rpm lacquer of Art Blakey & the Jazz Messengers' "A Night in Tunisia" that I've been taking around to shows. That knocked him back! Then I hit him with the original Bob Ludwig–mastered ("RL") version of Led Zeppelin II (LP, Atlantic SD 8236), and of course he was blown away by that, and so was I. Though the solid-state reference amp has greater "grunt" on bottom, never did the 452 iQ make me feel like I needed to switch amps so my guest could better appreciate the Led Zep tracks. The 452 iQ was an addictive-sounding amp, suitable for all kinds of music.
Drums and Bells
I am not sure where I got a CD called Drums and Bells: The disc doesn't even have a catalog number or label. I recognized just one of the players, percussionist Brad Dutz. Online, I found it was produced by Madisound, the company that sells loudspeaker drivers. I have no idea who engineered it, or where, or how, but damn, this thing sounds good! It's a series of percussion solos by Dutz and some duos with another percussionist, one Chris Wabich.
Like Sheffield's Track Record, Drums and Bells is not something you'd actually listen to other than for system diagnostic purposes (footnote 1). What it told me about the 452 iQ is that the VAC is a superfast, remarkably transparent, quiet tube amplifier that's capable of ultraclean transient response. Bells, gongs, stick hits, rattles, kickdrums, cymbals—all exploded, residue-free, out of blackness. The kickdrum in particular went way low, and sounded well-textured and tuneful. After hearing such weight on bottom and speed and clarity on top, preconceived notions about warm tube sound went quickly out the door. Track 6, called "metal brush," produced shimmering metallic-sounding smacks that were somehow addictive, especially combined with deep bass drum thwacks. I thought I had grown immune to this sort of thing, oh, maybe 50 years ago—but no! I sat through the entire CD, mesmerized especially by the fast, clean attacks, as well as by the generous sustain and decay into inky black. Not at all my expectation from a pure tube amp.
Checking off the checklist
Frequency response? I'd guess the 452 iQ is full-range and measures relatively flat, even modulated by my speaker's 4 ohm load (though realistically speaking the Wilson Alexx is a sensitive speaker, and in my room the amps probably were never taxed beyond a few dozen watts).
However the amp measures, the sound was at all times coloration-free, exhibiting no frequency lumps or bumps and sounding refreshingly timbrally neutral, particularly from the midbass through the lower midrange, where I was expecting warmth and bloom. The bottom never sounded or felt sluggish or insufficiently extended, even on electrified rock, though its overall character was somewhat polite. The upper frequencies were addictively clean and pure, with faultless transient speed and clarity. I never felt I needed more air, or sparkle, or top-end shimmer from any of my familiar test/demo recordings.
Spatial performance? I think that's been well-covered. Dynamics? The amp's large-scale macrodynamic performance left nothing on the table.
The only area where I felt the amp didn't reach full audio nirvana was in the microdynamic region—those small, low-level dynamic gestures—where I noticed a kind of smoothness and leveling off of dynamic contrasts, coupled with what I'd call "start-and-stop laziness," where I'd expect things to "pop" with somewhat greater gusto. But truly, I'm reaching for something negative to write, because the VAC 452 iQ is the first all-tube amp I've auditioned in decades that, for me, completely satisfied with all musical genres.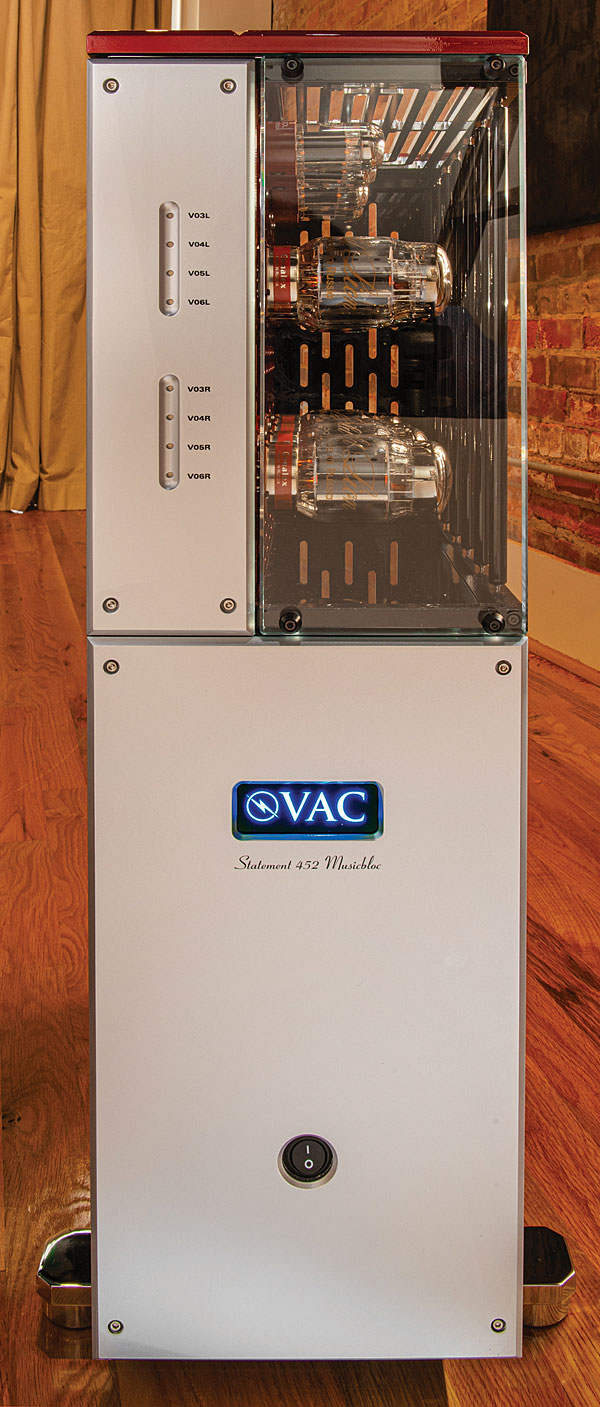 Conclusion
The days are over (but I remember them) when a tube amp manufacturer flipping the "on" switch would display body language that said, "If anything happens, I'm ready to run." Modern tech now allows for big multitube amps to perform pretty much glitch- and maintenance-free, and even when a tube requires changing, auto-bias makes it easy. This pair of amps performed flawlessly for two months. Keep in mind, however, that at approximately $60 a tube, when a retube is required after anywhere between two and five years, it will cost you close to $1200 including the 8 6SN7s. Of course, if you can afford to spend $150,000 for two amps, that's hardly an issue!
What is an issue, at least to me, is the minimal specs included in the manual. I think potential buyers are entitled to more information. It's good that Stereophile includes measured performance in its reviews, even if it sometimes embarrasses reviewers!
VAC's Statement 452 iQ Musicbloc amplifier is among a handful of the finest-sounding amplifiers I've ever auditioned, tube, solid-state or hybrid, and certainly is the best-sounding pure tube amplifier I've yet heard in my home. Perhaps it will measure high in second-order harmonic distortion—we'll see. If that's the fairy dust, sprinkle more, please.
If you prefer even greater grip, drive, and "slam," you are better off with an equally high-quality solid-state amp—something I found out when I returned after two months to my reference amps. But I also quickly noted what had been lost. If your budget allows, VAC's 452 iQ should be on your hi-fi radar.
---
Footnote 1: Indeed, it's a loudspeaker-evaluation CD, and it's
still available
.