TAVES 2017, Day Two, Part Two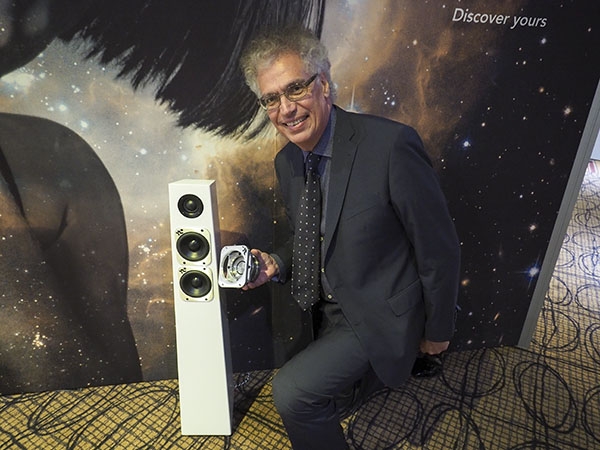 Totem Acoustic has always impressed me with their ability to get big sound from small boxes, but never more so than when I listened to the Tribe Tower ($US5300/pair) at this year's TAVES. Designer Vince Bruzzese has surpassed even his own high standards here. My first impression, before I heard the speakers, was that this is a "lifestyle" product: stylish in a modern way, with a small footprint that allows it to blend into most home environments. Almost by definition, sound quality is not top priority with lifestyle products…
And then Vince played some music. I don't remember what it was—some kind of pop vocal—but the sound! Fast, articulate, a huge soundstage, with bass that was hard to credit to a pair of 4" woofers. These woofers are something special: hand made by Totem, a proprietary "Torrent" design, they require no crossover, and yet are said to produce phase linearity when combined with a 1.3" soft-dome tweeter in a resonance-controlling metal faceplate that extends the response to 30kHz. The system at TAVES was more lifestyle than audiophile in its associated components: a 60wPC Naim integrated amp, iPad source, and $6/foot speaker cable. Having heard some impressive, cost-no-object audiophile systems at TAVES, I returned to the Totem room to listen to the Tribe Tower, and continued to marvel at the power and sheer musicality of this system.
If this is a lifestyle product, then I have to say, "This is the life!"
I've owned horn loudspeakers (Avantgarde Uno and then the Uno Nano) for a number of years, and although my loudspeakers now are the more conventional sort (Monitor Audio Platinum PL300 II), I retain a fondness for this design approach. Two of the major manufacturers of horn speakers are Avantgarde Acoustics and Acapella Audio Arts, both based in Germany. Acapella bills itself "The Inventor of Spherical Horns." I don't know enough about the history of these companies to say if this is correct, but I think "which came first" doesn't really matter. As audiophiles, we can rejoice in the fact that these technologically sophisticated manufacturers continue to refine the design and manufacturing of these speakers.
At TAVES was a demo of the Acapella LaCompanella Mk.III speakers ($CAD31,000/pair), with Unison Research CD player and Acoustic Arts electronics. The sound of the speakers had a kind of suddenness, what Gordon Holt used to refer to as "jump factor," with piano sounding particularly dynamic, and relatively little of the horn coloration that is, to some extent, unavoidable in speakers of this kind.
Bowers & Wilkins (B&W) make some fairly big speakers, but for TAVES, their Toronto retailer, Audio One, decided to bring samples of the small, stand-mounted 700 series. Audio One's Carlo D'Ascanio gave me a brief demo of the 705 S2 ($CAD3000/pair), using a Rotel 1592 integrated amp ($CAD3000), streaming hi-rez from an AudioQuest Jitterbug—a real-world system that impressed me with its clarity and precise imaging. The new 700 series has apparently benefited from changes made as a result of technological improvements in B&W's higher-end speakers, including a change of the woofer/midrange cone from Kevlar to the new composite Continuum material (higher stiffness and lower mass), and the tweeter changed from aluminum to a carbon dome.
Revel did a classy demo of their Ultima Salon2 speakers ($US21,998/pair) with Mark Levinson electronics, playing a recording of Anna Netrebko singing "Vissi d'Arte," from Tosca. Kevin Voecks, Acoustic Technology Manager of Harman's Luxury Audio Group (which includes Revel), told me that they were waiting at TAVES for the Performa F228Be speakers, which has much of the technology of the Ultima Salon2, at less than half the price ($US10,000/pair). Alas, the delivery has now been delayed until February.
When I first heard about the tie-in between TAVES and the Toronto Fall RV show, I thought this was a case of strange bedfellows. I mean, what percentage of audiophiles is interested in travel trailers, motor homes, and such? And are there many RV owners that would consider the purchase of the sort of multi-megabuck audio systems on display at TAVES?
But let's back up a bit. Although our emphasis here is on high performance audio, TAVES as currently conceived includes all kinds of consumer electronics, including home theater, video gaming, virtual reality, and wearable technology. This broadening of TAVES's mandate may well include more of the folks whose primary interest is in RVs. And perhaps audiophiles' aging demographic may include some potential RV owners.
I don't have figures on the number of TAVES and RV attendees who bought combined TAVES/RV tickets, but I had a chat with the security guard who was on duty at the main door between TAVES and the RV show, and I asked him if there was much cross-traffic between the two shows. "Quite a bit," he replied. He said that, personally, if he had a chance to attend both shows for a little extra cost, he would go for it.
I have no interest in RVs myself, but I had to at least check out the RV show. It was a much bigger show than TAVES, and more directly sales-oriented (signs with prices). I suppose, from the point of view the organizers of each show, visitors from the other show were a bonus. A good move on TAVES's part.
Coherent Audio, located in Stoney Creek, Ontario, is a small manufacturer of loudspeakers, all designed by Frank Fazzalari—who is shown in the photo above with their latest Model 5 ($CAN2195/pair). The Model 5 has a 5" woofer and 1.7" tweeter in a coaxial arrangement, with a minimalist crossover. Unusual for a speaker with such a small enclosure, the Model 5 maintains a sensitivity of 91dB. With Triode Labs preamp ($CAD2000) and power amp ($CAD3500), the system using the Model 5s sounded smooth and altogether listenable playing a recording of Peggy Lee singing "I'll Be Around."
Richard Kohlruss of Asona (formerly VMAX Services) has a knack for importing products that are just a bit off the beaten path, but that represent excellent value. The Pylon Audio speakers, made in Poland, fall into this category. Introduced at TAVES, the Opal Monitor ($CAD990/pair) and Diamond 25 ($CAD$2,900/pair) seemed like conspicuously good values.
Neat Acoustics' Iota Xplorer (the outer pair of speakers in the photo, $CAD6000/pair) is an unusual physical design that resembles an old-fashioned floor-standing humidifier. I doubt if it would win any prizes for appearance—but the acoustical design is a different matter. A larger version of the original Iota Alpha, the Iota Xplorer has a top section that is sealed off from the lower, and acts as a two-way infinite baffle speaker. The top section houses Neat's own bass/midrange unit and an Air Motion Transformer (AMT) tweeter. The lower section houses two bass drivers, one facing the floor while the other located internally, directly above the first, in a sealed isobaric arrangement. In a system that included PS Audio's Stellar Gain Cell DAC/preamp and Stellar S300 amplifier, the Iota Xplorer impressed as a well-balanced loudspeaker with particularly good bass extension.
Suave Kajko and Simon Au, TAVES's President and Vice-President of Sales, respectively, have a tough job, balancing the needs of exhibitors and attendees. This starts with the choice of exhibition venue. And, people being the way they are, there are always complaints about the venue. A number of people at this year's TAVES—exhibitors and attendees—told me how much they had enjoyed TAVES when it was at the King Edward hotel, and wished it could be held there again. I liked the King Edward myself, but that was seven years ago, and it was borderline too small back then. It's certainly too small to accommodate the needs of the current TAVES. The two other venues used since then were the downtown Sheraton Center and the Sheraton Parkway North/Best Western. People were not happy with either of these venues.
Alas, if Suave and Simon thought that the choice of Toronto Congress Centre would make everyone happy, they're likely to be disappointed. The number of exhibitors was down, and, although I don't have the figures, it appears that attendance was down, too. It's hard to say how much of this was due to the venue and how much represents a general downturn in the audio business. (I continue to hear pessimistic predictions about the upcoming Las Vegas CES as a high-end audio venue.) There were certainly many complaints about the Congress Center acoustics, perhaps more than about acoustics of the venues of any of the past few years.
This is not to say that there were not some good-sounding systems (as you'll note from descriptions in my earlier posts). And most attendees that I talked to, when they were through with complaining, said that they had a good time—as did I. The scene pictured above, of some headphone fans, is typical.