TAVES 2015, the Deutsch Report Part 1
I first heard MartinLogan's new flagship speaker, the Neolith, at the 2015 CES—and, as an electrostatic fan from way back, I was disappointed by the sound, which seemed to lack the transparency that I expect from this kind of speaker, and that I've heard from MartinLogan's less-expensive models. I refused to believe that something went wrong in the design of the speaker, and attributed the disappointing performance to less-then-optimal setup and other components in the system, like the Krell amplifiers being used.
The first room I visited at the 2015 TAVES, held this past weekend in Toronto, was Update Stereo & TV's big room that had the Neoliths—and they sounded completely different from the pair that I heard at CES. Transparency, tonal neutrality, precise imaging, presence: it was all there. These are great speakers!
What made the difference? I don't know if the speaker had actually changed -which is possible—but what was undoubtedly different is the associated equipment and the setup. The system included an MBL CD player, Acoustic Arts tube preamp, Acoustic Arts power amp, AVR2 power line conditioner, various AudioQuest cables, and, perhaps the most important, a DSPeaker Antimode 2.0 with custom modifications by David Susilo, who was responsible for the entire setup. David showed me some frequency response measurements of the speaker driven by different amplifiers—all supposedly with ruler-flat response it in the audible range—and there were marked differences in the upper midrange and treble. The Neoliths (CAD$100,000/pair; all prices in this report are in CAD) are shown here with pianist/singer Anne Bisson, who was at TAVES promoting her CD, Tales from the Treetops.
I think it's fair to say that Bryston is a company whose approach to developing new products is conservative—they're not apt to follow the latest fad, concentrating of solid technical design and meeting the needs of their consumers. So if you think that the current resurgence of interest in vinyl playback is just a fad, then Bryston's introduction of three new phono components is evidence to the contrary.
Bryson has resurrected the moving-coil transformer, the TF-1 that was in their product line years ago; it's improved, of course, and is called TF-2. It's joined in the line by the BMC (moving-coil preamp, $1750), BMM (moving-magnet preamp, $1000), and the PS-3 power supply. They're shown in the photo.
Bryston has not neglected the digital side; the new BDA 3 ($3495), shown here, switches automatically between DSD and PCM, depending on the data stream it receives, each processed separately, with separate clocks and DACs for left and right channels.
And another interesting tidbit: loudspeakers now account for 18% of Bryston's sales.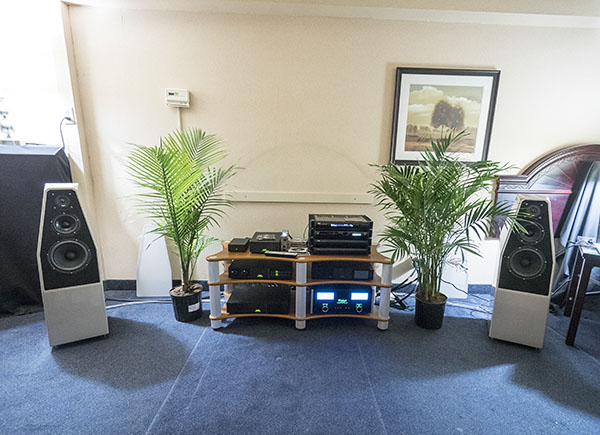 Wilson Audio's new Sabrina speaker was being demoed to good effect in a system featuring Naim electronics by Wilson's Peter McGrath, who played some of his own excellent recordings. A review pair of Sabrinas, still in their boxes, are currently resting in our front hall; Peter McGrath will be coming by after TAVES to help set them up.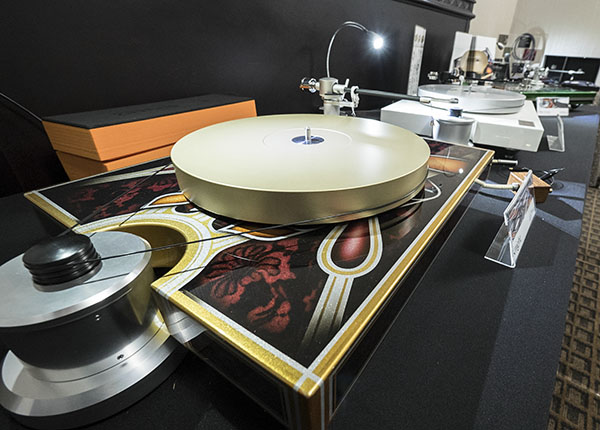 Zavfino is an interesting company: it specializes in turntables and a wide range of phono-oriented accessories, all designed by Will Tremblett in Truro, Nova Scotia, but built in Taiwan. The turntables are available in hand-painted versions (like the one pictured, which sells for $4200, including tonearm); the satin-black version, which is mechanically identical, is $3000.
Vince Scalzitti (seen in the photo above) is the owner of Tri-Cell Enterprises, which imports a number of highly prestigious lines, from Acapella to Zesto. He's now bringing in a new line from Italy: Gold Note. This is a serious company, apparently well-established in Europe, but is just now introduced to North America. The components in the rack shown are all Gold Notes; the speakers are Joseph Audio.
The story of Audio Alchemy is well-known to audiophiles who've been around this hobby for a while; suffice it to say that they had some very good-sounding products that sold for prices that were too good to believe, and seemed to follow the rule "yes, we lose money on each one we sell but we'll make up for it in volume." I still have an Audio Alchemy DAC, but it's no longer being used—not because there's anything wrong with it, but because I've gone on to something even better.
As their sign says, Audio Alchemy is back, with the original designer, Peter Madnick in charge, and the products, while still in the high-value category, are not so cheap as to be called loss leaders. And the sound of the KEF Blade Twos, in an all-Audio Alchemy system at TAVES, was simply superb: not "spectacular" in a hi-fi way, but utterly natural. The price of the Audio Alchemy amps, in monoblock configuration, is $4000 for the pair, which strikes me as very reasonable, but still allows the manufacturer to stay in business.
What's the ideal length for a tonearm? I understand that having a longer the tonearm allows you to adjust the overhang more optimally for minimum distortion—but then, the longer the tonearm, the less rigid it's likely to be, and may lead to resonances that are more difficult to control. Nine inches is generally considered a "normal" length, but some tonearm manufacturers (eg, Acoustic Signature) make the same tonearm available in 10" and 12" versions.
And then I saw at TAVES a tonearm that's longer than any that I've seen before: 16". It's part of the Well Tempered Lab Royale turntable ($14,000), pictured above. It makes me think of enacting the audiophile version of the scene in Crocodile Dundee: "That's not a tonearm . . . this is a tonearm."