SV Sound SB13-Ultra powered subwoofer Page 2
For final tuning, I played Stevie Nicks's smoky rendition of "Silver Springs," from Fleetwood Mac's
The Dance
(CD, Reprise 46702-2). Surprisingly, her voice was thicker, with a chestier timbre, than when played through the Quads alone. Resetting the crossover-filter corner frequencies to 40Hz didn't help.
I turned to SVS's Merlin. When the setup advisor asked for my satellite speakers, I typed in "Quad ESL-989." It recommended running the Quads full range and setting the SB13-Ultra's low-pass corner frequency to 40Hz, 24dB/octave.
Voilà! Nicks's voice lost the coloration, and sounded more pleasing and clear, with more air around it, while John McVie's bass line in "Silver Springs" sounded fast, driving, clean, and musical. Listening to Lindsey Buckingham's "Go Your Own Way," also from The Dance, revealed Mick Fleetwood's driving kick drum delivering plenty of what J. Gordon Holt used to call "jump factor." Practicing more restraint with the volume control than I really wanted to, I reduced the number of times the Quads' protection circuits shut them down, triggered by deep-bass climaxes.
I again measured the room response with RTA, this time with the subwoofer playing. The graph looked very different from before: almost flat between 25Hz and 1kHz (fig.2).
Backing off the system's volume control a bit more, I sat down to listen to the SB13-Ultra without its curved metal grille, and with the Quads running full range. I played the lowest-frequency tracks of the half-step–spaced chromatic scale on Editor's Choice (CD, Stereophile STPH016-2). All tones were sharply defined and clearly heard, as were the 40 and 31Hz 1/3-octave warble tones on that disc. The 25Hz band played softly without doubling, and the 20Hz band was just detectable.
Listening
At long last, it was time for music. I began with a 24-bit/88.2kHz AIFF file of a pipe-organ recording of the Toccata from Widor's Organ Symphony 5, played by Jonas Nordwall in First United Methodist Church of Portland, Oregon and recorded by John Atkinson. The 32' pipes had mass, solidity, and room lock, lifting the 25 and 32Hz bars of the RTA display above the other frequencies. These low-bass notes were well articulated, fast, and clean. I was satisfied that the SB13-Ultra's setup had been optimized.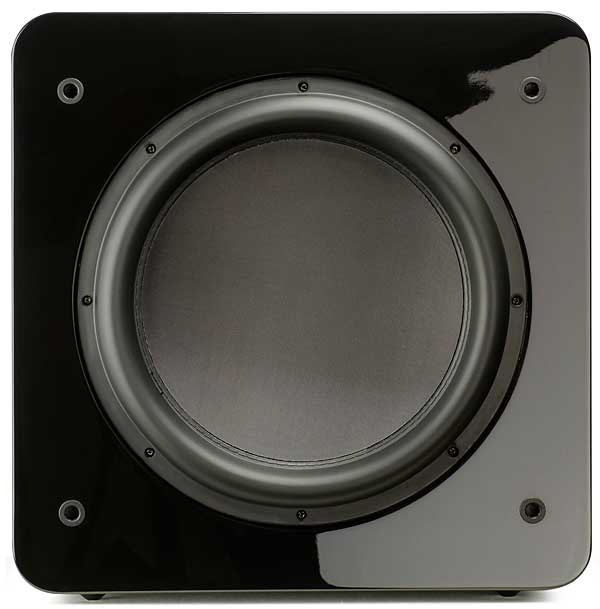 Wasting no time, I played my favorite pipe-organ recordings, and the SB13-Ultra didn't disappoint. It delivered power, speed, articulation, and pitch definition, particularly with: the explosive, fortissimo ending of Shostakovich's Passacaglia, with its descending scales, as played by Christopher Herrick on his Organ Fireworks IV (CD, Hyperion CDA66605); the huge image and soundstage depth of the Turtle Creek Chorale, conducted by Timothy Seelig, singing "Lord, Make Me an Instrument of Thy Peace," from John Rutter's Requiem (CD, Reference RR-57CD), the final pedal note rumbling below the three-dimensional aural image of the chorus; the ominous, sustained 25Hz organ note that opens Strauss's Also sprach Zarathustra, as performed by Erich Kunzel and the Cincinnati Pops, on Time Warp (CD, Telarc CD-80106), a note I felt more than heard; the deep, airy pedal note of Howells's Master Tallis's Testament, performed by organist James Busby on Pipes Rhode Island (CD, Riago 101), which produced room lock and vibrated objects in my room; and the thunderous fullness and air of the 32' pipes in Gnomus, from Jean Guillou's performance of his own transcription for pipe organ of Mussorgsky's Pictures at an Exhibition (CD, Dorian DOR-90117). And when Mary Preston played the final note of John La Montaine's Even Song, from her Organ Odyssey (CD, Reference RR-113CD), the 32' pipe added depth, power, and grace.
The combination of Quad ESL-989s and SVS SB13-Ultra rendered clean, dense, fast response for many different instruments, including kick and bass drum, synthesizer, and or timpani. The synthesizers in my favorite recordings were articulate, linear, musical, and fast: the bottomless bass of the opening of "Deeper Wells," from Emmylou Harris's Spyboy (CD, Eminent EM-25001-2); "The Attack on Ryan's House," from the James Horner's score for Patriot Games (CD, RCA 66051-2), which uses synthesizer, bagpipes, chimes, and cymbals to generate suspense and a gut-tighteningly frenzied mood punctuated by concussive thuds; the huge bass footsteps in "The Carnotaur Attack," from James Newton Howard's score for Dinosaur (CD, Walt Disney 50086 06727); the tight, solid, dynamic heartbeat that threads its way through "Breathe," from Pink Floyd's Dark Side of the Moon (SACD/CD, EMI 82136-2); the turgid, synthesized deep-bass pulses at the beginning of "First Haunting/The Swordfight," from James Horner's score for Casper (CD, MCA MCAD-11240); and the sawing of the bowed double bass, weighty and massive, blended with synthesizer and contrabassoon, in "The Caravan Moves Out," from Philip Glass's score for Kundun (CD, Nonesuch 79460-2). The SB13-Ultra also revealed the dynamics, driving bass drum, and timpani that course through Stravinsky's The Rite of Spring, as performed by Eiji Oue and the Minnesota Orchestra (CD, Reference RR-70CD).
The addition of the SVS subwoofer didn't affect the Quads' reproduction of recordings of unaccompanied acoustic piano. The sound of Simone Dinnerstein playing J.S. Bach's The Goldberg Variations (CD, Telarc CD-80692) remained lyrical and clean. The light, clear quality of Keith Jarrett's piano in "True Blues," from his The Carnegie Hall Concert (CD, ECM 1989/90), was not disrupted by the reproduction of his thudding foot stomps through the SB13-Ultra.
Comparisons
For comparisons, I had on hand only more expensive subwoofers than the SVS SB13-Ultra: Bowers & Wilkins' DB1 ($4500), Velodyne's DD-18+ ($5799), two JL Audio Fathom f113s (each $4300), and a Revel Rhythm2 ($10,000; review to come). The Velodyne, B&W, and JLA models ship with extras not included with the SVS, including calibration mikes, recordings of test tones, auto-calibration, front-panel controls, and, in the case of the Velodyne, a remote control. The Velodyne's 18" driver and the B&W's two 12" cones deliver greater bass power, wider dynamic range, and deeper bass than the SVS's 13" woofer—but each at three times the cost.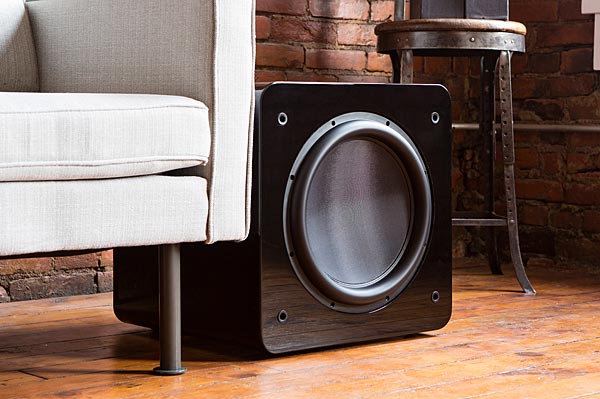 A pair of JLA Fathom f113s and Bryston's 10B-SUB outboard electronic crossover ($3595) made it possible for my Quads to deliver to my large room a wider, more three-dimensional soundstage with deeper bass than did a single SB13-Ultra—but at more than seven times the cost. The Revel Rhythm2's internal crossover similarly expanded the Quads' dynamic range by vastly extending the deep-bass response, deepening soundstages, producing more room lock and slam, and better defining bass pitches, all with power enough to fill my room to the bursting point with bass —but at six times the cost and twice the weight of the SVS. You get the point.
Conclusion
I got a kick out of reviewing SV Sound's SB13-Ultra. Not only was it the smallest and least expensive subwoofer I've reviewed in some time, it delivered musical, well-articulated, truly satisfying deep bass in my large listening room without bloat, and without artificially pumping up the lowest octaves. I was delighted by its substantial build quality, external appearance, and extensive software controls.
Its competitive price explains why the SB13-Ultra doesn't come with a remote control, a calibration mike, or a self-adjusting room equalizer. These omissions meant that I had to set it up the old-fashioned way: running back and forth between my listening chair (where I'd set up the calibration mike) and the sub to adjust its rear-panel controls. But taking the time to measure the room response, to try different low-pass corner frequencies, and to bypass the SVS's high-pass filter, which I felt slightly colored vocals, really paid off in my listening sessions. For this reason alone, you should take advantage of SVS's 45-day in-home trial.
The SB13-Ultra sub did a great job of providing deep-bass reinforcement for my Quad ESL-989s, and its fire-sale price makes it a no-brainer if you want to buy two to make a stereo pair, and/or want lots of deep bass to fill a large listening room like mine. If so, SVS charges only $2999.99/pair, knocking $100 off the price of each. The SB13-Ultra's detailed, toe-tappingly pitch-perfect, stop-on-a-dime response, and its small size, low weight, rugged construction, superb finish, simple but sophisticated IFC control, sturdy drive-unit, and great customer support, all put it on my list of recommended subwoofers. In its price range, it's hard to beat for small-to-moderate-sized rooms.