Surrounded by Benson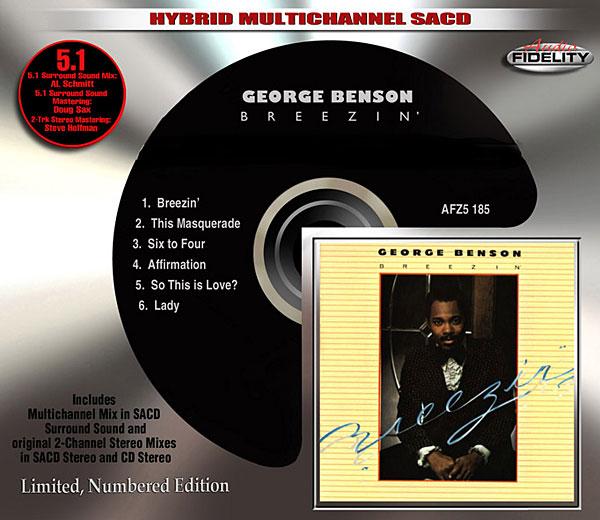 Call me stuck in the 1970s, or stuck in two-channel audio, but for me surround sound still conjures the idea of quadraphonic sound, which if I'm not mistaken was kind of like LaserDisc, or DVD-A: ideas whose time never came. To be fair, I also live in a New York apartment and the chance of me optimizing my environment to take full advantage of 5.1 recordings is nil. I have heard 5.1 recordings, recorded in surround which is key, played on a proper rig, that have been a very pleasurable listening experience, and one very different, though not necessarily better, that those in the two-channel world. I have also heard ridiculous experiments that were mixed by mad people.
With that in mind, I visited the home of Kalman Rubinson, who writes Stereophile's "Music in the Round" column and is our resident expert on surround sound, to listen to the 5.1 mix on Audio Fidelity's new hybrid multichannel SACD of George Benson's Breezin'. The Stereo SACD and CD mastering on this project was done by Steve Hoffman at Stephen Marsh Audio. The 5.1 surround sound mix was done by Al Schmitt, the record's original engineer, at Capitol Records and Doug Sax mastered the 5.1 layer at The Mastering Lab.
Breezin' was Benson's 1976 Warner Brothers debut after years recording in a more straight ahead jazz mode for Prestige, Columbia, Verve and A&M and finally Creed Taylor's CTI label. He's currently signed to Concord Records who released Inspiration: A Tribute To Nat King Cole in 2013. Breezin' was produced by Tommy LiPuma to be the breakthrough it became. Benson's vocal performance on Leon Russell's "This Masquerade," where he wordlessly sings along with the guitar, turned the track into a pop hit that won the "Record the Year" (which is a performer's rather than a songwriter's award) Grammy in 1977. Al Schmitt also won for "Best Engineered Album, Non-Classical" and Benson won "Best Pop Instrumental Performance." The triple platinum album was nominated for "Record of the Year," "Song of the Year" and "Best Pop Vocal Performance." The band on the record featured a who's who of pop jazz first call cats including Phil Upchurch (rhythm guitar), Ralph MacDonald (percussion), Ronnie Foster (electric piano and Moog) and Harvey Mason (drums). And then there's that phat jacket Benson's wearing on the cover!
Musically, Breezin' usually divides listeners into two camps: sappy mush or a pop masterpiece. I can see both sides, though I've always been a Benson fan, in both his pop and jazz modes. While Leon's growly version of his "This Masquerade," has a rough charm, Benson's cover gives it sexy elan that even had AM radio playing it in 1976. The surround mix here makes no drastic changes. Ambience and space have been added to the mix but in general the 5.1 mix is very close to that of the two channel. Maybe that's what comes from having the same person do both. There is some slight panning to the right and left, but there's almost nothing in the center channel. A little percussion has been moved into the back channels, but not enough to give you that heebie jeebie creep out you can get, or at least I can get, when there's a drum kit bashing away behind me. I have heard complaints about the reverb being off in this surround mix but I didn't hear it. Overall, it's a bigger sound, enjoyable certainly but compared to the two-channel stereo mix, nothing revolutionary.