Sunny's Home Theater and Music Systems (Room 2)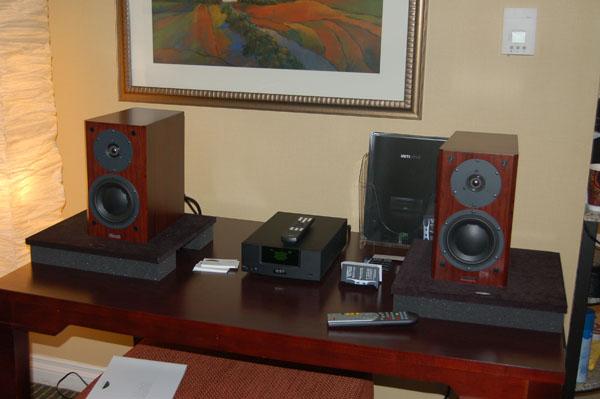 Sunny's mere-mortal room included two setups; Octave Audio V80 tube integrated amp ($9950), T+A Music Receiver ($3800), and the Dynaudio DM3/7 loudspeakers ($2000/pair). There was also a desktop system which consisted of the Naim Uniti ($2450) and a pair of Dynaudio Focus 100 active loudspeakers ($2400/pair).
I took a few minutes to speak to Sunil Merchant, President of Sunny's and he told me about an event they held at their store for 30 high-school students—they all sat and listened to a Lil Wayne CD on progressively more expensive systems: $3k, $5k, $10k, $50k, and $300k. The students filled out a questionnaire at the end and the results clearly indicated that they all really enjoyed hearing Lil Wayne sound better and better and better...One way to attract younger people into our hobby is to stop asking how we can attract younger people into our hobby and just try actually doing something with them that involves listening to their music and sound quality.