Soulution 710 power amplifier Page 3
When you're sitting on a large stash of vinyl, it's funny how a review component that does things better than you're used to gets you to change course. I went from
Charade
to another RCA I'd not played in years but recommend highly: Gary Burton's very first album as a leader,
New Vibe Man in Town
, from 1961 (RCA LPS-2420). I can't understand why it hasn't been reissued on LP—a prejudice against vibes?—though it was reissued twice on CD by RCA, in 1995 and 2000. This trio session, with Gene Cherico on bass and Joe Morello on drums, was recorded at spacious Webster Hall and engineered by Ray Hall (no relation). It's wonderfully relaxed and soothing music, the veterans giving the new guy excellent support. It's also pure percussion, which played to the 710's considerable strengths. The Soulution got the mallet strokes exquisitely right, as well as the round, bell-toned harmonics. Morello's drum kit is instantly recognizable, and in his miking Hall seems to have been cognizant of the sound Morello got for Dave Brubeck's
Time Out
sessions. The 710 reproduced the drummer's brushwork with a proper regard for the proportions of the sounds of metal and skin, and rendered the ripely recorded kick drum with plenty of weight.
Harmonics just right?
Here's where it gets dicey. Depending on the rest of your system and your tastes in sound, you'll either find the Soulution 710's presentation of harmonics just right and in keeping with the rest of the amp's magnificent performance, or, as one friend put it after a listen, you'll hear less meat on the bones than you might like.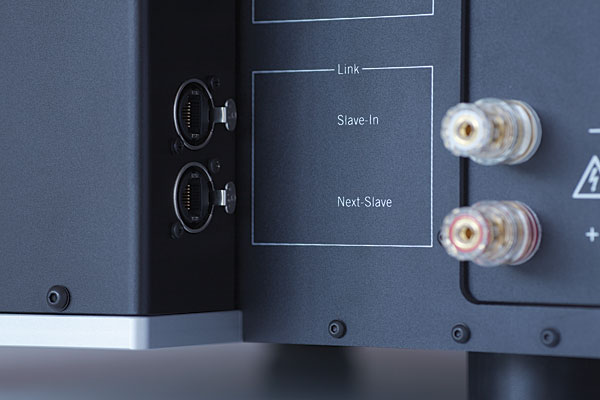 If you're convinced that tubes are the way to drive speakers, the 710 is more likely to affirm than alter that opinion, though what it managed in terms of what it does better than any tube amp I've ever heard—without adding any of the solid-state clichés of edge, grain, glare, etch, brightness, etc.—will certainly give you pause.
When I want to judge a component's portrayal of harmonics, I usually start with a recording by Jascha Heifetz of a violin concerto. Though not the best orchestral recording ever made, Heifetz's disc of the Mendelssohn Violin Concerto and Prokofiev's Violin Concerto 2, with Charles Munch and the Boston Symphony (LP, RCA Living Stereo LSC-2314), offers rich, superb string tone—and here's where the 710 won't be to everyone's liking.
I like the violin to sound somewhat richer and fuller than it sounded with the 710 driving my Wilsons, as delivered by the Musical Fidelity Titan, the Music Reference RM-200 Mk.II, and, to a somewhat lesser degree, by the Classé CA-M600. Through the Soulution 710, the attack was just right and the sheen very good, but the wooden body of Heifetz's instrument could have been better delineated. Paired with a Koetsu, Kiseki, or Goldfinger cartridge, the 710's combination might perhaps have been ideal. To get the ideal balance, I'd rather start with an astonishingly neutral component like the Soulution and fiddle with the lumpier transducer.
Heifetz's recording of the Tchaikovsky Violin Concerto, with Fritz Reiner and the Chicago Symphony (SACD/CD, RCA Living Stereo 67896-2), was sweet and smooth, but it came to life harmonically through the Music Reference in ways that all of the solid-state competition didn't quite get—but at the price of speed, detail, and focus.
Playing a 2004 recording of the Elgar Violin Concerto, with Hilary Hahn accompanied by Sir Colin Davis and the London Symphony (SACD/CD, Deutsche Grammophon 474 873-2), the 710's ability to naturally separate instruments in space without oversharpening the picture, and its expressive dynamic abilities, produced an enticing three-dimensional picture that more than made up for a sound that was less than full and rich.
I've neglected rock recordings here because it should go without saying that the 710 is an ideal amplifier for rock, and for amplified music in general. Despite its seemingly limited power output, it produced limitlessly wide macrodynamic swings while revealing the most minor microdynamic ones. Speed can do that.
The 710 was effortless in the areas of air, space, soundstaging, and other spatial parameters. It left nothing to be desired.
Where's the bass?
The bass was there. The extension, punch, and unprecedented woofer control were there. The Soulution 710 produced very deep, very tight, well-controlled bass that revealed transient details that more sluggish amps cover under a pleasing warmth, yet it would be fair to say that the 710 lacked the visceral whomp that many listeners prefer. At times I wished I felt that whomp a bit more, even as I heard more bottom-end detail from very familiar recordings.
I was struck by how much the Soulution's sound, and my reaction to it, resembled those of the Magico Q5 speaker, which I reviewed for the November 2010 Stereophile. Like the Q5, the 710 delivered incredible top-to-bottom control; resolved enormous amounts of detail, particularly of the low-level variety; sounded pure, with near-perfect attack and decay; was free of grainy or metallic artifacts; and definitely covered the full audioband and beyond—and yet, also like the Q5, while it more than satisfied the brain, it sometimes left the body wanting something more visceral.
Conclusions
Spend some time listening to live music and you'll be forced to conclude that there are no perfect audio products. In some ways, however, there are better and sometimes (but rarely) best audio products—and there are definitely audio products that raise the bar and break new ground. These are the rare types.
The Soulution 710 is one of the latter. Designer Christopher Schürmann has definitely met the goals set by Cyrill Hammer and Roland Manz and probably gone beyond them. The company principals realized the design by, apparently, sparing no expense in its manufacture. The Soulution 710 is impeccably built, and in terms of the sonic goals of ultrawide bandwidth, ultralow distortion, speed, and coherence, it succeeds completely. Now that I have spent some time listening to it, I don't find it difficult to understand why the amp has won a strong following, as well as the hearts and currency of well-heeled audiophiles around the world.
Nor do I find it difficult to understand why some find the sound unrelenting, less than fully fleshed out, and somewhat skeletal. It's important to mate the 710 with the appropriate front end and speakers.
The Soulution 710 is a technical and sonic achievement not to be denied. Is it, or is any 130/260Wpc amplifier, worth the cost of a very nice automobile? As the owner of a turntable that costs about 25% less than my first home did, who am I to talk? But as long as I have the soapbox, I have to say "Yes."
Nor is it hard to understand why not every audiophile or music lover will be on board for the long journey, despite what is, in many ways, the finest sound you're likely ever to hear from any piece of electronics—and what I'm sure will be impeccable measurements. However, I guarantee that if you jump on for a few stops, at an audio show, in a dealer's demo room, or in a friend's listening room, you'll have the time of your life.