Sooloos Music Server System Page 4
ControlPC is not just for editing metadata; it's also handy for exporting parts of your library to another hard drive, an iPod, or a mix CD, as well as for controlling the Sooloos system and setting up playlists in multiple zones, if you have them. But it turns out there's an even better way to remote control a Sooloos system, and you don't even need Microsoft.
One drawback of the Sooloos system as delivered that struck me right away was its lack of a remote control. It has no IR or RF capability, though you can network Sooloos gear with home automation systems such as AMX. But adding Play, Stop, and Skip for the Sooloos to your all-in-one remote is out of the question.
Luckily, you can control the Sooloos system through a portable or desktop computer's Web browser: Safari for the Mac, Internet Explorer for Windows. First, go to the Sooloos information screen and find your system's IP address. Enter that number and the zone information as a custom URL, and a control pad pops up with a small picture of the album currently playing, along with its track and time details. You can also browse your entire library and set up playlists—we're back to mouse and screen here, but it works.
Even better, you can use an Apple iPod Touch or iPhone as a controller. The browser layout has been optimized for the smaller screens of these touchscreen devices, and it worked great. We used a Touch to control the system from all over the house. Still, a Touch or iPhone is no substitute for using the much larger Control:One for browsing music. Using an iPod Touch was very comparable to using the Sonos LCD-and-scrollpad remote control we had in-house for several months last year.
Software and Using the System
I've played with quite a few music-server interfaces, including a couple of touchscreens, but nothing else comes close to the Sooloos for finding, sorting, and playing music. And it's lightning-quick.
What's brilliant about the Sooloos interface is that you can approach your primary goal of finding and playing an album or list of songs in several ways. But before you can fully appreciate this, you must grasp the underlying structure of the library.
When you tap the Music button on the Control:One after booting the system, you see a grid of 18 album covers, each 2" square, arranged in three rows, in alphabetical order by artist's first name (eg, Neil Young appears under N). This is the primary view of your library. Across the top of the screen is a row of 26 buttons, from A to Z. Under the bottom row of album covers, toward the right side of the screen, are forward- and back-arrow buttons for skipping through the library, 18 covers at a time.
Along the bottom of the screen is a row of icons comprising (from left to right): a Help button, a window displaying info about the track currently playing (title, remaining playing time of track as well as of the track queue), three buttons to control the playback (Skip Back/Forward, Play/Pause), the Focus panel, and Search and Home buttons.
If you want to play an entire album, you can skip forward or back screen by screen, tapping the arrow buttons until you find the disc you want, or go directly to the artist by using the letter buttons along the top. If you start spelling the artist's name by quickly tapping successive letters, you'll immediately land on the right page. Usually, three letters is all it takes.
You can also hit the Search button to search for artists, albums, songs, or any combination. A keyboard pops up—start typing a name, hit Enter, and a list of matches appears. When you spot the album you want, tap the album cover; the album's track list page pops up. Tap the Add Album to Play Queue button and a menu pops up with four choices: Add to Play Queue, Play Next, Play Now, and Cancel. Tap Play Now and the music starts instantly. You can also tap just one of the tracks to play it directly.
If all of this sounds complicated, it's not. Try it only a few times, and you start finding albums quickly.
There's much more you can do from the album's track list page. On the left is the cover image; below that, a button to press to read a review of the album, another to edit the album's metadata, another to have the system automatically find other albums just like it, and one to add the album to a Collection/Playlist. On the right is a column of album covers of other albums by the same artist. Pull up any Kraftwerk album and you'll then see all the other Kraftwerk albums in your library.
At the top of the central column are some tabs: you can look at the list of Songs, see what Genres or Moods it's filed under, or a list of album Credits. Tap on Credits and you're shown a list of everyone credited with working on that album—musicians, producers, engineers, photographers, etc. Tap on one of those names and you can see every other album in your library that that person worked on. This function is called Focus, and it's one of the Sooloos system's more powerful features. You can use it at any time to select groups of albums according to a wide variety of attributes. One of my favorite uses of Focus is to sort albums by date of importing. This way, I can quickly find the most recent additions to my library without having to remember the artists' names.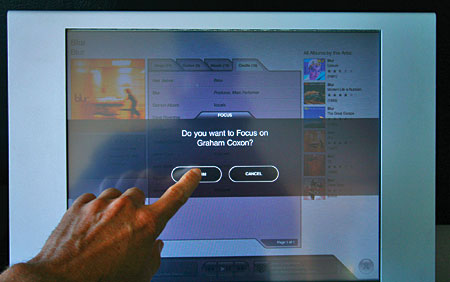 Focusing on genre is also a great way to find stuff. There are dozens of Genres and Subgenres; tapping one presents you with the usual grid of album covers, but this time only those within that genre. And you can Focus on multiple criteria: psychedelic albums, only from the 1960s, rated at least four out of five stars. Tap tap tap, and there they were: 15 albums. You can now create a custom playlist, save this group of albums as a Collection to call up later, or just pick one and hit Play. Or you can tell the Sooloos system to Swim within this Focus.
I loved the Swim feature. The Sooloos has the standard Shuffle mode for playing an album's songs in random order, but Swim takes this further, searching through a Focus or Collection grouping—or your entire library—and grabbing songs indefinitely. When I told the Sooloos to Swim its way through my whole library, it never ceased to surprise me.