The Solid Sony MDR-1R, MDR-1RBT, and MDR-1NC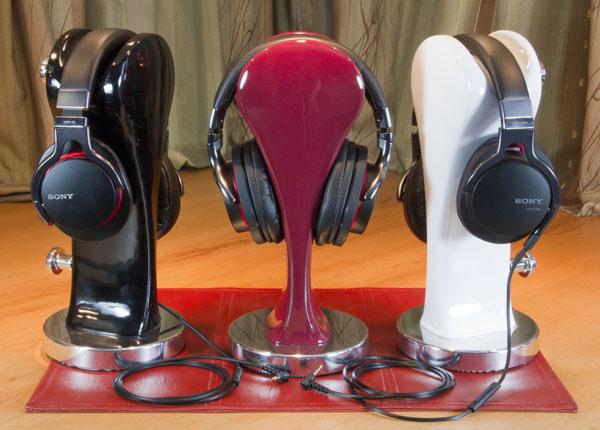 This story originally appeared at InnerFidelity.com
Sony MDR-1R ($199), MDR-1RBT ($299), and MRD-1RNC ($399)
Look at the model number. This isn't just another headphone for Sony, it's their number one headphone. And Sony is one of the world's premier headphone makers. This better be good.
At CES earlier this year, it was plain to see that Sony was touting these headphones as a particularly important product line in their catalog. Sony has squarely placed themselves in that segment of the market underserved by Beats: people who appreciate handsome understated elegance and quality. It's obvious to me that they've put a heck of a lot of work into this line of headphones. The question is did they manage to place them selves in the rarified air of really world-class portable headphones? I'd say yes in some ways, real close in others. Sure, Sony gets a modest, tasteful cigar from me.
Design, Ergos, and Comfort
This is an area where these headphones just nail it. Though some will complain of the all-plastic construction, I think synthetic materials can be extremely versatile and very good looking when done well, and these headphones showcase Sony's expertise in this area brilliantly.
I can't quite decide if I'm seeing the capsules of the R1 series as black or a very dark brown. The fine matte finish catches light nicely, showing off the simple and subtle curves of the earpieces. The sumptuous protein leather covered headband and earpads, smoked chrome finish of the headband ends and gimbals, and tidy red accents really bring the look of these cans together as one seamless whole. And it might be exactly that sense of a seamless whole with the smoked chrome and red included that has me seeing them as very dark brown instead of black. Either way, these are very, very good looking headphones.
Likewise, these are very comfortable headphones. Headband cushioning is ample and is nicely shaped to contact your head broadly. Head adjustment slides have finely spaced detents, and move easily but remain securely in position once adjusted. The protein leather is very suple and soft, and earpads are large enough to accomodate larger ears. One problem here though is that the ear cups are not particularly deep, and people whose ears stick out quit a bit might find that their ears touch the baffle plate, which can become uncomfortable during long listening sessions. (Replacement aftermarket pads for the NC and BT are available that help eleviate this problem here.) I'll reiterate though that for most people these are very comfortable headphones.
All headphones in the line have earcups that rotate into a flat position for more compact storage. The 1R and 1RBT come with soft carry bags, while the 1RNC comes with a sturdier soft-sided clamshell carry case. All models include iOS compatible remote capability and all models come with a spare 4-foot standard cable without controls.
Build Quality and Niggling
All models have recently seen a $100 price drop on Sony's website. At their initial prices I would be a bit more critical of the materials chosen, but at the new lower prices I think the build quality is quite good, though I would have liked to see the nicer carry case come with at least the BT model.
In reading the threads on these cans I saw that many early purchasers complained of creaking joints in the headphones. I think this must have been fixed because complaints seem to have diminished and my pairs seemed quite silent. Also this copy is now on their product pages and seems like one of those things that might have been done in response to complaints:
Silicon rings not only realize smooth but silent earcup movement for an immersive music experience devoid of annoying mechanical rattling.
Customers have also complained about the jack rattling on the 1R ans 1RNC. This jack is mounted in the left rear gimbal arm just below the earcup pivot point. This is a novel placement for a jack and a very nice touch, but the jack does seem to fit a bit loosely in the arm. The 1R I have rattles slightly more than the 1RNC I have, but neither have been bothersome to me at all. In fact, I don't think I would have noticed it had it not been for a number of posts on the issue. I would put the noise, for me, at about the level of cable-born noise as the cable rubs agains my shoulder---it's there, but at a quite low level.
A weirder problem that I did experience up here in Montana is that the stock cables get astonishingly stiff in cold weather. I'm talking below freezing here, but when the cables get that cold they become very stiff and do make significant noise. Fortunately I had the Bluetooth version for snow shoveling duties.
The standard 1R has a small vent hole on top of the earpiece that will make significant wind noise if you're out and about on a blustery day.
Controls on the Active Headphones
Sometimes headphone makers get cute with their button placement and end up making the headphones difficult to use or buttons get pushed when lying in bed at night. I found the button placement on the BT and NC cans quite convenient and all features operated as I would expect making the control ergonomics quite good in my opinion.
Physical Summary
Since I've spent a bit of time niggling I want to restate that overall I think these cans are very good looking, very comfortable, and a pleasure to use. The critic in me will always find stuff to complain about, but overall I very much like the MDR-1R line of headphones, and think there are few companies in the world that can really get this stuff right. The R1s are much more comfortable than the Sennheiser Momentum and Focal Spirit One, and much better looking than the PSB M4U 1 and Polk Ultrafocus 8000.
So, the remaining question is how they sound. We'll talk about that on the next page.