The Scrumptious Oppo Digital PM-1 Planar Magnetic Headphone
This story originally appeared at InnerFidelity.com
Oppo Digital PM-1 ($1099)
It's a pretty bold maneuver introducing your first headphone in the rarified $1000+ category. You better have something up your sleeve. In this case it's Igor Levitsky, a long-time independent designer who has worked with BG Radia and SLS Audio on planar driver designs, who has been working on the new PM-1 driver and headphone for the past 2 years. I've been very fortunate to have had the pleasure of some long email exchanges with Igor—his enthusiasm for audio is infectious, and his understanding of the problems at hand quite sufficient. This is quite an interesting headphone...let's work through it step-by-step.
Physical Description
The Oppo PM-1 is a circumaural, open headphone using a planar magnetic driver. The packaging, presentation, and accessories delivered are top notch. Starting from the outside in: Included with your purchase is a very nice deep red finished wooden box with with a creamy suede-like material covering the internal structure, which has cut-outs for the headphones, and cable. The Ohno Continuous Casting (OCC) cable for home use is 10' long and terminated at the headphone end with two 2.5mm mono jacks, with "L" and "R" markings on the plug housing clearly labeling each connector.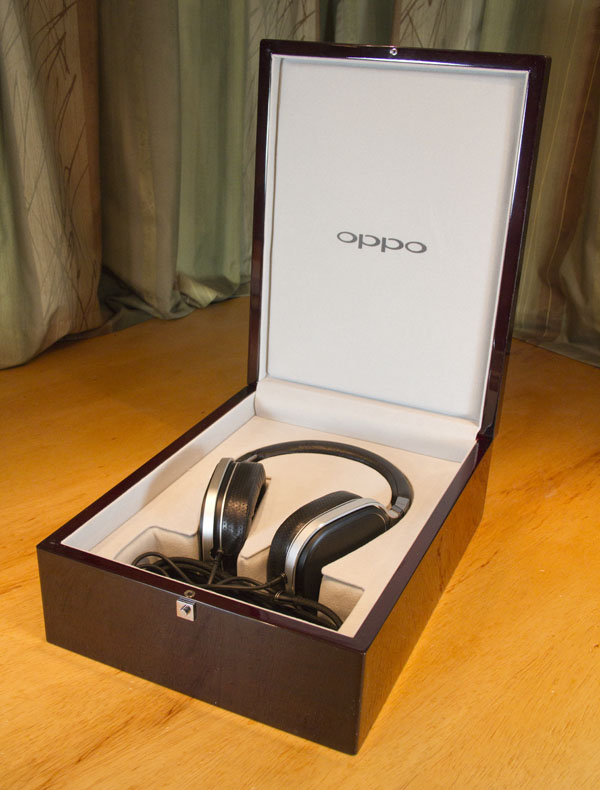 A small denim clamshell case is also included for portable transportation of the PM-1. Cables must be removed when in case. The OFC cable provided for portable use is much thinner and is three feet long end to end. There is no remote or mic on the cable.
I'm not particularly convinced that a 2.5mm connector on the headphone is a good idea; typically this type of connector is prone to failure over time. In this particular case, however, Oppo did a very nice job of including a small rubber feature on the cable plugs that provides and interference fit with the small well around the jack hole on the ear capsules, apparently making the fit much more secure and reducing strain on the jack contacts. Also, with a focus on reducing size and weight with these cans the choice is understandable.
The PM-1 headphone itself is of superb construction. The headband and leather earpads are covered in sumptuous black lambskin. Foam padding is not memory foam, but latex foam that Oppo claims are softer and longer lived than memory foam pads. I'm a big fan of memory foam for this application, but found the Oppo PM-1 padding quite faultless and supremely comfortable. Earpads are easily removed with a tug, and a second pair of velour covered earpads are included. (Editors note: Since the writing of this article, Oppo now includes a third pair of leather earpads called the "Alternate" pad, which has fewer holes on the inside of the pad and delivers a slightly brighter sound than the other pads.)
Headband arm ends are stainless steel and provide a detented adjustment. Movement is smooth and adjustments secure when fitted. Headband end caps and swivel mechanism appear to be chromed machined metal parts, but it's difficult to tell for sure. Ear capsules swivel a full 180 degrees allowing the earpads to lay flat when placed in the carry case or on a desk.
A hefty aluminum strip acts as the bail and surrounds the ear capsule completely providing significant protection for the headphones.
Styling, Comfort, Ergonomics
I find the look of these headphones terrific. This masculine and understated design resonates strongly with the quality materials used and provide a pride of ownership glow appropriate for a headphone at this price.
The PM-1 is surprisingly light for a planar magnetic can weighing in at only 395 grams, making it not much heavier than traditional headphones in this category. (For comparison: Audeze LDC-2 Rosewood 522 grams, Sennheiser HD 800 330 grams.) This, coupled with the ample padding of the headband and earpads, makes the PM-1 a very comfortable headphone perfectly capable of long listening sessions.
Headband adjustments appear to provide a good fit for the full range of head sizes. 180 degree rotation of ear pieces allow the cans to be taken off and laid flat, pads down, on a desk surface. Taken off the head to be hung around the neck, the pads rotate in the opposite direction allowing the pads to lay flat on the chest below the neck.
The only ergonomic problem I had with the PM-1 was with the short cable; I find this cable about a foot too short to be convenient. Attached to a phone in my left pocket I can't turn my head to the right without the cable limiting my range of motion.
Before I get to the sound quality, I think a little look into PM-1 driver might be fun. It's substantially different in configuration than the Audeze, HiFiMAN, and Abyss headphones. Turn the page and we'll have a look.