Savannah Music Festival 2015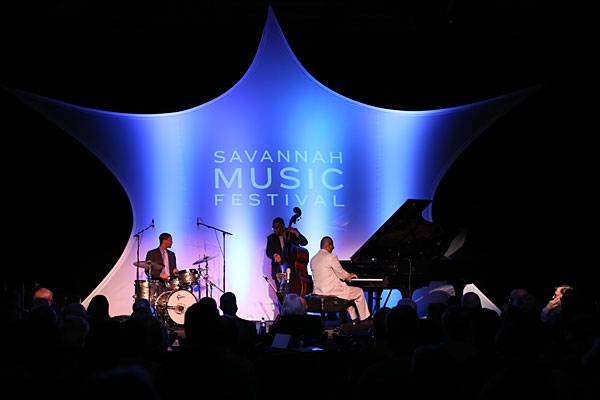 From the Hill Country to the Low Country. From grackles and bluebonnets to azaleas and snowy egrets. From the teeming, swilling, blabbering, fashion-conscious masses in Austin at SXSW--from which, I admit, I do recharge my batteries—to a more genteel crowd and more relaxed setting. After my Austin sojourn this year, I paid a visit to the more staid and adult universe of the Savannah Music Festival. Now in it's 26th year, the festival, held in a town blessed with charming squares, a large arts school, Savannah College of Art and Design (better known as SCAD, though I kept calling it SACD for obvious reasons) and wonderful, restored venues, is an extremely well-curated mix of jazz, classical, rock and traditional American musical forms like Western swing (Asleep at the Wheel), Zydeco (Buckwheat Zydeco), bluegrass (Hot Rize), Cajun (The Band Courtbouillon) and New Orleans Brass Band music (Dirty Dozen Brass Band). There was also a bit of Celtic (Lunasa) and reggae (The Wailers) music this year. Classical music comes in the form of the Atlanta Symphony Orchestra under the baton of Robert Spano and a raft of fine chamber music that featured solo pianists like Murray Perahia, Stephen Hough and Paul Lewis as well as a number of performances by the ever-superb Emerson String Quartet.
There is also a very commendable and sprawling music education program that provides performances to elementary schools all over eastern Georgia, and runs Swing Central Jazz, which gives cash prizes to high school jazz bands selected through auditions. During their time in Savannah, these bands also get to work with professional jazz musicians, like Etienne Charles, Jason Marsalis and Wycliffe Gordon. There were school bands from all over the U.S., Bellevue, WA, Denver, CO, Memphis, TN. etc, but the music program that is clearly on another level is the one at Agoura High School in Agoura Hills, CA. I attended the finalist concert at the beautifully restored Lucas Theatre in Downtown Savannah and it was fabulous to hear high school kids playing big band swing charts, blowing baritone sax solos and feeling the spirit of Count Basie, Johnny Hodges and Gene Krupa!
The Savannah Festival is run by a full time staff of about 15 people, led by executive and artistic director Rob Gibson. Once a part of the management at Jazz at Lincoln Center, Gibson is a friendly, rambunctious dude (not sure jumping right into politics is the best way to introduce yourself to a visiting journalist but hey…) who knows his classical music and is the passionate, committed face of the festival. Jazz pianist Marcus Roberts is associate artistic director
While it's tempting to compare this festival with Spoleto which happens just up the road in Charleston in late May–and both are the same variety of destination festival for arts lovers rather than an industry event– the three week long Savannah festival has a wider variety of just music while Spoleto incorporates dance, ballet, less jazz and very little rock music though this year they are closing with a performance by the great and getting ever better, St. Paul and the Broken Bones. Savannah also concentrates on single concerts as opposed to the multi-night runs that Spoleto is famous for. And for those who shiver at the mention of the word "soprano," this year other than a performance of Suor Angelica and Gianni Schicchi, two of the three one act operas from Puccini's easy-to-digest Il Trittico, there was also no opera, a mainstay of Spoleto, in Savannah.
Perhaps the best performance I saw came from Marcus Roberts and his longtime trio of Jason Marsalis (drums) and Rodney Jordan (bass) who played a program of jazz standards that was inventively arranged and easily sublime. From the moment Murray Perahia walked onto the stage the Trinity United Methodist Church a laser-like focus was visible on his face. His rendition of Beethoven's Piano Sonata No. 26 in E-flat Major Opus 81a, "Les Adieux" was both exacting and ablaze. Beethoven was also the subject of a performance of the Emerson's at the small but genuinely spectacular Temple Mickve Israel, whose congregation dates to 1733 and whose Victorian neo-gothic building is quite unique. With Beethoven being something of a specialty in both performance and recording for this NYC-based quartet (though their Shostakovich ain't bad either!), the foursome's reading of his String Quartet No.'s 12 and 15 was terrific.
All concert presenters run the risk of a performer making a bad career decision at their gig and Lucinda Williams, a great, great songwriter who I have seen many times, decided in Savannah to put on a unremitting downer, one sad ballad after another, no interaction with the audience and a three song acoustic break in the middle of her set that was genuinely deadly. Afterwards I listened to the grumbles as the deflated crowd filed out saying that this was the first event in the entire three-week program to sell out and yet what a depressing show it was. If Williams, who tours with a four piece band that could rock and lots of wonderful upbeat material amongst her many albums to choose from, keeps performing bleak sets like this, her career as a touring artist will desiccate and be over.
While I stayed at the Hilton DeSoto, a worn high rise from the Seventies that is in dire need of being sold, redone, or perhaps torn down, The Brice, a new property in the Kimpton hotel chain, looks to be the place to stay in Savannah. While the Grey is the buzzy new restaurant in town, two modern bistros with fine cooking and reasonable prices, the Public Kitchen and Bar and The Collins Quarter were excellent choices in Savannah's varied dining scene.