Saturday Afternoon at Capital Audiofest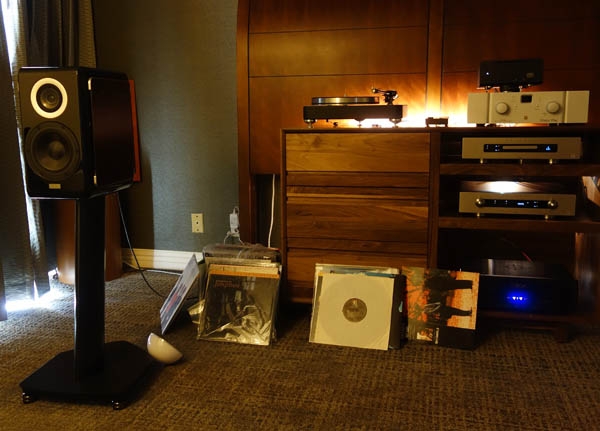 Of the three systems I heard at CAF 2018 that had been assembled by retailer Tenacious Sound—I think there were eight in all—the one that sang through a pair of TAD ME-1 loudspeakers ($14,995/pair) was the most impressive. I requested some Richard Thompson, and my guitar-pickin' friend Lenny Mayeaux, whose day job is with manufacturer Audience AV, put on "Vincent Black Lightning." It was sonically wide-open—the system would not have wanted an atom more treble, but it was smooth and fine and inviting just as it was—and musically soul-refreshing: I almost cried. (If he had played "Beeswing," I surely would have.) Also in this very nice system were a Wolf Audio Luna server ($3600), Primare Pre35 preamplifier ($4495), Coda S20 amplifier ($5495), and Audience SX interconnects and speaker cables.
I also spent a few minutes with what Shayne Tenace of Tenacious Sound described as "what has to be the least expensive system at the show"—it comprised a MoFi StudioDeck turntable ($1199 with tonearm and cartridge), Quad Vena II integrated amplifier-DAC ($995), and Wharfedale Crystal 4.3 speakers ($495/pair), with Audience cabling and power conditioner. On a selection from Elvis Costello and Burt Bacharach's Painted from Memory LP, the system nailed the musical essentials, especially the nuances in Costello's vocal.
The sounds of a Tchaikovsky symphony pulled me in to the curiously large space occupied by HAL, which turns out to stand for Hollis Audio Labs (I was hoping for a 2001 tie-in). At the end of the piece, I and a two other attendees loudly complimented the choice of music, and then something remarkable happened: The person running the demonstration listened to us, and played more music in a similar vein (Mussorgsky's Dance of the Persian Slaves—I think it was the one on Reference Recordings, with Eiji Oue and his Minnesotans). We were charmed!
The HAL loudspeakers we listened to—the mid-treble modules were an open-baffle design, while the bass enclosures used two woofers each, one facing forward and the other facing backward, the lot driven by a pair of Parasound Halo A23 amplifiers—turned out to be kits, priced at $7500/pair including electronic crossovers. The sound wasn't perfect—there was some grain in the trebles, and the warmth region was a bit lacking—but the system nonetheless allowed the music to do its thing.
As they did last year, Marietta, GA-based retailer The Audio Company occupied the Rockville Hilton's largest and most spectacular ballroom with a decidedly grand system built around loudspeakers from Von Schweikert, amplification components from VAC, digital-source components from Esoteric, and a record player from Kronos. Also as last year, the room was virtually always packed with attendees anxious to experience such a thing. I was among their number on Saturday afternoon—the generous mood lighting made it seem more like Saturday night—when I took a seat in the middle row and dared the various silver and black and gray boxes to entertain me.
An unfamiliar and evidently high-minded (but not unpleasantly so) rock recording rolled through the air: Impressively loud, clean drum thwacks and bass-pedal notes thundered their way through billowing clouds of ambience, while electronically treated choirs intoned "Ahhh" and a male vocalist sang and spoke such seemingly random lines as "It's a miracle" and "What is the half-life of a color TV?" I had no idea what any of it meant, but it was all very compelling, and the ultra-wide-frequency-range sound was undeniably impressive. It was like a cross between going to the movies, going to a disco, sitting in a big glass box while a thunderstorm rages overhead, and getting high.
The system: Von Schweikert Ultra 11 loudspeakers ($300,000/pair) and V12XS Shockwave subwoofers (two of 'em, at $11,500/each); two pairs of VAC Statement 450iQ monoblock power amplifiers ($120,000/pair) plus VAC's Statement phono stage ($80,000) and Statement line stage ($75,000); Esoteric Grandioso P1 transport ($38,000), Grandioso G1 master clock ($26,000), N-01 network audio player ($20,000), and two Grandioso D1 monoblock DACs ($19,000/each); Kronos Pro turntable with SCPS-1 power supply ($51,500); Air Tight Opus phono cartridge ($15,000); and $164,000 worth of Critical Mass Olympus V12 Luxury equipment supports.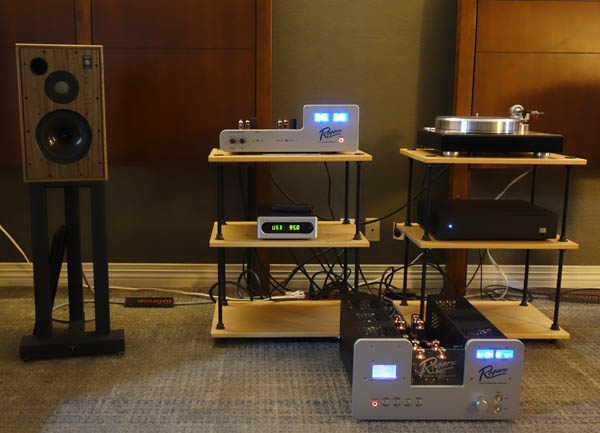 In the room sponsored by distributor-retailer Fidelis AV, I enjoyed a system built around one of Herb Reichert's favorite loudspeakers, the Harbeth M30.2 40th Anniversary Edition ($6495/pair; matching stands are $1495/pair), used with Rogers High Fidelity's class-A, 100Wpc 34S-1 integrated amplifier ($20,000) and PA-1A phono preamplifier ($7200), with an Acoustic Signature Double X turntable ($7600), TA-2000 tonearm ($2895), and MC3 cartridge ($1650) as the analog source and a Wolf Audio Alpha 3 server ($6000) plus a Bel Canto 1.7 DAC ($2500) as the digital source. All cables were by Accusound. We listened to a jumpy, uptempo number by Saint Paul and the Broken Bones—not my cup of tea, really, but it sounded clear and colorful and remarkably propulsive on this limber system.