Roon Labs Roon v.1.0 music-playback app Page 2
And once you start somewhere, Roon can keep the show going until you pull the plug. The Radio feature uses metadata to create, in the words of Roon Labs, a "personalized station," in a manner similar to Pandora Radio's automated music-recommendation engine. To get started, you simply pick one or more tracks, then press the Radio button: Roon moves you around related music with a curated stream.
Sound quality
These days, I find that most music-playing apps sound so alike, the differences aren't worth sweating. It didn't used to be this way, but it is now: When I've properly set up Amarra, Audirvana, JRiver, Sooloos, VLC, etc., on my Mac and compared them through the same DAC, I've been hard-pressed to hear meaningful differences. Changing a DAC's filter setting has a greater influence on sound. (Audirvana and JRiver partisans: Have at it in the comments section when this review appears on Stereophile.com!)
Nonetheless, I connected my Roon laptop to my main system via USB and, using the same albums as in my Sooloos collection, listened intently. I could hear no differences in sound quality, good, bad, or indeterminate. Via S/PDIF, Sooloos doesn't support DSD, so I couldn't use that file format as a basis of comparison. But in comparisons of PCM files of CD resolution or higher, up to 24-bit/96kHz, and with the Sooloos and Roon systems using the same DAC, nothing stood out. That said, changing to a different DAC did change the sounds of both . . . but that's a different review.
Tidal and Roon
For $19.99/month, Tidal provides streaming service at CD resolution of a growing library of songs that, at time of writing, numbered 25 million. Integration of Tidal with Roon was fairly seamless, although I encountered some metadata quirks that, presumably, Roon will address in updates.
If you don't already have a large library of music, Tidal can supply you with an instant deep catalog. When setting up Tidal, you can have the service populate your Roon library with a collection of Essentials: 100–200 albums for each genre you choose. You can then add more Tidal albums over time, or explore new music and build up a great collection (as long as you continue to pay Tidal's monthly fee). If you mix Tidal's albums with your own, a small Tidal logo appears in the metadata of the former, to indicate which are which. Another bonus: Like Sooloos, Roon makes navigating Tidal far easier than does Tidal's own app. If you're already a Tidal fan, I believe you'll find Roon a better way to sort and play tracks.
Touch Me
So much for mousing around. I was ready to see if Roon could jump to a touchscreen, giving it a more equal footing with the Sooloos: Even though Roon doesn't yet officially support touchscreen hardware, it has been done.
And I had to try. I researched new, inexpensive touchscreens until I found, among others, one that would work with my Mac and Windows machines: a 23" Acer T232HL ($300 on Amazon). To connect it to my MacBook Pro, I picked up an HDMI-to-Lightning adapter ($7).
Touchscreens require two connections to the host computer: an HDMI cable with video, and a USB cable to carry the movement and click info. Though my research indicated that I'd need some drivers for my Mac, when I hooked up the Acer to my OS X 10.10.3 Yosemite laptop, it worked right out of the box—kind of. It was a little choppy and not very intuitive: Tapping, dragging, and basic scrolling didn't work well at all, though the cursor did follow my finger around.
And that's where drivers come in. Two are commonly available right now: Touch-Base ($171) and Dawkeys ($150, aimed mostly at the pro-recording industry). I downloaded Touch-Base, ran it in demo mode, and the touchscreen function began working right away. I then downloaded Roon onto an older Mac mini belonging to my housemate, Corrina, and connected it to the touchscreen—and that, too, worked great.
I then invited Corrina's brother, Terrence, to come by with his Sony laptop, which runs Windows 7 Pro (with built-in touchscreen drivers). Once set up, the Sony worked just like the Mac. In fact, the Sony was a little better when it came to onscreen keyboards and more complicated clicking and scrolling.
Terrence was so impressed that he offered to take the touchscreen off my hands when I was done with it. He then found an online post from Roon Labs, recommending Intel's NUC series of compact computers. After a bit of research, Terrence chose the Intel NUC NUC5i5RYH with Intel Core i5 Processor and 2.5" drive support ($372 on Amazon). He added a Transcend 64GB solid-state drive ($47), 8GB of Crucial RAM ($49), and an external 1TB NAS.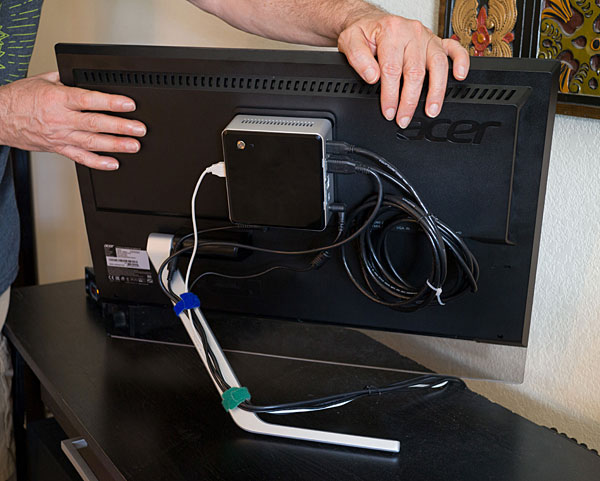 Not including the NAS, Terrence's entire system, with touchscreen, computer, and lifetime Roon license, came to $1438. This compares very favorably with the Sooloos Control 15—which adds a larger internal drive and a transport for ripping CDs—for $7500. To be fair, the Sooloos is a purpose-built device that is much easier to set up and use, because it does only two things: store and play your collection.
Terrence and I loved the Acer-NUC combo, which can fold down to almost flat on the table, or, with a slight tug, sit up straight. Drawbacks include a glossy, reflective screen that shows fingerprints, and a sensitive power button at bottom right that's too easily hit by mistake. At first, Terrence was concerned by reports of under-load noise from the NUC's fan, but that hasn't yet been a problem when running Roon (and fanless enclosures for NUCs are available). Also, at this point, Roon is dependent on the OS's onscreen keyboard, so a wireless keyboard is helpful. I assume that Roon will eventually include an onscreen keyboard that functions similarly to the Sooloos's handy version.
Terrence's takeaway, after getting his system settled: "I've had in my mind what I've wanted all these years, and it turns out I was waiting for Roon."
One more note
As I was finishing up this review, Meridian announced that they were going to make an "enhanced" version of their Sooloos software available for free to run on a system similar to what Terrence had just set up. The catch is you'll probably still need to buy a Meridian "Core" in some form to get it to output a digital stream. (footnote 3)
Go to Your Roon
I suppose that, in this over-apped world, it's easy to take good software for granted. But after a couple of months with Roon, I still marvel at how it works. Roon is a tour de force of programming, design, and metadata mining, clearly built on the Sooloos system—which, in turn, is based on a thorough understanding of human behavior and how we relate to music. Roon is like a tireless, well-informed musical tour guide, pointing out interesting tidbits before moving you on to the next attraction. It's endlessly entertaining.
If you're thinking of putting together your first computer audio system, start with Roon and don't look back. If you take your music seriously but you're already entrenched with a different computer-audio system, give Roon a spin. I've still got my Sooloos up and running, and it satisfies me for now, but I'm watching Roon like a hawk. If I were starting today, there's no doubt Roon would be my first choice, for both features and price.
As for the latter: When I consider the enormous contribution made to the user experience by top-notch metadata—which is not cheap to come by—I can only conclude that Roon is a bargain. A lifetime price of $499 is a sweet deal—assuming, of course, that Roon can stick around for at least five years.
In any event, music lovers and audiophiles are lucky to have Roon right here, right now. Check it out.
---
Footnote 3: After this was published, Meridian announced it will allow users to add a "Core" to a QNAP NAS drive as a free plugin. You'll then only need to buy one or more Meridian endpoints to run Sooloos software anywhere on the network. In addition Meridian says it will offer free "TouchPC" software that will provide a Control 15 style user interface to any Windows 8 or 10 "all-in-one" touch screen computer.