Recording of May 2017: The Gilded Palace of Sin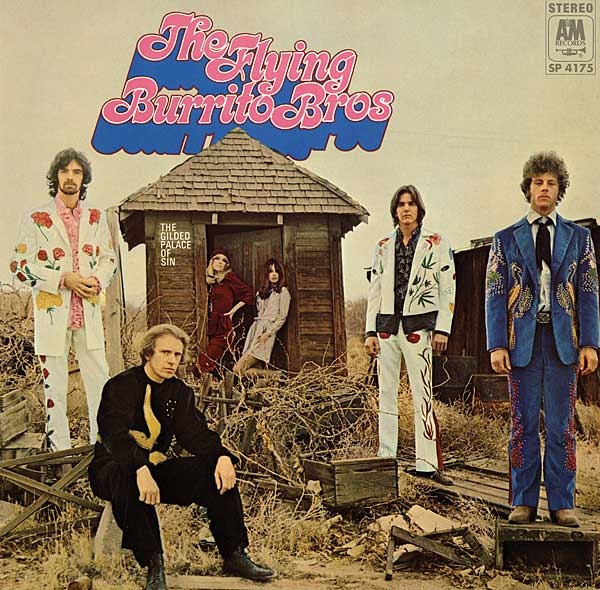 The Flying Burrito Brothers: The Gilded Palace of Sin
A&M/Intervention SP 4175 (LP). 1969/2017. Larry Marks, prod.; Henry Lewy, prod., eng.; Kevin Gray, remastering. AAA. TT: 35:24
Performance *****
Sonics ****½
The International Submarine Band, the Byrds, the Flying Burrito Brothers, and finally, just Gram Parsons. He was a Snively on his mother's side, scion of a vast citrus-growing fortune. A trust-fund baby who, unlike most of the struggling musicians he hung out with, could go to a bank and withdraw large amounts of cash. When he was 12, two days before Christmas, his father killed himself. Seven years later, on the day he graduated from high school, his mother finally drank herself to death. He lasted one semester at Harvard before becoming a denizen of Los Angeles, and eventually a powerful force in the Sunset Strip music scene.
In 1972 he hung with Keith and Mick at Villa Nellcôte, during the recording sessions that produced Exile on Main Street. And on September 18, 1973, after two solo records that didn't sell but have since come to be revered, he died of an overdose of morphine and alcohol in Room 8 of the Joshua Tree Inn, in Joshua Tree, California. As his duet partner, Emmylou Harris, commented in a cover blurb for Ben Fong-Torres's Hickory Wind: The Life and Times of Gram Parsons, "Gram was one of the pioneers of music. The problem is he was always ahead of his time."
Parsons's recorded legacy is much like his live performances during his short career as a practicing musician: erratic and unpredictable. At times he was present and committed, as on The Gilded Palace of Sin; at others, as on the second Burrito Bros. album, Burrito Deluxe, his concentration waned.
And yet, amid the distracting haze of drugs and nascent rock stardom, Parsons's ideas about blending country, rock, and even R&B into what he called Cosmic American Music had a resonance that resounds today. His influence has become almost incalculable. For those open to what he was saying and playing, his music became an influence on bands as varied as the Stones, the Eagles, and Poco—and, later, on alt-country figures like Steve Earle, Uncle Tupelo, and Wilco.
As Fong-Torres quotes Parsons in his book: "Yeah, my music is still country—but my feeling is there is no boundary between 'types' of music. . . . I see two types of sounds—good ones & bad ones—or—ones y'like and ones y'don't."
In 1968, after making a single album, Safe at Home, with the International Submarine Band, a group he'd formed at Harvard, Ingram Cecil Connor III joined the Byrds and was a big part of the resulting album, Sweetheart of the Rodeo. Because of a contract dispute with LHI, the record label that had released Safe at Home, three of Parsons's lead vocals had to be stripped off of Sweetheart (a 2003 CD reissue includes those songs, with and without Parsons's original vocals). After leaving the Byrds in summer 1968 over the band's decision to tour in apartheid South Africa, he returned to L.A. and formed the Flying Burrito Brothers with another former Byrd, Chris Hillman.
Like the other stops on Parsons's musical journey, his tenure with the Burritos was brief. The first of his two albums with them was The Gilded Palace of Sin, now reissued on 180gm vinyl by Intervention Records, a new label based in Gig Harbor, Washington. To survive and prosper, any reissue label must eventually make a splash with a surprise release that's not only relevant, but hasn't yet had a proper remastering. For Intervention, this is that album.
The new analog lacquer was cut by Kevin Gray, at Cohearent Audio, and the discs were pressed at RTI. (The album will be simultaneously released as a hybrid SACD/CD.) The source was a flat safety copy, on 30ips ½" tape, of the original stereo master.
Despite Parsons's dominating presence, the Burritos were very much a band. Although a number of different drummers, including Eddie Hoh and Popeye Phillips, played in the sessions that became Gilded Palace, the band had two great strengths: the duet singing of Parsons and Hillman, the band's strongest voice; and the unique pedal-steel playing of the late Peter "Sneaky Pete" Kleinow.
The Gilded Palace of Sin is probably the fullest expression of Parsons's vision of a hybrid music. The inclusion of two soul numbers, "Do Right Woman" and "Dark End of the Street," written by Memphis music icons Dan Penn and Chips Moman and hits for, respectively, Aretha Franklin and James Carr, was a move surely spearheaded by Parsons and his desire to find his Cosmic American Music.
His singing was nasal, with shaky intonation, and yet it had undeniable presence. As proven by the songs sung here with Hillman, or with Emmylou Harris on his solo albums GP and Grievous Angel, Parsons may have been a better duet partner than a solo singer. His songwriting, typified here by the moody and beautiful "Hot Burrito #1" and the quasi-religious lament "Sin City," could be exquisite. But beyond even the songs, Parsons's real gift was his spirit and charisma, even if often blunted by substance abuse. He led; everyone else followed. Others might have been better musicians or craftier songwriters; Parsons pointed the way the music could and would move toward.—Robert Baird