Recording of January 2018: Carry Fire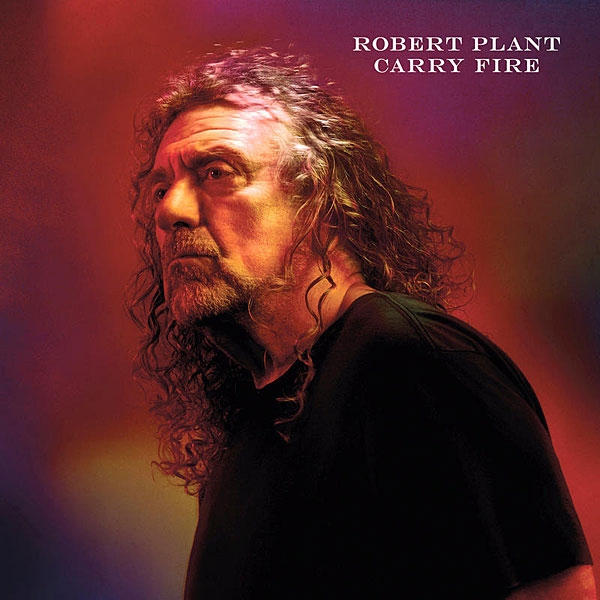 In 2010, down in the East Village, on Delancey Street, at the NYC debut party for Robert Plant's
Band of Joy
, the assembled rock press, assorted hangers-on, and wannabe VIPs patiently sipped drinks as we waited for the guest of honor. Suddenly, with no fanfare or even announcement, he stepped out of a closet or secret passage of sorts into a roomful of astonished smiles. He'd been there all along.
In the rock world, it seems as if Robert Plant and his former band, Led Zeppelin, are always hovering somewhere nearby. While some 1970s acts have not remained relevant to younger generations, Led Zep marches on, their music never far from the sound or the musical zeitgeist of the current moment. The influence and mastery of their eight studio albums, incalculable and utterly pervasive, grows with every year.
Since the death, in 1980, of drummer John "Bonzo" Bonham, and Led Zep's dissolution soon after, Robert Plant—the curly-haired front man, the singer who got all the chicks—has struggled to escape the shadow of the formidable musical dirigible he helped inflate. With a few missteps—the early-'90s duo of Manic Nirvana and Fate of Nations—and a masterpiece, Raising Sand, his 2007 collaboration with Alison Krauss, Plant has been on a solitary journey.
The darkest corner of Zeppelin's outsize reputation is the fact that Plant is the main obstacle to a long-rumored, long-awaited reunion album and tour. Predictably, this has brought down on his head a storm of criticism, mostly from newer fans who fail to appreciate a fundamental truth: Bonzo was irreplaceable. Even Bonham's son, Jason, can't fill those shoes. To those convinced of that certainty—one that can be distinctly heard on record —Plant's holding the line against any sustained reunion is a classy, sensible move. In place of a Zep 2.0, he's slowly but surely found his own solo voice, and Carry Fire is another solid step in that difficult but ultimately more rewarding journey.
First and always, there's his voice, perhaps the most recognizable human instrument in the history of rock—though Paul Rodgers might have something to say about that. Plant's range and elasticity are, understandably, not what they once were—too many performances of "Black Dog" have taken their inevitable toll. He now has a breathier, lighter tone. But even with that, and everything pitched down at least a step, that voice, always fraught with a certain mystery, remains a supremely expressive instrument able to weave through, say, the "ooooohhhh, aahhhhh" parts at the end of "Dance with You Tonight" with perfect inflection and instinctual grace. If there's a Zep connection on Carry Fire, it's to III, an album that was deemed "folky," particularly after all the thunder of the "Brown Bomber," II. That kind of introspective sifting can be heard on Carry Fire in the mid-tempo love ballad "Season's Song."
While Plant's solo recording career may never again include material as strong as that on Raising Sand, much of Carry Fire was cowritten with his highly skilled and adaptive band, the Sensational Space Shifters. The connection with guitarists Justin Adams and Liam "Skin" Tyson, keyboardist John Baggott, bassist Billy Fuller, and drummer Dave Smith continues to strengthen—the band seems locked in to cowriting and playing Plant's favored blend of blues and English folk music with Arabic and African accents. The album is atmospheric and moody throughout; many of the songs—such as "A Way with Words," in which Plant sings of emotions that he characteristically keeps at arm's length—are really just settings for his vocal meanderings.
The title track, buoyed by Adams's nimble oud playing and the string work of violist Seth Lakeman and cellist Redi Hasa, is carried along by North African rhythms. "New World . . ." has the album's most memorable melody, and lyrics about Europeans discovering the Americas and subjugating the "noble savage."
For listenable sound here, the vinyl edition is the only choice. On this album at least, Plant has chosen the wrong side in the loudness wars, allowing the music to be compressed and dynamically flattened on the CD. Perhaps, these days, this is the conscious choice by record labels like Nonesuch: Those who want better sound will gravitate toward LPs and high-resolution downloads, while those who don't know or care will opt for cheaper, compressed, squashed-sounding MP3s and CDs.
Welcome echoes of Delta blues and the lullaby "Hush, Little Baby" mix over low-end electronic keyboard pulses in "Keep It Hid," in which Plant's endless fascination with mysticism, spirituality, and the natural world appear in the repeated chorus line "Silver key and a golden cup." In a noisy, slowed-down version of "Bluebirds Over the Mountain," a late-'50s hit written by obscure upstate New York rockabilly cat Ersel Hickey (later recorded by the Beach Boys), Plant teams with Chrissie Hynde for an elegant fusion of vocal stylists. Overall, a master at work.—Robert Baird