Recording of December 2011: All We Are Saying . . .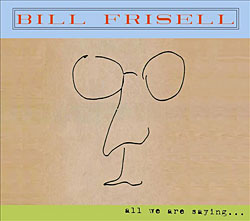 Bill Frisell All We Are Saying . . .
Bill Frisell, guitar; Jenny Scheinman, violin; Greg Leisz, pedal steel guitar; Tony Scherr, bass; Kenny Wollesen, drums
Savoy Jazz SVY17836 (CD). 2011. Lee Townsend, prod.; Adam Blombert, prod. asst.; Adam Munoz, eng.; Greg Calbi, mastering. AAD? TT: 68:12
Performance ****
Sonics *****
How do you escape the pressures that come with making a record of well-known John Lennon tunes, many of them from archetypal Beatles songs? Convene a quartet of longtime bandmates, each a skilled instrumentalist with whom you've played this material before—albeit not in a while—and just hang loose, let the ideas flow, and jam up beautifully recorded, feel-no-heat-from-the-classic-originals versions whose rough charms somehow seem exactly right. Oh yeah, and bring in pedal-steel wizard Greg Leisz to put an evocative, legato tang on the whole thing.
Nearly every song opens with a chord from Frisell to set the scene. Then each of these 16 tunes, most of which are almost hardwired into several generation of music fans, is turned sideways rather than on its head. Nothing here is changed to the point of unrecognizability, but adaptations are easily audible. "Revolution" is a combination blues shuffle and country hoedown that is organically winnowed down to an ending of strong single tones on violin, guitar, and pedal steel. On the next track, "Nowhere Man," with Kenny Wollesen's drums leading the way, Frisell, perhaps the most texturally adventuresome guitarist alive today, crosses and entwines every sound his instrument can make with similar energies coming from Scheinman's fiddle to form a jaunty, layered version of one of Lennon's best-known tunes that is simultaneously familiar and original.
Those, in fact, are the yin and the yang this entire album turns on. Though it's a dangerous knife-edge to tread—boring, slavish tributes on one side, avant-garde insults on the other—Frisell's relaxed approach and just-right spirit for the entire project make it a triumph. The quiet genius here is admirable. From the dreamy moods of "Across the Universe" and "In My Life" to the more aggressive and close-to-the-original outlines of "Please Please Me" to a jammy, unsettled version of "Give Peace a Chance" that's full of cymbal splashes, and resonant chords from the strings, most of what's here works, preserving the essences of Lennon's gifts while making a statement as its own kind of art. Gorgeously recorded by Lee Townsend, who helmed Frisell's last album for ECM, Lookout for Hope (1987), and has been his go-to engineer ever since, the sound of these familiar tunes is spacious, wonderfully detailed, and utterly transparent.
What makes this record—a project all participants admit came together very rapidly—not only possible, but a rare success in the field of re-recording the music of Lennon and McCartney, is the obvious chemistry between the members of this quintet, who've now played together for the better part of 15 years. The rhythm section of Wollesen and bassist Tony Scherr, who also play together in the band Sex Mob, has the kind of telepathic, finish-each-other's-idea connection that all great rhythms teams possess. Their work in the nicely low-down and gritty version of "Come Together," which hews closely to the Beatles' original, drives the web of string tones and tinklings—and an unidentifiable sound that sounds like a low human wail—along at a trot. It's fascinating to hear the improvisatory gifts between the players, as they watch and listen and play off each other's moves, all led by Frisell's Jim-Hall-meets-Americana sensibility, which rarely, if ever, takes a false step.
Brooklynite Jenny Scheinman, whose positive reputation and body of recorded work continue to grow, does a fantastic job here of re-creating on fiddle the vocal parts of some of the original songs, with a suitably wounded tone in "Julia" and, in "Imagine," a low, growled string sound that is becoming one of her trademarks. She perks along as the others dart in and out, supporting and accentuating her bravura performance. Again, while this album will never be thought of in the same moment as more offbeat Frisell projects such as Bill Frisell Quartet (1996), when he used a quintet centered on trombone, trumpet, and tuba, or Unspeakable (2004), for which he and producer Hal Willner created a sort of noisy neo-soul mash-up—here the animating principles of love and respect fashion a low-key celebration of John Lennon and his vision.
"I kind of feel like I knew him," Frisell said in a recent interview (see p.73), "but so much of what we see of him is what people decide we should. It's hard to separate the god thing from the person. What informed a lot of this [record] was the notes, the music, these perfect songs. As instrumental pieces they're perfect. And then there's the words that give us this other emotional weight. Everybody in the band was hearing the words while we played."—Robert Baird