Record Store Day Saturday Marks 10th Anniversary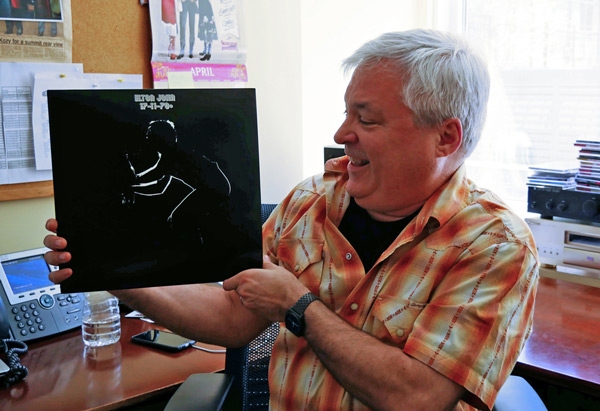 In preparation for the tenth annual Record Store Day this Saturday, April 22, I decided to lurk around a few record stores in Manhattan and talk to anyone working there about whether this wonderful marketing ploy still has any juice.
While I expected a lot of shrugs and nonchalant responses, I mean it has been 10 years after all—and as a one-time record-store employee, I'm fully aware that being detached and cooler than thou is an essential part of the gig—what to my wondering eyes and ears did I find but a store owner engaged in what I took to be shady RSD subterfuge. As a customer ticked off items on the RSD list that he wanted—"The List," as it's officially known, is available at www.recordstoreday.com—the owner proceeded to say things like, "I didn't order that," or "I'll save that one for you."
Having stood in line for previous Record Store Days, and knowing that just because a store orders items on the list doesn't mean they will get them, I was fairly intrigued by this discussion, which turned to whispers when they noticed my eavesdropping. I put in a call to RSD co-founder Michael Kurtz for answers.
"The stores created a pledge themselves which says they will not put things up on eBay or for auction, they won't sell anything for crazy prices, and they won't sell it beforehand. I don't remember what the exact wording in the pledge is on holding things for a customer. There are approximately 1400 participating stores. We can't police them.
"The whole idea for record stores is to celebrate their culture and what they do. The record releases are just a small part of that. The really engaged ones are throwing parties and having artist performances. They're giving cookies out, they're baking cakes, they're giving coffee, they're serving wine, and they're serving beer. The ones who just focus on the records, those are the weak ones. Those are the ones who are like, `What's in it for me?' "
I also noticed in my habitual delving into the tempting wilds of eBay that a fair number of RSD items were already being advertised for pre-sale. Are record stores who have the product in hand breaking ranks and selling on eBay, before or after the actual day, to the highest bidders? Or have some sellers, the same guys who use bots and other robo trickery to buy up concert tickets so they can be resold at obscene markups, organized a ring of buyers to swarm stores and clean them out of desirable items? Again, if that's true, why bother standing in line? Even more intriguing was the RSD website where photos of the cover art of each of this year's 350 RSD items have the words "Support Record Stores Not Flippers" on top of them.
"Pre-orders are bogus, completely bogus," Kurtz says. "They do not have the product. If you order it, you may get it, you may not, but that person's got your money.
"There's this one particular guy, we know where he is, and who he is. He sets up a fake eBay account. In my opinion, it should be illegal what he's doing but eBay does not agree. We keep making it harder and harder for him. He's part of the reason why we watermarked all the images so he could not get them and act like he had the items. You would hope that people who are buying stuff online would look at this and say this guy is a scammer."
Lastly, after making fast notes that all the stores I was in agreed that the two picture disc Cure titles, Greatest Hits and Greatest Hits Acoustic and the two Bowie items, the vinyl boxed set BowPromo and the 3 LP set Cracked Actor, Live in Los Angeles '74 were going to be the most sought-after titles, I wondered how much unreleased and obscure stuff, the fuel Record Store Day runs on, the big draw for consumers, can still be out there? As for audiophile labels, Chad Kassem's Analogue Productions has never done an RSD release though he says he's open to the concept. Mobile Fidelity released a blue vinyl edition of Weezer's debut, better known as The Blue Record, several years back.
"What's happening is that indie labels have moved in to Record Store Day," Kurtz says. "They didn't participate in the beginning because they didn't have the confidence, and it was expensive for them to try it. Now they make up 60–65% of record store day releases.
"On the major label side, there are always artists who are now huge who were not before. And the iconic artists are sort of using it like U2 did to celebrate their tour, or in the sense of the Beatles, as a way to launch the new Sgt. Pepper's reissue. Or you could have a situation like Elton John where 17-11-70 had a number of tracks that were recorded for that album but never put out. He loves record store day, and so he's putting put out an RSD version of it with these extra tracks. That kind of minutiae, even for major artists, just goes on. There are studios full of archive stuff. I've always feared that we would run out of stuff, but I don't think it's gonna happen."