Ray Charles Live 1961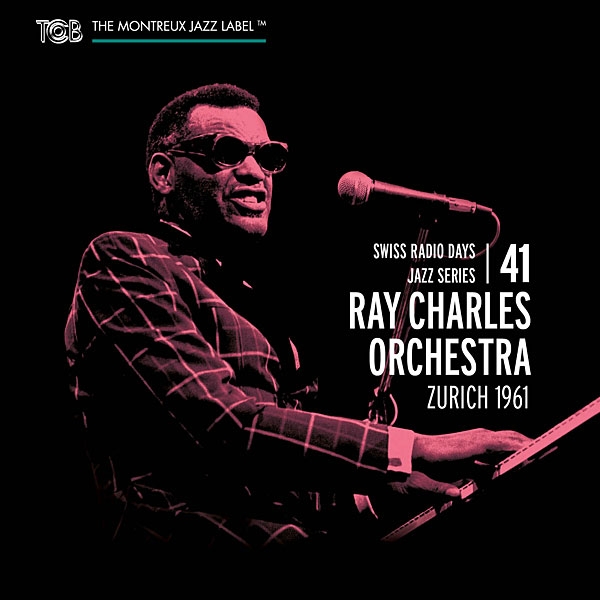 The Swiss Radio Days series of CD releases on the TCB Records label has been around since the mid-1990s and while they always looked on paper to have the goods—potentially important and revelatory live performances recorded by Radio Television Suisse in the 50's and 60s—the music therein never quite grabbed me as I hoped it might. While they had early success with a pair of Art Blakey Jazz Messenger shows from 1960, there were too many mediocre big bands past-their-prime releases along the way. And too many Oscar Peterson records which if you've heard one, you pretty much heard them all. After the 2015 death of TCB owner Peter Schmidlin, the label has found new energies and released a pair of records that are the best yet in their 40 title catalog.
Perhaps it's the naturally cool and detached atmosphere of Switzerland, but I've always found the Swiss Radio Days performances to be a little bloodless and a bit of that quality is present in the Sonny Rollins trio side recorded in March 5, 1959 during his first tour of Europe. The repertoire of the five tracks is standards like the Jimmy Van Heusen/Johnny Burke number "It Could Happen To You" and a fast take of the set's single original, "Oleo," which is itself almost a standard. The solos and driving accompaniment of the great upright bassist Henry Grimes are a highlight (Pete La Roca is the drummer). And the short liner note by Charles Lloyd is a nice touch. The beauty of Rollins tone, the fluency of his touch and the fertility inherent in his ideas are all immediately apparent. If not quite on fire this is still prime Rollins just before he took the first of several well-known career breaks from recording and playing out. A year later he was famously practicing, searching for a new direction on the Williamsburg Bridge.
Five tracks from the Horace Silver Quintet that were recorded the same day are also included. Featuring Junior Cook on tenor saxophone and Blue Mitchell on trumpet, this spirited upbeat bebop set includes a fast take of Silver's "Cool Eyes" where Mitchell struts his chops. The sound on the Silver set, while generally fine throughout (a knowledgeable jazz fan who was passing my office while it played guessed "Rudy Van Gelder") is oddly varied between "Nica's Dream" and "Cool Eyes" and sounds like a different microphone setup was used on the latter track.
There's been a bit of controversy about this release. I've heard there have been grumblings in the Rollins camp about this disc being an unauthorized bootleg. After a little detective work, I came up empty but I'm betting this has something to do with the public domain laws which are different in Europe than in the USA.
While the Rollins/Silver disc qualifies as very interesting, the record that was released at the same time also as part of the Swiss Radio Days series, Ray Charles Orchestra Zurich 1961 Vol.41, is nothing short of spectacular! This is Ray, just as he's breaking big in the States, in fine voice, backed by a stellar big band that includes dueling tenors David "Fathead" Newman and Don Wilkerson, who thrillingly trade breakneck solos in "The Birth of a Band," a tune arranged by Quincy Jones, who arranged a number of tunes here and is yet another reason this session is so special. His arrangement of "I Remember Clifford" becomes a showcase for trumpeter Marcus Belgrave and drives what is essentially an R&B big band in a very understated and elegant jazz direction. Another Jones arrangement of the Harold Arlen chestnut, "Come Rain or Come Shine," varies between just Ray and piano and the entire band rising in the background.
As for the early hits, "Hit the Road Jack" gets a spirited reading as Ray and the Raelettes vocally battle back and forth. And then comes a spectacular slow version of Hoagy's eternal "Georgia on my Mind" where Charles plays piano and duets with Fathead Newman's flute which flutters lyrically around Charles heartfelt vocals. Flutes usually make my skin crawl—sorry Herbie Mann, Jean Pierre Rampal and Hubert Laws—but this is so unusual I couldn't resist it. Even if you think you've heard Ray do "Georgia" one too many times, this version will surprise— it's really something special. Again, the sound quality here has some unsteady moments but once they get the balances right, it's surprisingly good especially considering the age of the tapes. Although I've heard that the next releases will be a Dave Brubeck set from 1955 and Nat King Cole from 1950 I doubt that the Charles set can ever be topped.