A Preamplifier Faceoff: Ayre & PS Audio
In the
March 2018 issue
, Art Dudley admired the sound quality of Ayre Acoustics' KX-5 Twenty preamplifier, but didn't love some of its operational aspects (footnote 1). I've staged this Follow-Up as a putative face-off between the Ayre and my current reference preamplifier, the PS Audio BHK Signature, which I reviewed in the
June 2017 issue
(footnote 2).
Although the PS Audio BHK Signature and Ayre KX-5 Twenty preamplifiers have some things in common—eg, both are fully balanced and have both XLR and RCA outputs, not to mention the fact that both products are made in Boulder, Colorado—their prices were arrived at from opposite directions. At $5995, the BHK Signature isn't just PS Audio's current flagship preamp: it's one of the most expensive components the company has ever produced. But at $9950, Ayre's KX-5 Twenty is a result of trickled-down technology: Ayre introduced its Variable-Gain Transconductance (VGT) volume-control circuit in the KX-R preamp, which at the time cost $18,500; the current, updated version, the KX-R Twenty, costs $27,500. Is it better to benefit from trickled-down technology, and settle for less than a company's best—or experience the purest expression of a company's audio vision?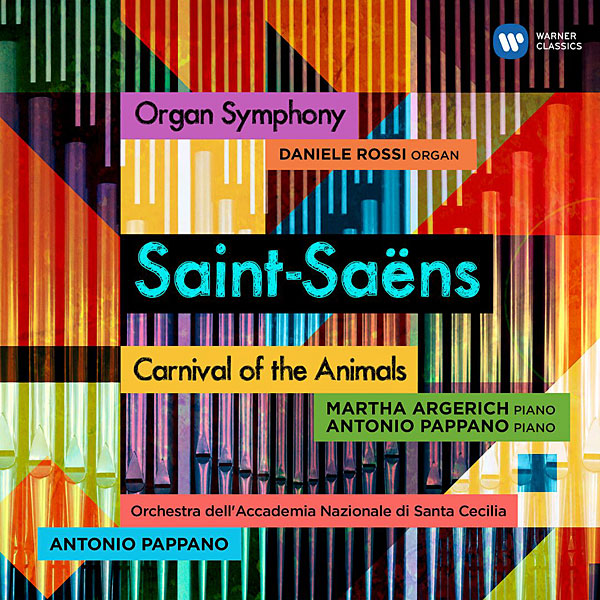 I decided I would compare the two preamps using a single recording: Saint-Saëns's The Carnival of the Animals, with pianist Martha Argerich, and Antonio Pappano also playing piano while conducting a chamber ensemble drawn from the Rome Santa Cecelia Academy Orchestra (CD, Warner Classics 0190295755553). I'd been listening to this excellent-sounding album for a couple of weeks—to the MQA version on Tidal, via Roon—when I saw Robert Levine's review in the March 2018 Stereophile. With its disc-mate, Saint-Saëns's Symphony 3, "Organ," Robert awarded the recording 4.5 stars for the performance and full marks—a rare five stars—for sonics. "Stunning!" he concluded. Full of contrasting instrumental timbres and colors, Carnival makes a good audition piece—and while it may be children's program music, I like it!
First, though, I had to match levels. I began with my PS Audio BHK Signature preamp, setting it to a level that seemed natural for the music. Then I played a white-noise track, and measured the output with a digital meter: 79.2dB, with the BHK's volume level set to "40" (in a range of "00" to "100"), as indicated on the preamp's digital readout. Then I moved the interconnects over to the Ayre and played the white noise again, adjusting the volume level until it matched the PS Audio's as closely as possible. The best I could do was 78.5dB, with the Ayre's volume set at "30" (out of "46"), so I moved the BHK's volume control down a click, to "39." That put the volume at my listening chair at 78.6dB—just 0.1dB louder than the Ayre. That's good volume-matching. In the ensuing comparisons, I kept my paws off the volume control.
Subtle differences emerged immediately in Carnival's first movement, Introduction and Royal March of the Lion: just past the 30-second mark, when the two pianos play octave runs at ff, the first piano ascending as the second descends. The engineers seem to have taken the recording level right up to the edge of the red. Through the Ayre it was loud, intense, percussive, even noisy—the last not a fault of the preamp, but clearly intended by the engineers. The PS Audio preamp softened the transients just a touch, slightly polishing the edges. There was nothing polite about the sound; it was just more polite.
The two pianos dominate Carnival's first several short movements, sometimes in combination with various solo strings. Through both preamps the pianos sounded as they should, their natural percussiveness in the higher notes balanced against resonance in the bass and a good sense of the surrounding acoustic. The Ayre revealed a touch more of the pianos' percussive leading edges. The strings buzzed viscerally.
The fifth movement, Elephants, is a short (1:28) demo-quality track, the pachyderm portrayed by Libero Lanzilotta's bowed double bass, sounding rich, fat, and buzzy, with a woody resonance (from the bass's body) that's more audible on some notes than others. Between 30 and 60 seconds in, Lanzilotta plays a lovely legato passage, with subtle dynamic shadings—a little softer, then a little louder—before returning to the main staccato figure. It's one of those communicative moments—not profound, perhaps, but moving in a simple, human way that connects the listener (in this case, me) to the music. There's a shift from hearing a recording to experiencing a human musician playing an instrument. I'm probably in good company when I say that this is why we listen through good systems. That elephant may be big, but while the playing is impeccable, the player seems exposed, even vulnerable.
Speaking of exposed: This bass/elephant exposed the most obvious difference I heard between the two preamps, though it still was quite subtle. The Ayre's sound was drier than the PS Audio's: more rosin, less wood; more core, less body. I could describe this as the PS Audio's sound being a little wetter. Both perspectives are legitimate, and I don't know which is more "correct," more neutral. I used to think neutrality was a meaningful notion. I still think it's useful—indeed, essential—as an abstract objective, but as an empirical goal it's problematic: How do you decide what a collection of bits actually sounds like?
In Fossils, Saint-Saëns recapitulates a trick he'd played 12 years earlier, in Danse Macabre: using xylophones to evoke rattling bones (footnote 3), even as he introduces shreds of familiar melodies, from "Au clair de la Lune" to "Twinkle, Twinkle Little Star" and a famous aria from Rossini's The Barber of Seville. (There's a musical joke here: Saint-Saëns equates those tired melodies with old, buried bones.) The xylophone carves out a big soundstage, wide and deep. The prize for depth goes to the Ayre—the PS Audio's space was ever so slightly flatter—but both preamps performed well. Again, the difference was small.
If the mid-18th-century folk song "Au clair de la Lune" was a fossil in Saint-Saëns's time, his The Swan is a fossil in our own. But it's a pretty melody, here expressively performed by cellist Gabriele Geminiani in excellent sound. Two delicate pianos define a big space, the cello planted between them. The cello is recorded more distantly than the double bass in Elephants, with less body and more room sound. This, for me, was a reminder that perfection in audio is often about balance, not extremes—not the ultimate in buzz or honk, but a natural balance of timbres and natural distance. Here, that balance was nearly ideal through both preamps, but with a slight difference of perspective: The Ayre carved out a slightly deeper space, while through the PS Audio, paradoxically, the cello seemed farther away. The Ayre's reproduction of space was, I thought, a touch more realistic, but this was something I could hear only in a direct comparison.
Both preamps were exceptionally quiet. The sounds of both were vivid, with lovely, rich textures. Both delivered weighty, solid bass. The PS Audio's bass was subjectively a touch stronger, but again, I don't know which was closer to what's buried in this recording's bits.
The sounds of the two preamps were, overall, more similar than different, but if you're choosing between them, there's much else to base a choice on. First, the BHK has two tubes, in its input stage. These can be swapped out with other variants to subtly tune the sound—but tubes also wear out over time, degrading your system's performance imperceptibly, day by day, until audiophile friends who drop by for a listen start giving you odd looks. Tubes are fun to play with. Tubes are unpredictable. Tubes are tubes.
As for controls and logistics, the PS Audio gets the nod. The BHK's innovative volume control has finer steps—roughly 0.5dB—than the Ayre's innovative volume control (1.3dB, as measured at my listening chair with white noise). Indeed, increments of 1.3dB are coarse enough that I had difficulty finding the appropriate volume for some recordings. The BHK has five inputs, each with balanced (XLR) and unbalanced (RCA) connectors. The Ayre has separate balanced (four XLR) and unbalanced (two RCA) inputs; if you've got three unbalanced sources, you're out of luck. The Ayre, though, has the nicer volume knob: it's nice and smooth, and feels better than the BHK's haptic-feedback design (footnote 4).
Ayre's preamp lets you adjust input levels for each input individually, offsetting especially hot ones so that you don't hurt your ears when changing inputs. You can't do that with the PSA. To change the BHK's balance, you must dig into its menu system; there's no front-panel knob. The Ayre doesn't appear to have a balance control of any kind.
Most XLR connectors—including those on the BHK—lock in place. Technical advantages aside, this is one of the reasons I prefer balanced interconnects: stick 'em in, hear 'em click, push a button to remove—no struggling with too-tight RCA connectors. But the Ayre's balanced inputs don't lock, and I think I know why. Three of the Ayre's balanced sockets are arrayed in a column and are only 1/8" or so apart—not enough space, I think, for the little metal levers you press to release an XLR plug. This is not a performance issue—I never had any problem with loose connections on the Ayre, and wouldn't expect to—but small things like this can affect pride of ownership.
The remote controls are quite different. The Ayre's is made mostly of black-painted metal, with some plastic; it has good heft, but a cheesy decal on the front (ANALOG and DIGITAL labels and Ayre's logo) that, over time, bubbles around the buttons (footnote 5). The Ayre remote's layout is simple and easy to use, but it's not backlit. The PS Audio's remote is backlit; it has more plastic, but its textured-aluminum faceplate is nicer, with printed-on labels. The BHK remote is more complicated, though, with controls for a transport, a DAC, and a preamp. Whatever. I'm sure you'll quickly adjust to either one.
Which would I choose? I already own the PS Audio, so I don't have to. The BHK Signature is a great preamplifier, honest and musical. But if I'd instead auditioned the Ayre Acoustics KX-5 Twenty and bought it, I'd probably be just as happy, if slightly poorer—the BHK Signature preamp costs $3995 less than the KX-5 Twenty. That's real money.
---
Footnote 1: Ayre Acoustics, Inc., 2300-B Central Avenue, Boulder, CO 80301. Tel: (303) 442-7300. Web:
www.ayre.com
.
Footnote 2: PS Audio, 4826 Sterling Drive, Boulder, CO 80301. Tel: (720) 406-8946. Web: www.psaudio.com.
Footnote 3: In Danse Macabre, it's card-playing skeletons; in Fossils, the bones of dead animals.
Footnote 4: One annoying thing I noticed about the BHK after writing the original review: If you turn the volume knob very slowly, the volume doesn't change at all.
Footnote 5: This appears to be the same model of remote control that Benchmark Media Systems provides with their DAC3 HGC D/A converter ($2195). Its decal, too, is bubbling.