Pinetop Perkins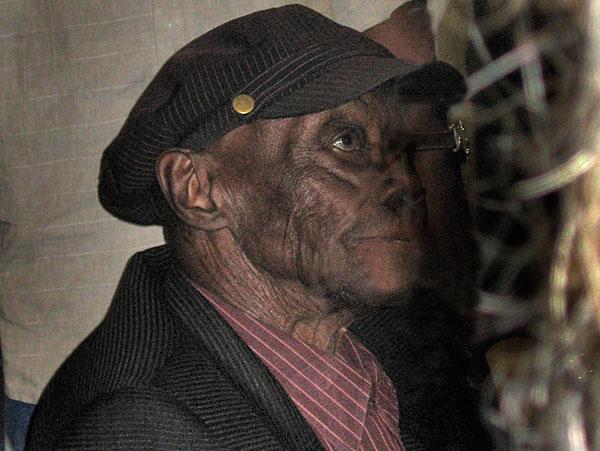 Pinetop Perkins at SXSW 2011
Many years ago, when all of the South by Southwest seminars and panels were located inside the Hyatt Hotel across Town Lake from downtown Austin, I tottered in from a long night of music and revelry, and stood waiting for one of the glass elevators that ran up and down one side of the hotel's giant atrium. When the car arrived the doors swung open to reveal Mississippi blues piano player Pinetop Perkins who according to my math had to be in his early Eighties then, and who, with a mixture of teeth and gold in his mouth, was flanked by two beautiful and much younger white women luxuriously dressed in fur coats. Far be it from me to cast aspirations but these looked to me like working girls. The dapper Pinetop shot me the most mischievous grin you can imagine while slipping his arms around each woman's waist. Needless to say I grinned back. I was so mesmerized by this scene that the elevator doors closed before I could get into the car. Later I wondered if this had all really happened or whether it was a product of sleep deprivation, too much alcohol/not enough food, or was just one of those SXSW apparitions that seem to magically occur in Austin every March.
This year at SXSW, on Saturday night at the Hilton Garden Inn, at a Bobby Rush gig, I got my last look at Pinetop who was 97 and strangely enough died two days later in his adopted home of Austin of cardiac arrest while taking a nap. Yes, he was in a wheelchair and looked very fragile at the Hilton, but when I saw his socks which were like keyboards of white and black piano keys, I knew that old spirit still lurked inside his failing body. Bobby Rush was obviously flattered that Pinetop had even made the gig and even sang him a song about unfaithful women (what else?) that Pinetop clearly loved.
As the replacement for Otis Spann in Muddy Waters band in 1969, Perkins stayed until 1980. Thereafter he fashioned a robust solo career making his first solo record at the age of 75. He became the oldest Grammy winner in 2010 when he won for Joined at the Hip (Telarc) his last record made with fellow Waters alum, Willie "Big Eyes" Smith. Originally a guitar player, Perkins switched to piano in 1943 after a dancer at a juke joint stabbed him in the arm. He later spent time on the King Biscuit radio show with Sonny Boy Williamson in the 40's and played joints all over the south with the great guitarist Earl Hooker in the 50's. The version of "Pinetop's Boogie Woogie" that he and Hooker recorded for Chess Records in Chicago in 1953 (a tune written and originally recorded by Clarence "Pinetop" Smith) is what gave him his nickname.
A true blues legend has passed on, but I feel very lucky to have seen him so near the end. Vaya Con Dios, Pinetop.