The Perfect Nightcap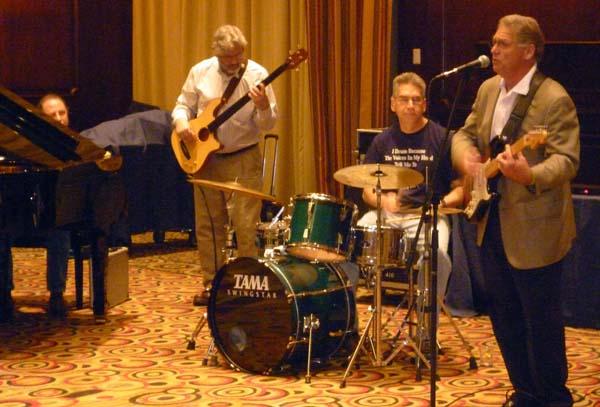 Pretty freaking drained at the end of a very long Saturday, I walked into the Capitol Ballroom and was surprised to see a live band—from outside the room, I had wondered if the music was being produced by some very fine hi-fi that I had somehow missed. (Funny, huh?)
Even more surprising was to see John Atkinson on stage, playing a smoking blues riff on the fretless bass. Joining JA were John Yurick on piano, Spiral Groove's Allen Perkins on drums, and show organizer Steve Davis on guitar and vox.
After a few rocking numbers, Balanced Audio Technology's Geoff Poor strolled up to the mic and let loose a few jazz standards. "This next song requires some audience participation," Poor said. "It requires you to drink."
Ready for a beer, JA gave way to Dean Peer on bass, and the band continued to rock and sway, providing the perfect nightcap to a long day.