Nordost Valhalla 2 Reference cables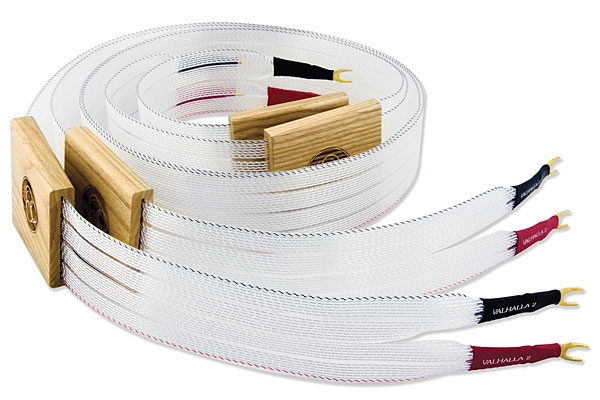 It would be an understatement to say that in 2001, when Nordost introduced their original Valhalla cables, they were a revelation for me. Their focus and resolution of detail were like nothing I'd ever heard, and revealed in recorded performances a startling energy and realism. Throw in their seemingly absolute transparency, and similarly unique levels of spatial and temporal precision, and the Valhallas established a new standard of sound quality in audio cables. Although their tonal balance was cool, as I reported in my first review of them in the
November 2001 issue
, they were the only game in town in terms of reproducing the feel of a live performance. I immediately adopted them as a reference cable, and they remain a reference for me today.
Over time, other cable manufacturers upped their games and made the leap into the Valhalla cables' universe. None has matched the Valhallas' incredible transparency, focus, and detail, but they've equaled or surpassed them in other ways, such as reproducing music's seamless flow, or creating more solid aural images or more coherent portrayals of individuals playing in a single, continuous space. The coolness of the Valhallas' tonal balance became more obvious to me, and I became more aware that what had seemed like precision was actually a slight overemphasis of the edges of images. I began thinking of the best audio cables as each having a place on a continuum: at one end were the Valhallas, with their resolution and precision; at the other end were cables with superb coherence, tonal richness, and flow.
Improving on Perfection?
As good as they can be, even the very best audio cables fall short of absolute transparency in one way or another. Each comes tantalizingly close, but needs just a tweak here and there to step out from the pack. My wish list for the Valhallas comprised three items: a slightly warmer tonal balance; a little less edge/a little more body; and more coherence across space and time. Great minds think alike, or maybe I just got lucky, but Nordost has evidently seen it the same way. As they acknowledged when they introduced the Valhalla 2 Reference models, the development program for the new line was aimed squarely at addressing these issues. Suffice it to say that the Valhalla 2 References jumped to the top of my Must Hear list.
Design and Technology
The pursuit of these characteristics—tonal warmth, a better balance between an image or note's body and edges, a more natural feel to the coherence of individual elements within the surrounding space, coupled with seamless, natural musical flow—has been a major driver for all of Nordost's design evolutions. Following their first-generation cables, across their Flatline, Blue Heaven, Red Dawn, and SPM lines, these characteristics improved over time (and as you moved up through the lines).
What I think of as the second generation of Nordost cables included the Quatro-fil interconnects and the first Valhalla line of interconnects and speaker cables. Nordost's ongoing R&D had begun to show that mechanical resonances had a much greater effect on cables' performance than had previously been thought. These results led Nordost to abandon their flat layouts of parallel conductors in favor of a round cross-section cable within which individual conductors were wound around a hollow core. The latter provided many more opportunities to vary design elements to better control mechanical resonances.
This second generation also used Nordost's Mono-Filament system, in which a small-diameter Teflon FEP filament was wound around the conductor prior to their co-extrusion into a Teflon FEP tube: the filament maintained a constant gap between conductor and tube. In addition to physically damping and tuning the conductor, the contact between the conductor and its surrounding material was reduced to only 20% of the former's surface area. Thus the Mono-Filament system more closely approximated an air-dielectric design, increasing the cable's speed of signal transmission.
The third generation of Nordost cables, which began with the cost-no-object Odin series and includes the Valhalla 2 References, incorporated two major design changes. One was Nordost's Dual Mono-Filament system, in which not one but two Teflon FEP filaments separate the Teflon tube from the conductor. Dual Mono-Filament further reduces the conductors' contact with the dielectric tube, to just 15% of its surface area.
The second change was Nordost's switch from using OEM connectors that best fit their designs—eg, the WBT RCA plugs on the original Valhalla interconnects—to designing and manufacturing their own connectors in-house. Their R&D program had highlighted the importance of minimizing the formation of eddy currents in cables, and that the place to start was the connectors. The results were Nordost's Holo:Plug RCA, XLR, and spade connectors, all used in the Valhalla 2 References.
The materials used in Nordost's cables have also evolved, though far less than the structural changes. The silver plating on the conductors has thickened, from 60 to 85µm. Teflon has been used throughout for the filaments and the tubes that surround the individual conductors, the only change being the switch, in the Valhalla 2 References and other recent designs, to a high-purity Class 1.1 extruded FEP.
Use and Listening: First Things First
The first step in my review process was to hear how the Valhalla 2 References' sound quality compared with that of the original Valhallas, and to assess if, or how well, Nordost had met their design goals. This turned out to be very easy to do. First, there was no comparison between the two generations. The Valhalla 2s' performance was different enough from and so dramatically better than the original Valhallas' that, if not for the name printed on the cables, I would never have thought they were the same product line from the same company.
It was also obvious that, in terms of meeting their goals, Nordost had hit a home run. My first impressions of the Valhalla 2 References, which remained unchanged throughout my listening, were of how smoothly the music flowed from note to note; of a very natural warmth and tonal richness of the sounds of instruments; and of how solid, dimensional, and tangible images and soundstages seemed. That's where my analysis would begin.
Listening Approach: prix fixe or à la carte?
Listeners typically view cables in one of two ways. The first is to think of all of the cables in an audio system as a single component; in the other view, each individual cable is considered a separate component. (Holders of this second view will want to know the audible effects—manifesting, one presumes, from the cable designer's vision—that will be imparted to their systems by, say, a single run of Valhalla 2 Reference interconnect.) Nordost sent me only two Valhalla 2 Reference power cords; otherwise, I had everything I needed to wire my entire reference system with Valhalla 2s. This made it possible for me to examine them from both perspectives.
One Big Bite
What I heard from the all–Valhalla 2 Reference system is easy to describe. It is also impossible to describe. The simple part is that, with the Valhalla 2s, my system sounded better than I can recall it ever sounding. Recordings of all types of music seemed raised to a higher level. Musicians were both more precise and more expressive, and the soundscapes created by orchestras were dazzling in their intricacy and color. Combos were tighter, guitar and sax solos were cleaner, drums had more realistic impact—the list goes on. With the Valhalla 2s, I had a more direct connection to the music, and my listening room was a much more compelling place to spend an evening.
Better, but . . . better in what ways? I have no simple or satisfying answer. It's hyperbole to say that the Valhalla 2 References were perfect, or that they had no sound of their own, but that's how they seemed to me. No amount of switching cables in and out allowed me to home in on a sonic thumbprint I could attribute to the Nordosts. All that my efforts accomplished was to identify the things that other cables were contributing to the system's sound.