New Products from Vitus Audio
Does this man look tired? Not at all. In fact, he seems tireless.
"Do you have any new products?" I innocently asked Hans-Ole Vitus, Vitus Audio's uncompromising founder and designer.
His eyes went wide.
"Yes. I hadn't slept for two weeks leading up to this show because I'd been worrying about all the new products."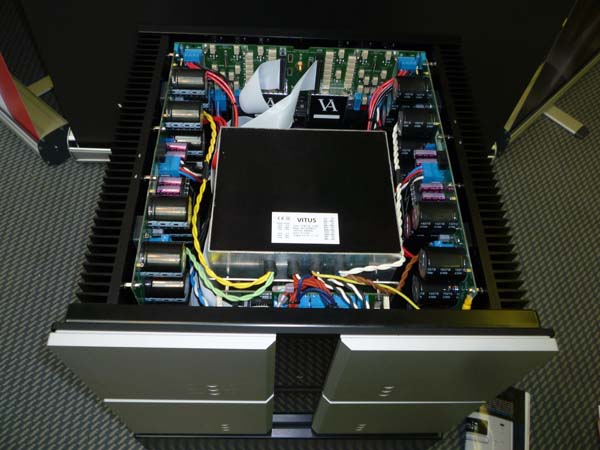 The RI-100 ($12,000) is the first new component in Vitus's Reference series. It uses a brand new transformer design, and provides 300W RMS into 8 ohms running in class-A/B mode. The user has the option of adding a DAC, headphone amp, and phono stage. Note the clean and tidy inner workings.
"It's a lot messier than our other designs," Vitus smiled.
Want a phono stage that'll impress even Michael Fremer? Vitus Audio's RP-101 (around $10,000) might do the trick. Radically less expensive than the $60,000 MP-P201 Mikey so admired, and which is listed in Class A+ of our "Recommended Components," the RP-101 replaces Vitus's RP-100 and employs greencap capacitors in favor of the RP-100's batteries. The greencaps, Vitus explained, hold their voltage for up to 72 hours and are more dynamic than batteries.
Meanwhile, the RL-101 line stage (also around $10,000) replaces the RL-100 and employs a modular design for easy upgrades.
"We wanted to make it future-proof," Vitus said.
A CD player with USB interface is also available for around $12,000. All of these models will be shipping sometime this summer and will make their US appearances at the Rocky Mountain Audio Fest.
"We're working hard to focus on the US market," said Vitus.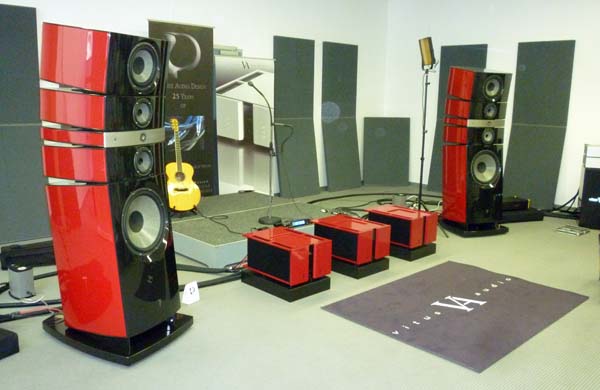 I sat down with Rosemarie to listen to some music, and we were impressed by the scale, massive dynamic range, and complete ease of the musical presentation. The system seemed capable of accomplishing almost anything. I wanted to ask it to finish my show report for me.
Vitus is also focusing on striking finishes to match any loudspeaker or home décor. (Which, by the way, is totally sexy. Mmm…red.)