Musical Surroundings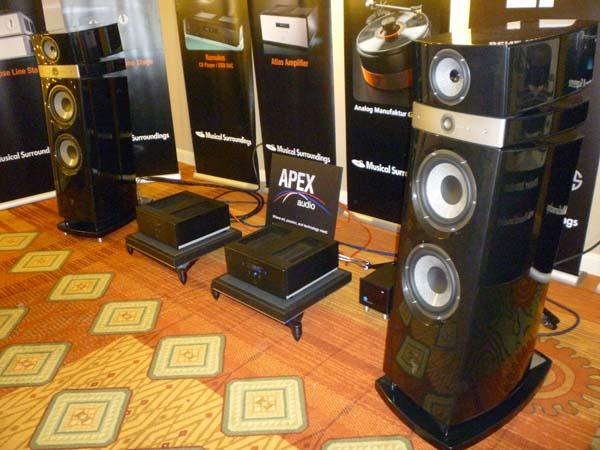 On the Mezzanine Level, in the Crestone Peak room, Musical Surroundings put together an audacious, high-aspirations system:
Focal Maestro Utopia loudspeakers ($50,000/pair); Clearaudio Master Innovation Wood (ha) turntable ($25,000) with its matching Wood (ha ha) stand ($9000), Statement record clamp ($1000), Outer Limit peripheral ring clamp ($1350), and Goldfinger Statement phono cartridge ($15,000); Graham Phantom II Supreme 10" tonearm ($5750); Aesthetix Romulus VC DAC/CD player ($8000), Io Eclipse VC phono preamplifier ($19,500), Callisto Eclipse ($19,000), and Atlas Mono monoblock power amplifier ($16,000/pair); TARA Labs Air 1EX cables; Critical Mass rack and amp stands; and Running Springs AC conditioning. A second turntable—AMG's beautiful Viella 12 with 12J2 tonearm and wood trim skirt ($16,500) was equipped with a Benz-Micro LP-S phono cartridge.
About the only thing I could ever afford in this room was the record: Gnarls Barkley's "Crazy" had never sounded so smooth, so groovy, so deep in the pocket.
Musical Surroundings' Garth Leerer also played a great new ORG release, Jon Hendricks' Fast Livin' Blues, which showed off the system's outstanding sense of momentum and flow and its realistic tone color, especially with brasses.