Musical Fidelity Nu-Vista 800 integrated amplifier Page 2
One time, a cable manufacturer added to my system, one by one, various of his cable models. After each successive installation, we listened to the same recording. When several of his cables had been installed, he exclaimed, "
Now
it's starting to sound like
music
!"
"I've got news for you," I said. "It was sounding like music before your cables were installed. Please—I've been doing this for almost 30 years. Save that line for a kid, okay?"
Sure enough, when we first played music through the Nu-Vista 800, Michaelson gave me that old, familiar look of "Well! There you go!" While I always resist capitulating to any such assertion from a manufacturer, especially so early in the reviewing dance (when a manufacturer pushes too hard, it's like your partner stepping on your toes), what I heard from the start in this case forced me to yield.
There's no mistaking the velvety, delicate sound of a nuvistor front end. But unlike other Musical Fidelity Nu-Vista models I've reviewed and/or owned—in which the solid-state output stage acted almost as a dam to impede the smooth flow of tube sound—the Nu-Vista 800's power-amp section seemed to disappear, even as it exerted over the drivers of my Wilson Alexandria XLF speakers the strong control I expect from transistors. That was particularly true in the low end—but not at the expense of top-to-bottom continuity: There was an immediate and obvious sense of sonic "oneness," and of utter effortlessness and transparency. By transparency I don't mean an absence of sonic fingerprint—the Nu-Vista 800 sure had one, and it was very different from that of my reference combination of darTZeel NHB-18NS preamp and darTZeel NHB 458 monoblocks—but, rather, a wholeness and consistency of sound.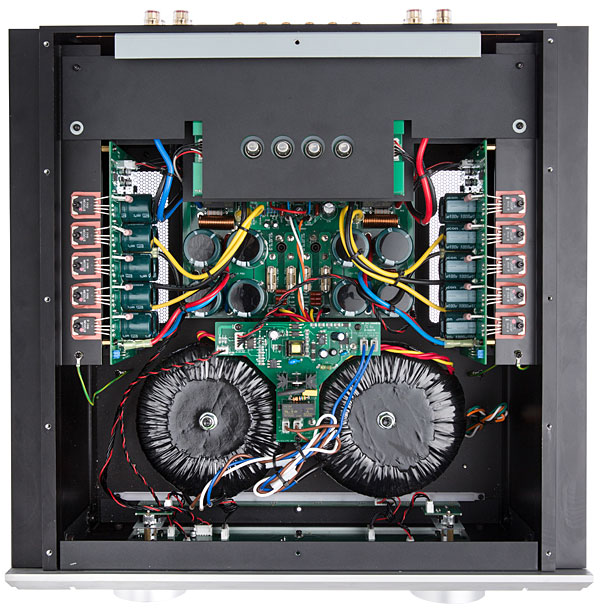 Immediately, the Nu-Vista 800 struck me as the most musically refined Musical Fidelity hybrid model I've ever owned or reviewed—a first impression that lasted throughout my listening for this review.
It was difficult—impossible—to find fault with the sound of the most familiar tracks, such as "All Blues," from Miles Davis's Kind of Blue (24-bit/96kHz, Columbia/Legacy/HDtracks), even if it sounded different from what I'm used to hearing. The sound was more relaxed and suave, but not at all soggy or gauzy. It was more a matter of a shift of emphasis. There was a bit more of Jimmy Cobb's stick on the cymbal, and less sizzle. His snare, too, wasn't quite as crisp (though it was still sufficiently so)—but Cannonball Adderley's alto sax was oh, so round and juicy! I'm tempted to say that Miles sounded more as if he were playing a flugelhorn than a trumpet, but that would be an exaggeration.
CBS's 30th Street Studio, and the added reverb, produced an expansive and especially deep soundstage, but the overall environment was less airy and expansive than with my usual electronics; the sound of Paul Chambers's double bass favored tonal and textural detail over transients of string plucks. Nonetheless, the sound was 100% consistent from top to bottom: The sonic picture was complete, self-contained, and easy to sink into and thoroughly enjoy. Very analog.
After matching levels between my two different Nu-Vista 800 setups—with a line-level source driving its balanced inputs, and with the outputs of my darTZeel preamp driving its single-ended inputs—switching between them revealed, in the latter, a very slight diminution in bass definition (but not extension), and a barely perceptible softening of high-frequency transients (so slight as to probably not be noticeable to most listeners). While the latter would be beneficial to an overanalytical component that made transients too sharp and defined on top and overdamped on the bottom, they weren't at all what the Nu-Vista 800 needed. Therefore, I did all of my listening to digital recordings through the Nu-Vista 800's balanced input, with the DAC's analog outputs directly feeding the amplifier.
Harsh, bright CDs still sounded harsh and bright, but CDs that only marginally possessed those qualities were more pleasing in every way. If the Nu-Vista 800 added to the sound a bit of depth and spaciousness, that, too, benefited many CDs. And if the Musical Fidelity amp slightly softened high-frequency transients and slightly enriched the midrange, that will also be to the benefit of most CDs.
"S.O.S.," from ABBA's Gold: Greatest Hits (CD, Polydor 5170075, footnote 1), remained an ear-bleeder—but Jackson Browne's Solo Acoustic Vol.1 (CD, Inside 15251) went from a bit hard and brittle through some amps to just right through the Nu-Vista 800. I went through the recordings stored on my Meridian Sooloos server and what I've currently got on Roon, trying to predict which discs would sound better through the Nu-Vista and which couldn't be helped. More often than not, I was right: CDs with a touch of hard edge and brightness were suitably softened and corrected; those that were hopelessly hard and bright remained so.
On the other hand, CDs that I thought were well balanced to begin with—such as What's It All About, Pat Metheny's solo album on baritone guitar (Nonesuch 527912)—were a bit too soft on bottom, and transients weren't as sharply expressed as they could and should have been. The slightly more mellow and expressive-sounding two-LP version (Nonesuch 528173) sounded closer to the CD version than it should have.
In some ways, the Nu-Vista 800 reminded me of the far more expensive Siltech SAGA power amplifier ($75,000, not including preamplifier). The SAGA is also a tube-transistor hybrid, with separate housings for its tubed, battery-powered voltage amplifier and its solid-state current amplifier, the latter using an LED plus solar panel to generate and keep absolutely constant the bias current by removing it from the grid.
Though the SAGA's transient performance and speed of attack were faster—and its transparency greater—than the Nu-Vista 800's, I wrote in my review of the Siltech that "I didn't 'hear' the tubes as such, but they seemed to provide the cushion that allowed the SAGA's solid-state output to speed along without paying a price in over-analytical sound that was deficient harmonically." In that review's conclusion, I wrote: "the SAGA is not the last word in bass extension and muscularity, or overall speed of transient attack. . . . However, I have never heard digital sources sound as convincingly real, as fully fleshed out, as free of artifacts, or as genuinely enjoyable as they did through the Siltech SAGA."
All of which I found equally true of the Nu-Vista 800, except that it could be argued that the Musical Fidelity's sound was more coherent from top to bottom. In fact, I think I've just made that argument. I'm sticking with it.
Analog listening
Recently, my record shelves had become too tightly packed, and I had to move everything stored on the bottom shelves of my rack onto shelves in another room. In the process, I came upon many LPs I'd never played, including The Blues . . . A Real Summit Meeting (2 LPs, Buddah BDS-5144-2), which someone at Buddah Records, in New York City, had handed me in 1973. I'm ashamed to admit it: 42 years on the shelf, unplayed. Mobile Fidelity Sound Lab had reissued the LP, but here was the original, recorded at Philharmonic Hall (soon to be Avery Fisher Hall, now soon to be David Geffen Hall) by Jim Reeves (footnote 2) using the Record Plant's remote truck, and mastered at Bell Sound by Sam Feldman.
So I cleaned the two LPs and finally played them, having had no previous experience of their sound. How did they sound? First, the recording is exceptional, though so closely miked it almost sounds like a studio set. But right in my room, between the speakers, were the midband-rich voices of Big Mama Thornton, Jay McShann, Eddie "Cleanhead" Vinson, Muddy Waters, B.B. King, Arthur "Big Boy" Crudup, and Clarence "Gatemouth" Brown. Through the Nu-Vista, the bass lines were like those on Kind of Blue: harmonically and texturally rich, and tuneful. The midrange sounded creamy and full, which gave voices a "there live" believability. The album's final track is B.B. King performing "Outside Help"—and if you want to hear more harmonic fullness from King's guitar, Lucille, and the sound and feel of him picking notes on her, you're asking for too much. At one point, he hits a string hard—the dynamic jump delivered a shot of adrenalin.
I sat through the entire set feeling that the Nu-Vista 800 was fully expressing the music's essence—if it wasn't extracting every possible bit of detail, I didn't care. Audio equipment either draws you in to the music or it pushes you out. I think that, ultimately, after all the analysis of the sound of audio gear, we base our choices of equipment on whether it draws us in or pushes us out. What produces those senses of being drawn in or pushed out is the sound's overall seamlessness or lack thereof. In terms of tone quality, texture, transient attack, sustain, and decay, the Nu-Vista painted a consistent, coherent picture. It was tonally and texturally on the somewhat rich side, transient attacks were slightly softened, sustains were generous, and its very low noise level meant that decays were equally long-lived. In short, the Nu-Vista 800 drew me in. That was what mattered.
Conclusion
Charles Mingus was famous for saying, about every album he released, "This is the best album I've ever made." Musical Fidelity's Antony Michaelson has his own tongue-in-cheek version of the same trait: He tends to say, on the launch of each of his statement products, "This is the best I have ever manufactured." Of course that can't always be the case—but this time out, overall, I'd say that it's true of the Nu-Vista 800.
The Nu-Vista 800 is a powerful, technically capable integrated amplifier that I'm sure will measure well—like all Musical Fidelity products. But instead of an assault on the state of the art designed to wring every last detail from every recording, regardless of the potentially negative consequences, the Nu-Vista 800 is more an easy-to-listen-to product aimed at the music lover. That is neither an audiophile putdown nor damning with faint praise: After all, it's possible to be an intense lover of music and someone who loves to wring from every recording every last detail, regardless of the consequences. But I suspect Antony Michaelson has had his fill of audiophiles on a quest for the ultimate in detail retrieval: I think he's more interested in reaching lovers of music by making things that sound really good.
Not just things, but beautiful things. Over the years, some Musical Fidelity components have fallen short in that department. For instance, the bolts that held together the very expensive Titan monoblocks weren't made of stainless steel, and they quickly tarnished. But the Nu-Vista 800's fit'n'finish—down to every last visible bolt, down to everything visible through the ventilation screen—make it by far the most impressive-looking and -feeling Musical Fidelity product ever. The front panel is exquisitely machined, and reflects light "just so." The closer I looked, the more I liked.
It's easy to imagine a customer walking into an audio shop, being stopped short by the Nu-Vista 800, and saying, "Let me hear that." It's even easier to imagine that customer reacting as I did, at first listen and every listen thereafter. At $12,999, this is not an inexpensive product, but it's one that will bring a CD collection to new life and, when matched with the right associated analog gear, do the same with LPs. (I'd go solid-state phono amplification, with a lean, fast cartridge.) That imaginary customer could take home a Nu-Vista 800 and confidently say, "I'm done."
---
Footnote 1: Yes, I admit it: I like ABBA, I like the Bee Gees, I have an old-man crush on Taylor Swift—and yes, JA, I like the Smiths, too!
Footnote 2: To see some amazing photos of the goings-on at the 30th Street Studios, visit Reeves's website.