Music from Nagra
The picture shows the inside of Nagra's new HD Amp, whose 6 output devices are specified as driving 270W into 8 ohms, 1kW into 2 ohms. The HD Amp was on passive display, but Nagra's all-Nagra component chain, feeding Wilson Audio Sabrina loudspeakers, made quite a favorable impression. Listening to the same Delibes ballet music I auditioned on the far bigger EgglestonWorks Ivy Signature SEs and dCS Rossini (see above), but this time with Reference Recordings' HDCD decoded by the new Nagra Classic DAC ($15,000), I heard a delightfully open and far less dark sound.
When volume was turned up on the new Nagra Classic Int integrated amp ($20,000), the sense of hall space was conveyed quite nicely. "Really does an excellent job with instrumental timbres, if not bursting out with color," I wrote in my notes. "Not as colorful and illumined s dCS and D'Agostino with Wilson Alexias, nor as liquid, but very, very fine."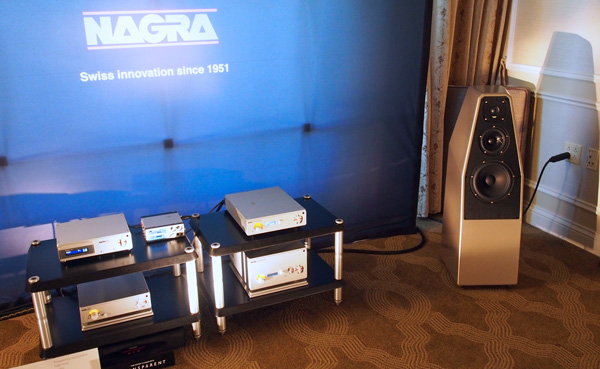 Some details. The Classic Int's amplifier section is identical to that in the Classic amp, but its preamp section is a 100% new design. The baby has two of the output devices used in the HD per channel and outputs 100Wpc into 8 ohms; it has both volume and balance controls and remote control. The Classic DAC is in Jon Iverson's "digital" category, but I'll note that it has the same front end as in Nagra's HD DAC, but uses a discrete-transistor output rather than the HD model's tubes. The Classic DAC handles PCM up to 384/24 and DSD up to 128.