Montreal Salon Audio, Day One, Part One Point Five
It will come as no surprise that audio journalists find their greatest professional pleasure in writing about things—playback gear, recordings, what-have-you—with which they are wildly impressed, and that their second-favorite topics are things that are genuinely and comically awful. But the fact of the matter is, at audio shows, most systems don't fall into either of those categories: most systems at shows range between "listenable" and "pretty darn good"—and there's nothing wrong with that. So here's one of the pretty darn good systems: a combination, found in the room of Quebec dealer Audio D'occasion, of the Atoll CD200 CD player ($CDN2200), Atoll IN200 integrated amplifier ($CDN2200), and Dali Opticon 8 loudspeakers ($CDN5000/pair), all cabled-up with products from Nordost. The system was pleasantly detailed, not at all edgy, offered good spatial performance, and was commendably wide of bandwidth. You know: pretty darn good!
Next door to the Audio D'occasion room was Atoll Electronics' own room, in which I spotted what appeared to be a distinctly high-value music player: the CeolBOX ($CDN1700 with onboard 2TB disk, $CDN1500 without). It's a newish product, and full details are available on www.ceolbox.com.
The system in the Atoll room made use of that company's IN400 integrated amp ($CDN7000) and CD400 CD player ($CDN7800), plus a loudspeaker from a company that's new to me: the MV One ($CDN8300/pair), from Davis Acoustics of Troyes, France. This single-driver, rear-wave-horn-loaded loudspeaker had far greater treble extension than I would have expected, and its bass performance, though temporally slightly languid (coulda been the room) was impressively meaty.
Are you sick yet of show reports that say "I was shocked (alternate wording: my jaw literally hit the floor) when I heard the amount of bass coming from the teensy mini-monitors from (fill in brand name)"? Then get ready to puke all over the place, because I really was at least mildly surprised (see? I know enough to tone this stuff down) by the amount of bass coming from the combination on Amphion Argon 3S loudspeakers (starting at $CDN3700/pair, depending on finish), Hegel 360 integrated amplifier ($CDN6500), and Hegel's nice AirPlay-compatible HD30 DAC ($CDN5500). Really!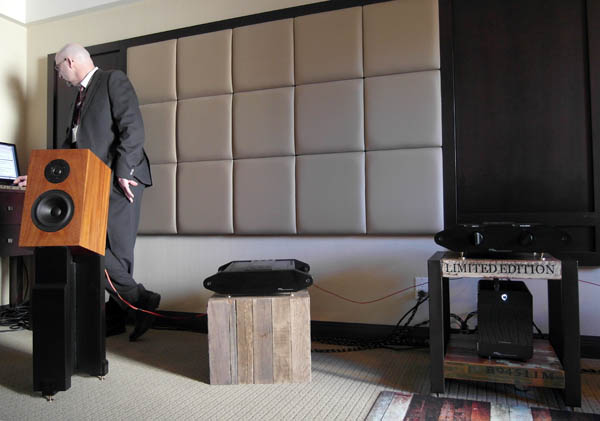 Artist Cloner is a new audio manufacturer whose slogan is: If you can't bring the artist home, clone the performance. They demonstrated a system using their Ascent preamplifier ($US3990) and Ascent monoblock amplifiers ($US9999/pair) to drive a pair of prototype two-way loudspeakers (projected price: $CDN3000/pair). Designer Sylvio Comtois described his electronics as being free of capacitors in the signal path—transformers are used to block DC, he said—and demonstrated the system with a computer running Linux and equipped with what he described as a nothing-special sound card. The bass was boomy and undefined—coulda been the room—but in all other regards the system sounded quite good.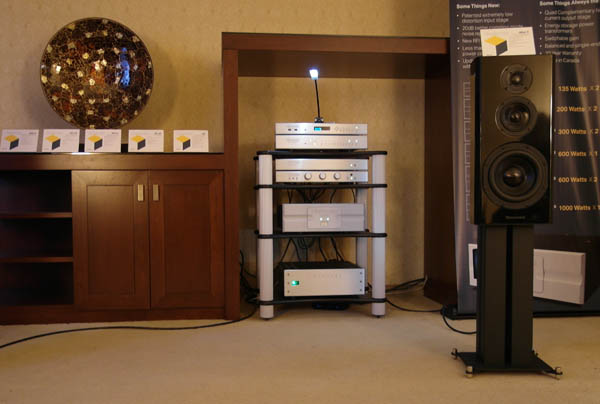 God bless the exhibitor who does my work for me: While I enjoyed an all-Bryston system in what was surely the nicest suite of rooms in this part of the temporarily troubled Bonaventure Hotel, the company's Gary Dayton wrote down all of the gear being used: Bryston's Mini T stand-mounted loudspeakers ($CDN3370), 4B3 amplifier ($CDN5695), BP-26 preamplifier ($CDN3295), BDA-3 DAC ($CDN3495), BDP2 music player ($CDN3295), and BIT20 power conditioner ($CDN3295). (At next year's show I will ask him to crop and edit my photographs for me.) The system was a shade bright for my tastes, but at the same time it was explicit in a musically informative way, and it made a recently made guitar-rock recording (I'm ashamed to say I neglected to write down the name of the artist, thinking I would not forget it—yet I did) sound incandescently exciting.