Meridian Explorer2 D/A headphone amplifier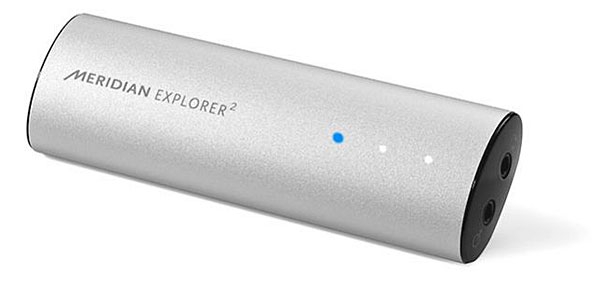 I was lying on a mattress on the floor of an empty apartment on Manhattan's Upper West Side. Not as grim as it sounds—it's a nice apartment, and the mattress was new, and had just been delivered—but it was hot (no air-conditioning), and my family and my furniture were still in my condo up in Maine, and I was lonely. I needed some cheering up. Which is how I rationalized the decision to buy an Explorer
2
, Meridian Audio's tiny, inexpensive ($299) digital-to-analog converter.
Thanks to Amazon Prime, 24 hours later I was sitting on a newly delivered bar stool—still no other furniture—streaming Tidal through my new Meridian DAC. (Internet access was courtesy of the occupants of a neighboring apartment, identity unknown.) It was still hot, but the loneliness had passed, and I was happy. Music is good for that.
And the Explorer2 is that kind of product: not quite a cup-of-coffee purchase, but $299 isn't too much to spend to escape a temporary funk. And beyond the low price, there was yet another good reason for pulling the trigger: Master Quality Authenticated (MQA), a new digital audio format from MQA Ltd., that promises big improvements in sound quality in small, streamable packages. The Explorer2 remains, as of this writing, the cheapest ticket into the world of MQA, and that world needed . . . well, exploring.
Good things in small packages
There's another advantage to the Explorer2: It's portable. My kitchen scale says it weighs an ounce and a half—1.8oz with its short mini-USB cable attached. It runs off power from a computer's USB port, so you don't have to plug it in. That makes it perfect for someone without furniture, since it works in Internet cafés. Yet there's also a line output (in addition to the headphone jack), purpose-built for connecting to a home stereo system, and ideal for a car stereo's aux input.
Like the original Explorer, the Explorer2 offers asynchronous USB, and decodes PCM files up to 24 bits and 192kHz. It looks just like its predecessor, which was reviewed by Art Dudley in in the September 2013 issue. The only visible differences are the superscript 2 in the name, the absence of a red LED shining from the line-out port (gone is the original Explorer's TosLink output), and a new light that glows blue or green when an MQA file is playing: "The LED glows green to indicate that the unit is decoding and playing an MQA stream or file, and that the sound is identical to that encoded," according to the company's website. "It glows blue to indicate it is playing an MQA Studio file—an artist/producer-approved studio release."
Inside, the changes are substantial, especially on the digital side. There's "a much more powerful (XMOS) processor at the heart of the Explorer2," says Meridian's Jason Randall, the DAC's principal engineer. The original Explorer employed a minimum-phase reconstruction filter probably native to the Texas Instruments DAC chip used. The added processing power allows the Explorer2 to upsample lower-frequency inputs to 176.4 or 192kHz, and to use a filter of Meridian's design. And it allows the new Explorer to decode those MQA files.
The headphone output of the earliest versions of the original Explorer had an unusually high output impedance; an early design revision lowered this to an acceptable 5.25 ohms. The Explorer2's headphone output impedance is lower still: a claimed 0.47 ohm. Otherwise, Randall says, the Explorer2's analog audio components are the same as those in the original.
Listening 1: Explorer2
I listened mainly through my Sennheiser HD 650 headphones, as well as through my home system and my JH Audio JH-16 in-ear monitors. For comparisons (see below), I matched levels in a kludgy way: I put my RadioShack sound-level meter between the Sennheisers' earcups (footnote 1).
When I first plugged in the Explorer2 and started listening, I worried that it couldn't play loud enough. It was plenty loud with most headphones and most recordings, and in quiet environments; but for the best recordings, which tend to have many quiet passages and lower average volume levels, the maximum volume through my HD 650s was probably too low. Then, in February, there came a firmware update—subsequent to which the maximum volume was much louder. Problem solved (and isn't it cool that such a thing can be done?).
With non-MQA music, the Explorer2 was very pleasant to listen to. It conveyed plenty of information in a relaxed way, which to me is important. It always worked, and it always made nice music. It was a big step up from the headphone jack of my MacBook Pro. Though the sound was a bit soft and rounded compared to that of much more expensive converters, it was good enough for an excellent home system.
Listening 2: the Groove
An obvious peer of the Explorer2 is the Apogee Electronics Groove, which Jon Iverson reviewed in the December 2015 issue. JA thinks that the Groove sets the standard for sound quality for its price point of $295, and sent it along to me to compare with the Meridian.
Physically, the Explorer2 and the Groove are somewhat different: the Meridian is lightweight, sleek, and elegant; the Apogee, though approximately the same in weight, has a chunkier appearance and feel. I prefer that quality of the Apogee—and its rubber base, and its large, rubber volume buttons.
Despite its traditional linear filter, I found the Groove's sound similar to the Explorer2's: a little punchier, maybe, and a little less smooth. The Groove, however, lacks a line output (though you can use it with your home system via the headphone output and a stereo miniplug-to-RCA cable). Another disadvantage: Apogee's Constant Current Drive technology "may result in uneven frequency response when used with certain models" of in-ear monitors that have multiple balanced-armature drivers, Apogee says on its website. It sounded fine with my JH-16s, but your mileage may vary.
One more caveat applies to both Groove and Explorer2: There's no sanctioned way to use either with your iPod, iPad, or other handheld device, though I've heard there are workarounds (footnote 2). These DACs are made to be used with a computer.
Intermission: MQA
The Explorer2 is an easy purchase, but what makes it a compelling value is its ability to fully decode MQA files. MQA is the result of a rethinking of audio principles by Meridian's co-founder Bob Stuart and others, in the light of recent insights from neuroscience into how human hearing works. MQA takes the focus off sampling frequency and the frequency domain and puts it on the time domain, where music lives. MQA's main objective is to avoid and repair the blurring, or time smearing, that occurs every time a conventionally designed low-pass (especially brick-wall) filter is employed in the recording and/or playback chains. MQA uses knowledge of the specific digital converters involved in that chain to restore timing information so that the temporal resolution is much better than even in high-frequency, high-bit-rate audio files.
---
Footnote 1: Using Roon, I was able to define different zones for each converter and set different volume levels for each. Very convenient.
Footnote 2: Another small problem the two DACs share: Because of the orientation of the USB port and the way USB cables are made, when you connect the short USB cable to a Mac laptop and to the Groove or the Explorer2, the DAC tends to flip upside down. This happens more with the Explorer2 because it comes with a shorter cable, but it's more of a problem when it happens with the Groove, with its rubber base and control buttons on top.