Mercury Living Presence Resounds Again on May 14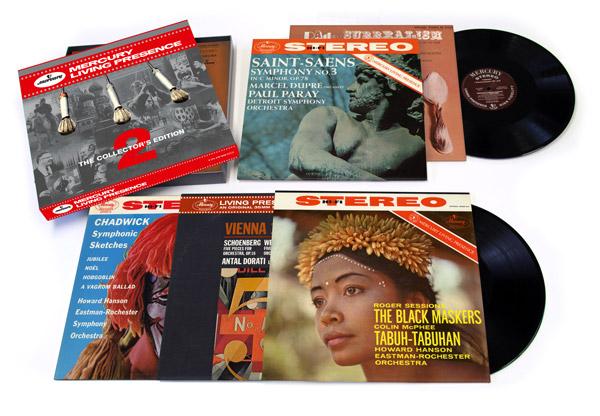 Heads up! Not long after the sellout of both Decca Classics' First Collector's Edition box set of 50 Mercury Living Presence CD reissues, and their box set of six 180gm LP reissues, both drawn from the famed Mercury Living Presence catalog,
Collector's Edition 2
arrives on May 14. The CD box's 55 titles include two first-CD issue rarities: Antal Dorati's 1953 Minneapolis Symphony Orchestra mono recording of Stravinsky's groundbreaking ballet,
The Rite of Spring
, and one of the final Mercury Living Presence recordings, John Corigliano's Concerto for Piano and Orchestra. The Corigliano recording premiere, performed by pianist Hilde Somer and the San Antonio Symphony Orchestra, conducted by Victor Alessandro, is paired with a close to 17-minute interview with Corigliano, conducted by Paul Hume one year after the concerto's 1968 premiere, and the Paregon to Richard Strauss'
Sinfonia Domestica
, Op.73.
Included in the box of 55 CDs is an invaluable, thick booklet that includes full track and recording information for each disc (date, location, microphones, recording directors, musical supervisor, recording engineers, etc.). Equally invaluable are its wealth of historic photos, and introductions and essays by Harold Lawrence, former MLP Musical Supervisor, who passed away in 2011; Michael Gray, a sound recording historian; and Thomas Fine, the son of the Mercury Living Presence producing and engineering team of Wilma Cozart Fine and C. Robert Fine.
The 55 titles, some of which were recorded on 35mm agnetic film, start with a kick, Dorati's famed London Symphony Orchestra recording of music by the three key representatives of the Second Viennese School (Schoenberg, Webern, and Berg). They then jump back into tuneful territory with Dorati's stereo collection of Respighi classics. Within the box, CDs are ordered alphabetically by artist, eg, all the Doratis before all the Hansons, and, within artist groupings, by original CD catalog number. Only 13,500 sets have been pressed.
The six LPs—only 3000 box sets are available—are housed in facsimiles of the original LP sleeves, and sourced from the CD mixes supervised by Wilma Cozart Fine. First up is the Dorati Second Viennese School collection discussed above. Joining it in the numbered box set are Dorati's LSO Beethoven Symphony No. 7 and DadaSurrealism collection (Milhaud, Françaix, Auric, and Satie); Paul Paray's Detroit recording of Saint-Saëns' Organ Symphony with Marcel Dupré; and two titles from Howard Hanson and the Eastman-Rochester Orchestra, Chadwick: Symphonic Sketches and a compilation of works by Sessions and McPhee. Clearly the Fines, Harold Lawrence, and their conductors were eager to move outside the box of Top 100 classical music hits. Along with the LPs comes a download code, which enables you to download the titles in either high quality mp3 or lossless FLAC format.
The Skinny
In an hour-long conversation with Thomas Fine, the sole Fine offspring currently involved in audio, Stereophile clarified the quality and provenance of the CD and LP masterings. (Fine's side business, it should be noted, involves analog-to-digital transfer work for archives/institutions, private collectors, and small record labels.) For Fine's invaluable insights into the creation of the original Mercury Living Presence LPs, see Robert Baird's July 2012 article, "A Fine Art: The Mercury Living Presence Recordings."
"Philips, which was at the time in the recording and record business through their company, Polygram, bought Mercury in 1961 and owned the catalog," says Fine. "As developers of the CD, one of their first moves was to create a market for CD by getting as much of their back catalog on CD as possible. By the late 1980s, there were already a few badly received Mercury CD titles from Europe, sourced from the master tapes for what had been the Mercury Golden Import LPs that were released in the 1970s. Those were an ill-fated attempt by Philips to reissue the Mercury records by making new two-channel masters without consulting with any of the original personnel.
Most didn't sound anything like Mercury. The only ones that sounded good, because they were originally recorded in two-track, were titles like the Corigliano."
After her husband, Robert, died in 1982, Wilma Cozart Fine put the two youngest of her four sons through college by selling real estate in Westchester County. When, in the late '80s, she was approached by Philips to remaster the CDs, she said, in Tom's words, "Sure. But everything I've heard about this new CD technology is not very good. I don't want to put the Mercury name on something that's garbage, so I need time and space to figure this thing out."
Granted the time she needed, Fine began working with Dennis M. Drake, an engineer and analog veteran, in Polygram's Studios in Edison, NJ. Both shared the same skepticism over the sound of CDs. After a year of experimentation, and a worldwide search for master tapes, Mercury Associate Engineer Bob Eberenz tracked down and restored Mercury's original recording and mastering machines.
Happy with her analog playback chain—"with less deadline pressure than in the LP days, they were paying closer attention and able to tweak the tube equipment even better than before," says Tom—Wilma Cozart Fine and Drake were able to clean up old splices so the tapes would play very well. Tom Fine recalls that the two were always up on deadline as they mastered 125 CDs, sometimes from multiple LP titles, between 1990 and 1999. Engineer Andrew Nicholas worked with Cozart Fine from 1993 through 1999. In all, 125 Mercury Living Presence CDs were issued. Polygram gave Fine great autonomy, and she was basically running her own label again.
"My mother's opinion was always that the CDs got closer to the master tape than the vinyl ever could," says Tom Fine.
Dismissing the myth that nothing can top the sound quality of Mercury's original LP pressings, he asserts, "Many compromises had to be made cutting vinyl in 1958 through 1963. There was a lot of distortion and noise from the tubes, stereo cutting was new, and you had to put the bass where you had to put the bass to make the record trackable. In addition, some cuts were better than others, and some pressings were better than others. They cut audiophile records today at RTI or Chad Kassem's at a lower average level, and press on higher quality vinyl. Europe was doing that back then, but the US mentality was to cut as loud as possible to overcome the crappy American vinyl.
"In the late '60s, once Harold Lawrence departed for the LSO and mastering engineer George Piros was no longer doing the cutting, the quality of Mercury LPs declined even further. There was only a very brief time when the original Mercury Living Presence LPs were pressed at the RCA facility, and stereo cutting had evolved to the place where the stereocity was very good. The CDs, on the other hand, are uniformly good and true to the master tapes."
Wilma Cozart Fine did not remaster every LP title for CD; hence the two first-time CD issues in the Second Edition. Tom Fine considers these expertly done. "The Stravinsky sounds a hell of a lot better than the original LP, and the Corigliano, in comparison to the original LP, sounds fantastic to me," he says. "The Corigliano was also a very well done recording to begin with."
As Baird explains in his article, Mercury's master tapes were, for the most part, three-channel. Editing was accomplished in three-channel, and the final 3-to-2 pressing mix was created live, on the fly, by Wilma Cozart Fine and Piros, directly from the three-channel masters at the time of the LP mastering. Since three were no preview heads, his mother would sit there with a score, and give Piros hand signals as she read ahead. Wilma's work as a "human preview head" enabled Piros to "conserve real estate," as it were, and cut long and quiet sides. In short, Fine went from conserving real estate to selling it, and then turning over her original properties on silver platters.
The New LPs
"With both the Mercury Golden Import LPs and the SACD's 2-channel layer, someone else did the mix down to two-channel without input from the original team," says Tom. "That's very different than what Universal Classics is doing now, which is to solicit input from me and my brothers about where to go from here. The first LP box sold out in less than six months, and the CD box in eight months. If this second set sells as well, we may be able to release more first-time-to-CD titles."
"Since my mother did the 3-to-2 mix for the CDs, her ear was key to saying, 'This is what happened at the session,'" he insists. "She was the brand. In some of the LP issues that have come out before now, Speakers Corner from Germany used second-generation copies of her 3-to-2 mixes that were dubbed at the same time the LPs were cut. Then, Classic Records put out official licensed Mercury titles that were the real deal, with my mother using all the original equipment and Bernie Grundman doing the cutting from the 3-to-2 mix. In my opinion, some of these are really spectacular.
"I know some people will say, of the six new LPs in the new box set, 'Aw, they're just LPs of CDs,' and dismiss them out of hand. I think that's just ignorant and stupid. People should listen to them and see what they think. I think they're very fine sounding, even if they're sourced from 16/44.1 mixes. The man in charge of LP cutting over at Berliner Studios in Germany has done a very good job. They're very dynamic. My brothers and I were solicited for our input, including title selections, and all of the copy in the new booklet is original."
There are only two overlaps between the Classic Records Mercury pressings and the 12 LP titles in this reissue project. Tom thinks the quality of Hi-Fi Española is equally good on both reissued LPs and the CD, because his mother's digital master "really captured the dynamics, sound, air and space. All three, in his opinion, are superior to the original LP, which was pressed early, with all the "trouble" of early stereo cutting. The Balalaikas pressing from Classic Records, on the other hand, is the best of the lot, because "you get a little bit more of the air and space. It's one of the few cases where, had the digital master had additional bit-depth, it probably could have captured that extra air and depth."
Final Thoughts
Fine thinks that some of the late Mercury titles that his mother never transferred to CD are quite good. There's a good recording of Dorati's own music that he'd love to see reissued. There are also two Scriabin solo piano recordings by Somer, who recorded the Corigliano, and was known for Scriabin performances that were accompanied by an authentic light show.
In single-microphone mono, he points to Dorati's Respighi Church Windows and Copland Third, interesting Hanson titles that were never recorded in stereo, and mono 1812 Overture, the latter with different cannons, bells, and narration. But as much as he'd love to see these on CD, he does not expect any mono LP releases.
Are all the CDs of equal quality, given the improvements in digital technology that occurred during the period his mother was creating the CD mixes? Tom notes that during the nine years that Wilma Cozart Fine created the CD mixes, the Sonic Solutions system that she used solely for insert editing improved, and was faster and more precise than Sony's for fixing splices. Besides that, he feels, the sound of her CD mixes changed little between 1990 and 1999. The current CDs are pressed from the same well-preserved glass masters that his mother approved.
"It is possible that the later glass masters have less baked-in jitter," he says. "It's also possible that modern-manufacture CDs, being lighter weight and having 'grippier' plastic inside-areas work mechanically better in CD players. The circa 1990 Philips-DuPont discs had smooth inner-diameters and were a few grams heavier, so they may create more mechanical jitter and error-correction in some players. That's just a theory. And now I'll don my armor and wait for the engineering crowd to shoot at me!"
Hopefully, those with semi-automatic weapons will at least wait until the Second Edition CDs and LPs hit the market on May 14. After that, they'll hopefully be too busy enjoying Wilma Cozart Fine's mixes to neutralize her devoted son.