Mark Levinson No. 519 Audio Player Digital Streamer/Player/CD/DAC/Preamp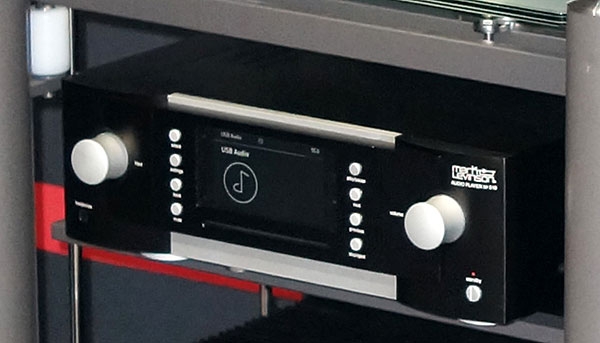 I couldn't make it over to the Hard Rock for the Levinson rollout, but Stereophile's Larry Greenhill was able to grab some photos and information to share:
The new No. 519 is intended to be an all-encompassing source for digital playback and will include not only a CD transport, but also Bluetooth, streaming, network playback, DAC, digital volume control and headphone amp. On the back are AES/EBU, SPDIF, optical and USB inputs as well as ethernet networking jacks. There are both balanced and unbalanced analog outputs as well AES/EBU, SPDIF and optical digital outputs.
The front faceplate consists of a large color display and inside is a TEAC custom modified CD player that runs no more than double speed in order to avoid a whirring sound when starting up. The connections can handle USB drives, externally streaming DSD, Bluetooth Audio, and Harman's Clafi-fy circuits with a complete, embedded Linux computer streaming the digital files. It comes with a remote but can also be controlled with IOS and Andros apps and plays up to 24-bit, 192 kHz PCM, double-speed DSD and most 2 channel formats.
Price will be $17,000 and the 519 is expected to ship in late spring.