Listening #186: Miyajima Saboten L phono cartridge Page 2
Essential specs: The Saboten L weighs 9.5gm, has a compliance of 8x10
–6
cm/dyne, and is recommended to be run at a vertical tracking force (VTF) of 3gm. Its internal impedance is 16 ohms, which seems a bit high in the context of its 0.23mV output. Also of note is what Miyajima Laboratory describes as the cartridge's "appropriate" temperature range of operation: 68–86°F, with a balmy 77°F given as "most suitable." Must be that Cameroonian wood.
After installing it in my review sample of the Acoustic Systems Arché headshell and fastening it to my EMT 997 tonearm, I began listening to the Saboten L fresh out of the box. Every transducer under the sun needs some run-in time, and I always allow cartridges at least a week of regular use before expecting miracles. But while it's one thing to break in an amp or a pair of speakers by popping a CD into a CD player and putting it on continuous repeat, it's quite another to put any number of miles on a brand-new, hand-made, four-figure cartridge and not listen. That just seems . . . wrong. So I listened.
Right from the start, I was impressed. The severest teething pains of newborn cartridges—graininess, an edgy top end—were nowhere to be heard. Instead, in direct comparison to the well-worn Shindo SPU that preceded it in my system, the Saboten L sounded no less smooth and no less impactful. John Coltrane's tenor sax in "Summertime," from his My Favorite Things (Atlantic SD-1361), had very good color and tone, and pianist McCoy Tyner's big McCoy Tyner chords were everything they should be: like fantastic architecture that somehow manages to move in time. At first I had the impression that the piano sounded clearer under the Saboten L's stylus, but a later round of back-and-forth proved to my satisfaction that I was hearing a difference in channel balance between the two cartridges: the left channel, where Tyner pitches camp, was comparatively louder through the Miyajima than through the Shindo.
How could I write about a cactus-spine–cantilevered cartridge without playing Sonny Rollins's Way Out West (Contemporary S7530/Original Jazz Classics OJC-337)? Clearly I could not. I gave it a spin and was reminded that, although this stereo record lacks the scale and impact of the mono version (which I've heard but do not own), it's a sonic and musical delight when reproduced well. The Saboten L reproduced Ray Brown's double bass with superb pitch accuracy and tautness of tone. And even though it lacks a spherical stylus tip (see above), the Miyajima reproduced Shelly Manne's ride cymbal with the right shimmer, yet also with a sense of body: this wasn't the zizzy sound associated with less musical cartridges.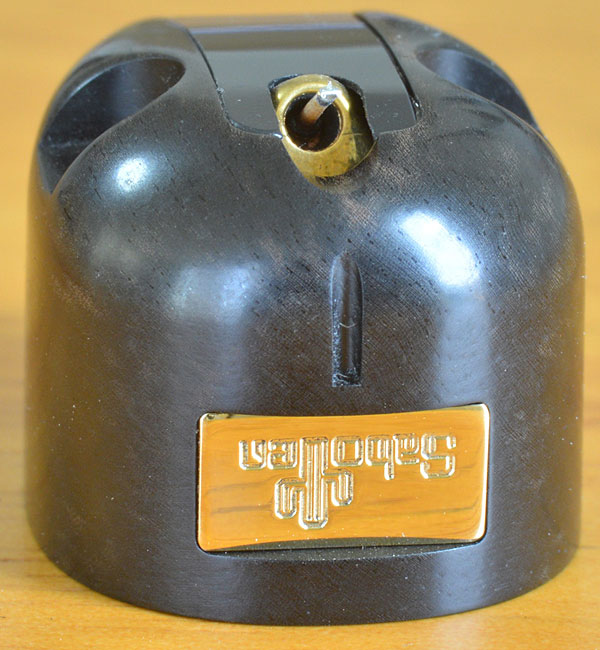 I listened to Norman Blake's Old and New (Flying Fish 010) and was moved to write the following in my listening notes: "Holy shit—Norman Blake's voice in 'The Railroad Days' was so startlingly present and real. Dead center, a little upfront. It sounded like it was recorded in a drier acoustic than the instrumental backing (fiddle, guitar, clawhammer banjo), but the performance sounded live, not overdubbed, so it was probably just a better, more directional mike on Norman." I also noted that in the next track, "Valley Head," Blake's mandolin was "uncolored (but not colorless) and tactile—a little engine of realistic tone and musical dynamism."
That the songs on The Beatles (UK Apple PCS 7068) vary in recording quality is no secret and no surprise—"Revolution 1" is pretty dreadful, while "Cry Baby Cry" is pretty good, despite the studio trickery (return echo on the piano, a bizarre EQ on Ringo's crash cymbal, etc.). The Saboten L made the most of it all—yet, if anything, it heightened those distinctions, while consistently staying focused on musical fundamentals. The rhythmic momentum in "Cry Baby Cry" was appropriately relentless, and Lennon's voice, especially in the portions of the song where his voice is mixed at dead center, was hauntingly real and without coloration. The electric bass in "Honey Pie" was thick, dark, weighty, and rhythmically perfect. "Savoy Truffle," perhaps my least favorite song on the album, sounded fine, with choogling electric piano and stinging electric-guitar punctuations. And with the reliably but never harshly detailed Miyajima cartridge, I could hear George Martin and Alistair Taylor's quiet conversation at the beginning of "Revolution 9" without having to raise the volume.
A confession: Sometimes, when I have a stereo cartridge installed and feel like playing a mono record, I don't always take the time to change over to a mono cartridge. Unfortunately, many stereo cartridges sound hopelessly out of their league when playing mono LPs: too musically fussy, and too spatially unsure—they don't know when to sound big or when to sound small, or how to gracefully, realistically make the transition. The Saboten L was the rare stereo pickup that sounded good, if not quite mono-pickup good, on mono LPs, such as the recording of Berg's Violin Concerto by soloist André Gertler, with the Philharmonia Orchestra conducted by Paul Kletzki (UK Columbia 33C 1030). On that one, the sense of scale was well managed if not as big, overall, as with my true-mono EMT OFD 25, while the Miyajima sweetened the deal by reproducing the solo violin with a gorgeously silky tone.
Piano recordings sounded fine with the Saboten L, which also did a very good job of tracking without distortion the many loud, complex bits: It sailed through pianist Martha Argerich's muscular performance of Prokofiev's Toccata, Op.11, as well as the very forceful notes in the Chopin Scherzo in c-sharp on the same album (Deutsche Grammophon 138672). I heard no frequency-response irregularities that I would attribute to the cartridge, and the sound had good substance: the opening measures of Chopin's Barcarolle in F-sharp was appropriately meaty, even if the sound of this recording is, on balance and in the manner of so many DG piano recordings, rather too glossy.
Perhaps my overall favorite listening experience with the Saboten L was to a recording of Schönberg's Verklärte Nacht by the Ramor Quartet, with violist Edith Lörincz and cellist Zsolt Deaky (Turnabout TV 34032S). I've heard this record sound flat and uninteresting with lesser gear and transcendent with better gear—the Saboten L experience was at the top of the latter category. The Miyajima followed the opening lines without missing an iota of tension, and allowed the piece's first violent pizzicato eruption, about 4:00 in, its full measure of dread. Throughout, string texture and color were nothing short of perfect, and each resolution—musical and emotional alike—had full effect. It was achingly, breathtakingly effective and beautiful: home listening at its best.
In a nutshell, this beautiful-sounding product embodies everything that's special about this brand. When it comes to the performance characteristics that matter most to me, I don't believe I've heard another standard-mount cartridge as effective as Miyajima Laboratory's Saboten L.
IKEA Kallax shelves: Do they stack up?
On the five-month anniversary of my move to a new home, I took my wife on a romantic weekend getaway to Paramus, New Jersey. She wanted to visit the IKEA store there—she was already acquainted with IKEA stores in two other cities in the northeast—and I'd finally had enough of tripping over the cartons of LPs scattered throughout nearly every downstairs room in my modestly sized house. It was time to buy some IKEA shelving units, to supplement the converted linen closet I wrote about in the March 2018 issue.
Hoping to avoid the crowds, Janet and I got an early start on a sunny Saturday morning, arriving at the Paramus store at about 10am. Already, it was bustling. Before our Jersey jaunt, I'd heard a number of things, good and bad, about the IKEA experience, and though it wasn't all to my liking, I came away impressed by the courtesy and knowledge of their in-store employees, and by the fact that their displays—some resembling dioramas through which shoppers can move freely, handling whatever they like—showed their humbler products in no less positive a light than the more expensive lines and items: that alone impressed me to no end. And the cafeteria, and the company's famous Swedish meatballs, were actually pretty good, though I wasn't wild about the cauliflower.
The biggest challenge: When it comes to finding and gathering up your desired products in the store's warehouse area, then getting them through the check-out area and into your car, you're pretty much on your own. Thus was I stymied: I'd come to buy a Kallax shelving unit (footnote 4) five cubbies wide by five cubbies high, yet even with Janet's help I couldn't lift it onto our cart. So we limited ourselves to the Kallax model that measures four cubbies by two, and to buying just three of them for the time being. Packed and unassembled, each of these Kallaxes weighed just under 50 lbs and measured 58.75" long by 16" wide by 6.25" thick.
But consider: When assembled, the four-by-two-cubby Kallax measures 30" high by 58" wide by 15.5" deep, is available in seven different finishes, and costs only $64.94. Almost regardless of your budget, that leaves a lot of money for chiropractic sessions, or bribes to coax your friends/neighbors/children/etc. to come along for the ride and lend a hand. They might even have a good time, especially if they like cauliflower.
The four-by-two-cubby Kallax can also be set up vertically, in which instance IKEA recommends anchoring it to the wall behind it. Although it may be moot, the Kallax is theoretically stronger when set on end: In that orientation, the horizontal shelves are single, solid pieces, and the vertical dividers are individual squares held in place with pegs—and not the other way around. Collectors of 12" shellac 78s, which are considerably heavier than vinyl LPs, take note.
When it comes to assembling an IKEA Kallax, audiophiles have a built-in advantage: perhaps 75% of adjacent surfaces are joined not with screws but with wooden pegs, all of which must be hammered into place just so. One could, I suppose, begin the project by measuring and marking each peg, individually, to provide a visible clue as to how far in each must go—God help me, I considered doing just that—but it's quicker to just pound away at each until the sound of the hammering changes: specifically, when each peg has reached the limit of its travel, just before the point at which additional pounding might break something, the frequency of the banging noise will rise. That is where the trained listener will stop.
Really, though, assembly was a breeze, the hardest part being to clear a space on the floor large enough for both the open carton and the unit being assembled. The first Kallax took me 75 minutes; by the time I'd finished the third, I had it down to about 50 minutes.
In one of those moments of questionable judgment to which we're all prey (or so I'd like to think), I considered that devoting 5.5 square feet of floor space to a piece of furniture that holds only audio equipment was a luxury I could no longer afford in so small a house. So I horizontally oriented one of the three finished Kallaxes and tried it in place of my Box Furniture D3S equipment rack, with LPs within and turntable, step-up transformer, preamp, and power amp on top. My system sounded like shit—and my gift with purchase was that the stylus jumped the groove if I so much as thought about walking through the room while playing a record. Lesson learned.
As I write this, two upended Kallaxes now flank the entrance to my dining room, where they are an uncannily perfect fit. I've anchored them to the wall—I took the extra step of cutting away the 82-year-old baseboard millwork, nailed neatly to the lath-and-plaster walls, to allow a flush fit. They're secure, they look good, and they've allowed me to unbox another 1200 or so LPs. Just another 1000 to go . . .
---
Footnote 4: I first wrote about the IKEA Kallax in the
October 2017 issue
.