Listening #175: Soulines Kubrick DCX turntable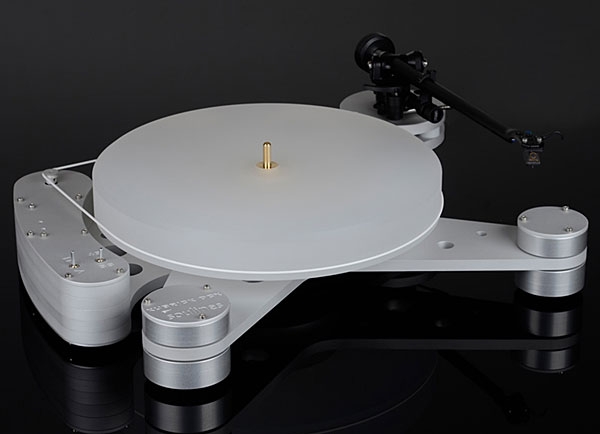 Sometimes I feign interest in living in the Soviet Union of the 1950s and '60s. This happens mostly when I'm shopping for toothpaste at my local supermarket, where the toothpaste aisle is as long as a football field. "I don't
want
so many choices," I say in my Abe Simpson voice, "because all these choices are stupid. I wish I lived in the USSR: Shopping for toothpaste wouldn't take so long." But I'm only kidding.
Now I see dozens of high-end audio manufacturers popping up every year, with new turntable companies leading the charge. Virtually all of them offer at least a half-dozen different turntables, and sometimes the various models in a given company's line represent a variety of different design philosophies: You want high-mass, we got high-mass. You want low-mass, we got low-mass. Whatever you want, we got it. Those companies act as if they're in the toothpaste business: They offer a bazillion different choices, just so they can occupy more shelf space or catalog pages than their competitors—and their competitors will always be more than happy to up the game and demand even more space on those shelves and pages.
So I was cheered when, at the 2015 New York Audio Show, in suburban Rye Brook, New York, I first encountered the Serbian turntable manufacturer Soulines (footnote 1). All five of their models featured acrylic platters, belt-driven by DC motors of moderately low torque. (I define moderately low torque as just enough to start the platter spinning without assistance, but low enough that the platter or motor can be easily stopped by hand.) Each model was no larger than necessary to accommodate a 12" platter and a 9" tonearm. The plinths or chassis of all were on the low-mass side of average—though apparently not as low as, say, the plinth of a Rega Planar 3. There appeared to be a point of view at work here, and you know how I love those.
The icing on the cake was that all five Soulines models came with a cleverly designed, minimalist dustcover, and each turntable was fancifully named for a famous individual: two composers, one novelist, one film director, and one Greek god—respectively, Elgar, Satie, Dostoyevsky, Kubrick, and Hermes. These elements, and the fine sound produced at NYAS 2015 by Soulines-fronted systems—this was in the suite sponsored by retailer Adirondack Audio & Video, Soulines' US distributor—offset whatever doubts I might have had owing to the Soulines' lacks of those design elements I've come to favor: heavy platters, idler-wheel drive, and, above all, high-torque motors. I wondered: might one of these turntables nonetheless shine in my system? Is there life beyond my own hi-fi hobbyhorses? I decided to find out—and, a year and a half later, I borrowed a review sample of Soulines' top-of-the-line turntable, the Kubrick DCX ($4000 without tonearm).
Its name a nod to the space station in the Stanley Kubrick film 2001: A Space Odyssey, the Kubrick DCX lacks a plinth in the usual sense, and is supported instead by a skeletal aluminum chassis in which three elongated pods of unequal length extend from a central point that also serves as a base for the platter bearing. Given the pods' unusual shape, accurately measuring each from the chassis center out to the center of its supporting foot wasn't possible, but I estimated 150mm for the rearmost pod, 200mm for the left-front pod, and 250mm for the right-front pod; interestingly, the supporting feet at the ends of those pods, also machined from aluminum, are also differently sized, with diameters of 40mm for the rear foot, 70mm for the left-front foot, and 60mm for the right-front foot. (On their website, Soulines claims for the Kubrick's design an adherence to the Golden Ratio/Fibonacci sequence, but without going into detail; while noting my lack of mathematics training or any intuitive sense of spatial relationships, I just don't see it.) The height of each foot is adjustable, and all have rounded, soft-polymer tips.
The platter bearing is an inverted type: a stainless-steel axle is held stationary within a round brass plate that's rigidly affixed to the center of the chassis; a steel ball sits in a recess atop that axle, on which rides a very hefty and obviously well-machined brass outer hub with a diameter of 45mm and a bore just large enough to accept the whole of the bearing shaft, with freedom of rotation but zero apparent play. A small amount of 30-weight synthetic oil is used between the shaft and the hub. The 40mm-thick acrylic platter is machined with a bore that snugly fits atop the brass bearing hub, which is also fitted with a record spindle. The platter, whose edge is ungrooved, is driven by a polymer belt of round cross-section; supplied with the Kubrick are two belts, one black, one white, apparently made of two different materials. I thought the turntable sounded pleasantly louder and more forward with the white belt, but I may have imagined that.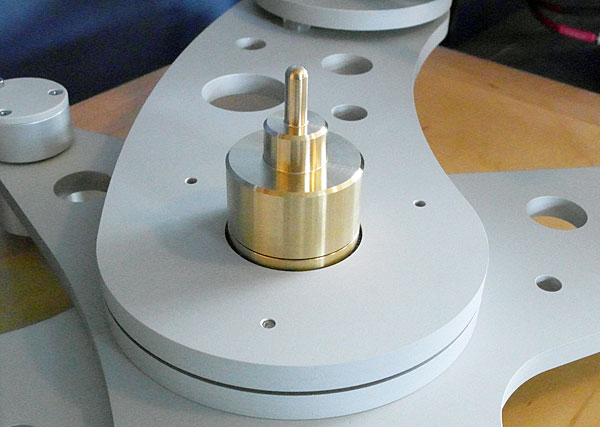 Another aluminum pod of sorts is fastened to the underside of the main chassis with 32 stainless-steel bolts; this extends into a vaguely kidney-shaped substructure built up of multiple layers of machined aluminum, in which are mounted the Kubrick's DC motor and drive circuitry. On the kidneypod's upper surface are an on/off toggle switch, another toggle for selecting between 331/3 and 45rpm, and two tiny, recessed trim pots for fine-tuning those speeds with the aid of a similarly tiny screwdriver (not included).
A separate aluminum tonearm-support structure, also kidney shaped, attaches to the main chassis from above but is compliantly mounted, said compliance provided by cork washers and grommets of various diameter. To its outer end is bolted a round tonearm board, machined with an opening for the arm of choice. Three boards are supplied with the Kubrick: one for Linn/Jelco-style mounts, one for SME-style mounts, and one for Rega tonearms—which is the one I used, with my own Rega RB300.
Expectations confounded
The first thing that impressed me about the Soulines Kubrick DCX was its very well-designed and well-made packing. The sturdy white carton with its multilayer, compartmentalized foam inserts reminded me of the packing for the Linn LP12, Roksan Xerxes, and other products from long-established companies—and while many good products have reached me, intact, in far less sophisticated boxes, I'm always impressed when a manufacturer invests greater-than-average amounts of money and effort in getting their designs to their dealers and customers.
Setup was a breeze: The main chassis, support feet, motor pod, and tonearm pod are preassembled, and the Rega armboard—which can be used with either old-style single-nut RB250s and RB300s or newer three-bolt Rega arms—was already in place. My chores were limited to fitting the platter atop the pre-assembled, pre-oiled bearing, fitting the drive belt, installing the tonearm on the armboard, and installing and aligning my Denon DL-103 cartridge. For that last chore, the Soulines Kubrick DCX comes with a laminated alignment template with calibrations for the three most popular geometries: Baerwald, Stevenson, and Löfgren. Normally, my preference is for the Baerwald variation devised by Keith Howard (footnote 2), but for the sake of ease I sometimes opt for traditional Baerwald with my Rega arm, whatever the turntable. When the Kubrick arrived, I removed the RB300 from my LP12, cartridge intact—and was happily surprised to see that the cartridge alignment was still correct after I'd installed the arm on the Soulines. I took this as confirmation that its armboard was correctly machined.
---
Footnote 1: Soulines, Koce Kapetana 39, 11000 Belgrade, Serbia. Tel: (381) 61-2323073. Fax: (381) 11-2447250. Web:
www.soulines.com
. US distributor: Adirondack Audio & Video, 1048 U.S. 9, Queensbury, NY 12804. Tel: (518) 792-3528. Web:
www.adkav.com
.
Footnote 2: See Keith Howard's Arc Angles: Optimizing Tonearm Geometry," in the March 2010 issue.