Listening #121 Page 2
Still, at full speed, my Rek-O-Kut turntable was a bit noisy. Some of the unwanted sounds—an unsteady
whirring
, in particular—appeared to originate from the idler wheels, with 33 1/3 being the bigger culprit (although, curiously, swapping out the wheels themselves had no effect). My attention fell upon those fiber washers, so on my next trip to the hardware store I picked up a variety of nylon replacement washers of the same diameter but of varying thicknesses. I'll spare you the blow-by-blow and simply observe that my best results were had with a single 1.85mm-thick nylon washer under the idler-wheel hub, and just one of the old, thin fiber washers on top, locked in place by the E-clip. Total so far: $290.54.
The final refinement: I replaced the stock 0.25" steel ball in Jr.'s platter bearing with a ceramic bicycle-bearing ball from VCRC Bike. It didn't silence the platter bearing completely, but the ceramic bearing definitely provided a slight improvement, audible a foot or two away from the operating turntable. New total: $301.63.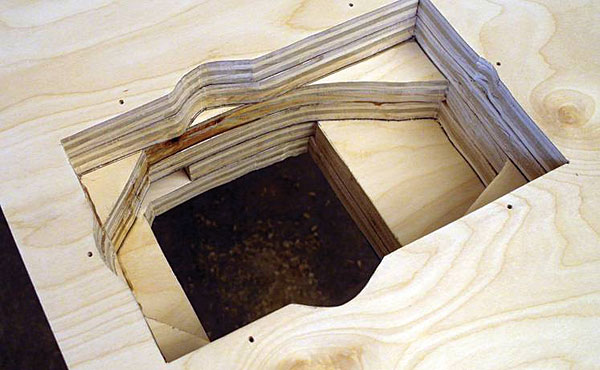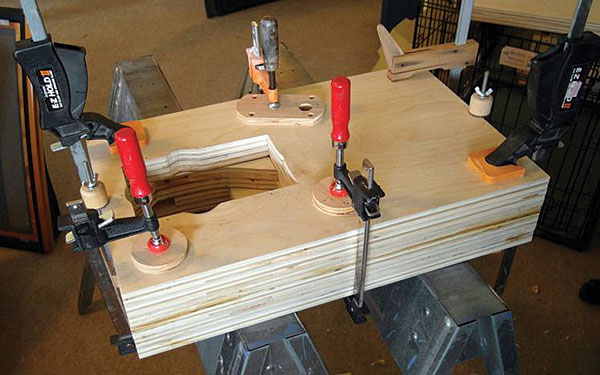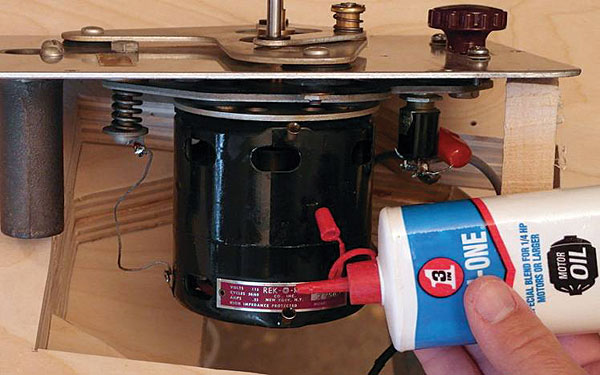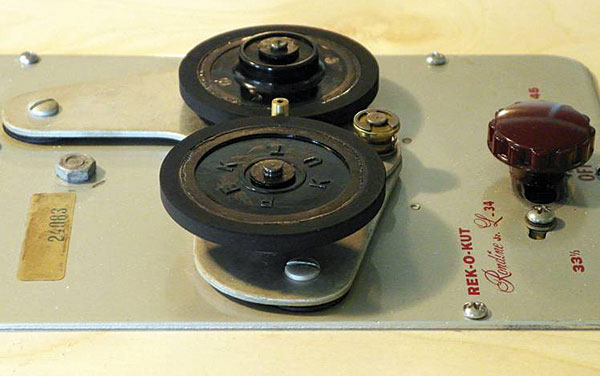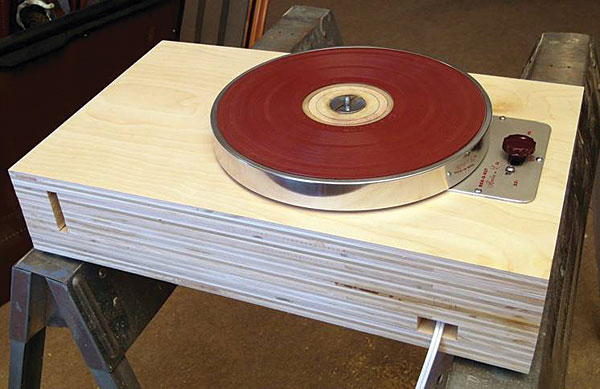 With the mechanicals looked after and the plinth all but complete, the only things remaining are to install the tonearm and cartridge and perhaps do a bit of minor tweaking; I'll cover those items in a brief final installment next month. Until then, I'll simply mention that, as I write this, there are three vintage Rek-O-Kut turntables for sale on eBay, all at BuyItNow prices so low you could have all three for less than $1000. Just sayin'.
The Surreal McCoy
I heard about an audio journeyman who recently started a new company: no small feat in a less-than-buoyant economy. The company, Surreal Sound Audio, impressed patrons at the 2012 Capital Audiofest, held in Rockville, Maryland, July 13–15, with the Fifth Row, a flea-watt–friendly loudspeaker ($26,500/pair) noted for offering exceptional bass extension and power alongside higher-than-average sensitivity.
Although I didn't attend the Capital show—an oversight I'll try to correct in 2013—the buzz surrounding the Fifth Row was too loud to ignore. So it was that I asked to borrow a pair, which company owner Ralph Hellmer delivered and installed on a sunny late-summer weekend (footnote 2).
While each Fifth Row loudspeaker contains seven drive-units, most of the audioband is handled by an apparently Lowther-inspired 7" twin-cone driver from the Chinese company Tang-Band. Tones below 100Hz are played by six downfiring 10" woofers in a vertical stack; the woofers are identical, with stamped-metal frames, cones damped with a textured coating, and no dustcaps whatsoever. (The wiring for all six woofers is bundled together, and runs straight through the centers of all six voice-coils.) Three of the six woofers are visible from the front of the enclosure; the other three are obscured from view by the curved front surfaces of their individually machined MDF subenclosures, each of which is 4" tall. The stack of seven subenclosures is sandwiched together by 1"-thick top and bottom plates, for a total woofer-tower height of approximately 30".
Supplied with each pair of Fifth Rows is a pair of Dayton Audio SA-1000 subwoofer amplifiers, normally available for $348 each from Parts Express (www.parts-express.com). Each SA-1000 provides switchable subsonic filtering, parametric equalization, and a robust 497W into 8 ohms or 950W into 4 ohms.
To begin by answering a question that may be on the minds of many: As implemented in the Surreal Sound Fifth Row, the Tang-Band W8-1772 full-range coaxial driver exhibited not a trace of the shouty, strident upper midrange associated with Lowther drivers at their worst. Maybe that has something to do with the unique flare of the Tang-Band whizzer cone, or with the fact that the Chinese driver appears to have a slightly larger voice-coil gap than that of the typical Lowther. On the other hand, one might point to the resistive load with which Hellmer mates the backwave of the Tang-Band, to keep the driver's free-air resonant frequency as low as possible. Danged if I know. But the Fifth Row was consistently listenable, with plenty of natural texture but no unwanted artifacts, and with just a bit of treble beaming. (Ralph Hellmer installed my loaner pair so that they were toed in only very slightly toward the listening seat.)
In my room, the loudspeaker's off-axis balance—which is to say, the sound heard at the centermost listening seat—was good if just a shade dark, making for satisfying listening even without the Surreal-Sound woofers. "Barnyard Story," from Procol Harum's Home (LP, Regal Zonophone SLRZ 1014), uses only piano, electric organ, and a touch of electric bass (the latter played by a pre–guitar-god Robin Trower), and through the wooferless Fifth Rows it lacked for nothing: Even the piano's left hand had acceptable if not generous weight. I was impressed.
But the system as a whole, with woofers in full song, would need to be refined before suiting my smallish room: 12 woofers and 1000W were simply too much. I think it's fair to say that even Ralph Hellmer was surprised at how low we had to set the level controls of the subwoofer amps before achieving a balance that wasn't distinctly bass-heavy.
Thus optimized, the sheer weight and color available from the Fifth Row's bottom octaves was impressive, especially with orchestral fare that makes generous use of timpani and full-size bass drums. (Elgar's The Dream of Gerontius and the first half of the Berg Violin Concerto, Dem Andenken eines Engels, come to mind.) Yet while notes in the lowest two octaves had tremendous impact in a blunt-force sort of way, the mid- and high-frequency components of some deep percussive sounds were often lacking, there being no better example than the final drumbeats in Mahler's Symphony 6, with Georg Solti and the Chicago Symphony Orchestra (LP, London CSA-2227). Through the Fifth Rows, they sounded impressive in a hi-fi manner, but lacked the subtle tactile qualities of the real thing.
I think the Fifth Row's price needs to be tweaked, as well. I don't doubt the difficulty of machining all the MDF parts that comprise the cabinetry, but I just don't see $26,500 in this product—and I say that as a consumer who struggles to make monthly payments on a four-wheel-drive Volkswagen Tiguan for which, coincidentally, I am paying almost exactly $26,500.
Ralph Hellmer is on to something here. I would love to hear what he can offer in a scaled-down and more affordable package. While some audiophiles think of Surreal Sound as the company that made the most impressively deep bass at the Capital Audiofest, I already think of them as one of the few companies that has worked out how to get great sound from a Lowther-like driver. That, in my opinion, is the greater feat.
---
Footnote 1: Rek-O-Kut, Esoteric Sound, 1608 Hemstock Avenue, Wheaton, IL 60189. Tel./Fax: (630) 933-9801. Web:
www.esotericsound.com
Footnote 2: Surreal Sound Audio. Tel: (804) 317-6065. Web: www.surreal-sound.net.