Lightnin' Hopkins on an Analogue Productions LP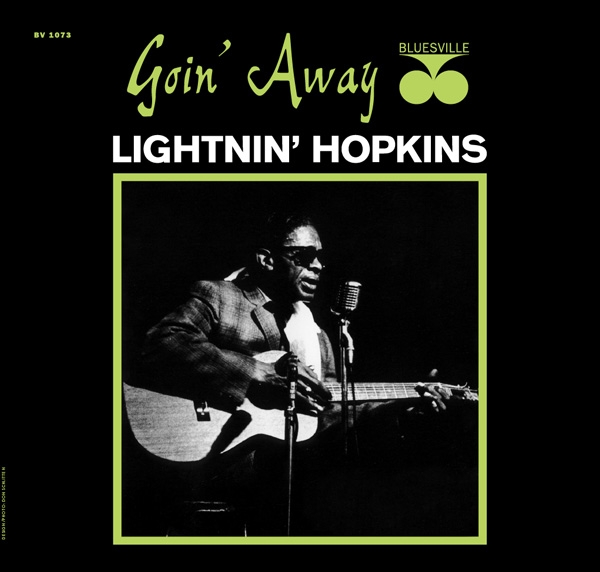 Is there such a thing as a bad Lightnin' Sam Hopkins record? No, but there are a lot of badly recorded Hopkins records. Happily,
Goin' Away
originally released in 1963 on the Bluesville label (an imprint of Prestige Records) isn't one of them. And the already good sonics have even been improved in yet another superb 180gram Analogue Productions LP reissue.
Even in the colorful universe of the blues, the Houston-area native was a singular personality. A raconteur and a bit of a scoundrel, Sam is often pictured with a big toothy smile and a lit cigarillo. Hugely underrated as a guitar player, he developed an idiosyncratic fingerpicking style of guitar. Coupled with the fact that he was unwilling to play in straight times—his marvelous rhythmic sense is instinctual and meant to conform to his words—that style made accompanying him a real challenge.
Consequently, the bulk of his recorded catalog, scattered across a dozen labels large and small, consists of solo records. Rarely, however, do you miss a band. With his intricate, acoustic and occasionally electric guitar work, his ability to work up a swinging, driving boogie rhythm and his warm, confident singing voice, he was one of the strongest solo performers amongst all the bluesmen. You get the feeling from most of the solo records that "poor Lightnin','" as he often refers to himself in song, liked working alone. The one thing you do miss on Hopkins' studio recordings are the hilarious, improvised tales he used to introduce every song when he played live.
Goin' Away, however, is one of the rare Hopkins band records. Here he's fronting a trio of bassist Leonard Gaskin and drummer Herbie Lovell, who do an admirable job of staying with him and his loose sense of time. On "Little Sister's Boogie" he steps out, ups the tempo, and, driven by Lovell's brushes, plays a number of fast runs on the acoustic guitar that show what a great electric guitar slinger he could have been had he followed the direction he explored for a minute on 1960's Lightnin' and the Blues—and its famous full-on rock 'n' roll track, "Sky Hop."
Prone to sing about himself in the third person, Hopkins, like most bluesmen, mixed autobiographic details with boasting and blather. In the full-tilt boogie "Don't Embarrass Me, Baby" he quits drinking and gets a "new 44," warning his woman that she needs to walk the straight and narrow as well. In most of Hopkins music, though, you get the distinct feeling that, despite all the talk about guns, gamblin' and women, he's a good-natured soul underneath. He rarely wishes anyone harm or ill. In most of his songs about women, he often loses the battles he picks. In the slow-paced "Wake Up Old Lady," where he tells his mate, "this is one morning you gonna cook `ol Lightnin' some bread," and then, when he syas h will stop giving her money, she simply threatens to leave. Arrogance evaporated, he says she's "hurt me to my heart."
Few bluesman could ever improvise lyrics, literally make `em up on the spot, like Hopkins. He ends "You Better Stop Her" with this bit of bizarre, improvised Lightnin' logic. "You know a woman can marry one brother and if he die she can marry him again, that'll keep it from being a sin."
Finally, there's the Stranger Here a rare topical about racism and war number, which ends with this charged couplet: "You know they've already called me a dog, I know I don't want to be called a coon."
A fine place to begin a Hopkins collection and yet another familiar joy for collectors, Goin' Away is Hopkins at his best.