Kii Audio Powered Speakers, Oracle Turntable, Benz Micro Cartridge, Nordost Cables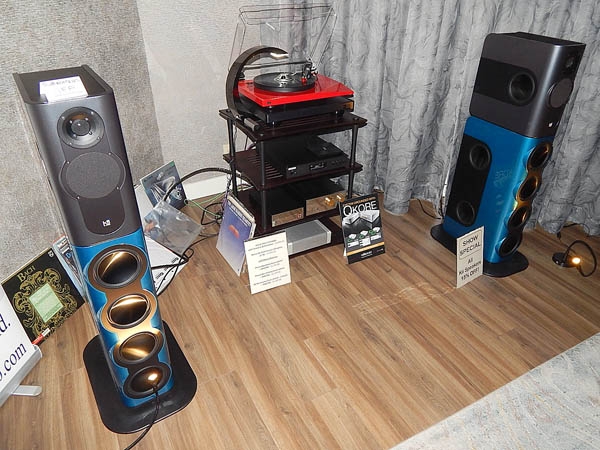 As noted in the spec sheet being handed out in Executive Stereo's room, each Kii Three loudspeaker ($CAD23,000/pair), which stands all of a foot high (the bottom portion of the speaker in the photo is a subwoofer, which was not being used during my visit), is stuffed with six drivers, six amps that generate a total of 3000W, and six DACs.
When I read that, I admit: The purist in me balked. There's no way these speakers will sound pure, I thought smugly. I was wrong. In fact, the Kii Audio Threes, which use digital signal processing to control the relative phase and timing of its drivers, sounded exactly that: pure. Connected directly from a laptop via a handheld controller (imagine a portable preamp), a configuration that does away with interconnects or speaker cabling altogether, the music that filled the room sounded rich and full, even at very low volume, with wonderful color and tactility.
Nordost cabling was then used to plug an EAR 88PB phono preamp ($CAD5400) directly into the Kii's analog input (switching between digital and analog sources is done via the Kii controller), while record-playing duty was performed by an Oracle Paris turntable ($CAD4950 with tonearm) fitted with a Benz Micro Ace cartridge ($CAD595). Compared to the purely digital setup, I heard improved musical flow and more bloom and dimensionality from instruments through the analog rig.