Joseph Audio Speakers, Alluxity and Doshi Electronics, Purist Cables
I'm sitting in the Alluxity room next to Joseph Audio's Jeff Joseph and wondering how his new graphene-cone Perspective2 loudspeakers ($14,999/pair) can sound so big and solid and transparent when they're so far apart. I'm looking for the hole in the middle, or at least a fuzzy-creamy center, but I can't find it. All I can "see" are the solid, accurately described voices of singers like Ella and Elvis.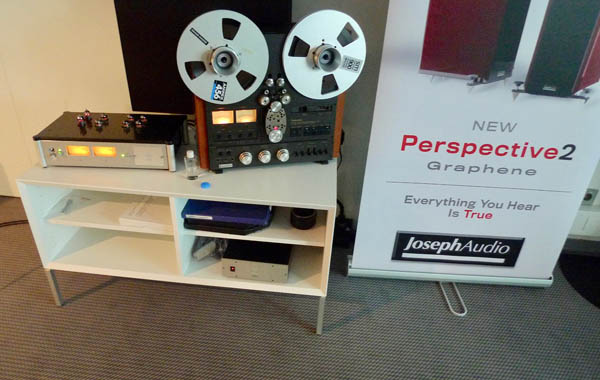 Then, via the Alluxity Pre Two preamp-DAC-streamer, I hear a high-resolution file of some big drums, made from a Crystal Clear Direct to Disc LP. I turn to Jeff and say, "Something's wrong here: This sounds too good to be true." He looks at me funny, so I remind him: "You know as well as I do, too good to be true is never true." He laughs and points to the slogan on a sign to his right: Everything you hear its true.
I asked why the speakers were so far apart, and he said he liked the weight the side-wall re-enforcement added to the image. I told him I did too.
This was my first sound demonstration at High End 2019, and it was a doozy: The soundstage was super-enormous and super-transparent. The bass was invisible until it appeared, and then it was succinct and as big as it needed to be. Tone character was spot-on, and images were precisely drawn.
All this big, beautiful sound was facilitated by a vintage technics SL1500 reel-to-reel recorder with a Doshi Audio tape preamp, with some burnt-orange Alluxity electronics: the above-mentioned Pre Two with relay-based volume-control (€9850) and two Mono One 250W/8-ohm amplifiers (€20,000/pair). All cables were by Purist Audio.