Joint Recordings of May 1988: Get Rhythm & Bring the Family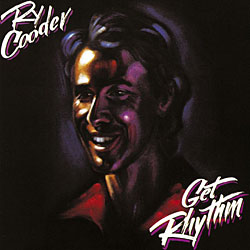 Ry Cooder: Get Rhythm
Warner Bros. 25639 (LP). Ed Cherney, eng.; Ry Cooder, prod. TT: 40:43
John Hiatt: Bring the Family
A&M SP5158 (LP). Larry Hirsch, eng.; John Chelew, prod. TT: 45:26
There are a few white men in American music—Delbert McClinton, Jerry Jeff Walker, John Fogarty, Van Morrison, Joe Ely, and Steve Earle all come to mind—whose music is consistently true, believable, honorable, and unpretentious. Ry Cooder has been one of those names since his solo debut in 1970; with Bring the Family, John Hiatt's must now be added to the list.
Bring the Family is what Robbie Robertson's overrated new album should have been (sorry, Gary Krakow): simple, strong, mature, its feet rock-solid on the ground. "Thing Called Love," in fact, sounds much like the album The Band might have made between The Band and Stage Fright.
The two LPs under review were recorded with many of the same musicians, at the same LA studio (Ocean Way), and within a short time of each other. Hiatt's producer, John Chelew, went at the project like most producers should and seldom do: he introduced the band to the songs two days before the sessions, then spent but four consecutive days recording the album. The result is a simple inevitability and solidity of arrangement reminiscent of Dylan and The Band's Planet Waves, or Presley's Sun Sessions.
And what a band: Hiatt on guitar and vocals, with Ry Cooder on slide, Nick Lowe's bass, and drummer Jim Keltner. Cooder and Keltner have played together for almost 20 years, developing some of the best-honed rhythmic chops in the business; and, if nothing else, Lowe's uncanny ability to consistently find and develop Elvis Costello's best work should earn him a place in history. Throughout the album, the emphasis is on gutbucket R&B, with a good dose of New Orleans second-line; no frills, no electronic drums, no synthesizers, no punched-in session men. This is the sort of unpretentious, chunky rock'n'roll that makes the Stones sound like poseurs. As far as I can tell, most of the music was recorded live in the studio.
There's a lot of Otis Redding in Hiatt's big, honky voice and singing style—listen to "Have a little faith in me." But this is the music Redding might have made had he lived longer, stayed hungry, and had a different color skin. The post-romantic songwriting is that of a man who can no longer afford the rock'n'roll myth of the travelin' man, lovin' em & leavin' em, but for whom home, family, and some sense of place have grown more important.
The album begins with the mythic, cleansing pilgrimage from Nashville to Memphis: "Memphis in the Meantime" is a breath of fresh air, sweeping out all those cobwebby Billy Sherrill strings, stripping the floors down to churning Sun Studios Stax/Volt bedrock. As Hiatt sings, "I don't think Ronnie Milsap's gonna ever record this song."
One of the many things meant by "maturity" is the recognition of what can't be regained and the taking of responsibility for that loss. "Tip of My Tongue," in which Hiatt regrets the devastating results—a failed marriage—of "some words that flew out and made a crash landing," is so much stronger a statement than Billy Joel's "Big Shot." In the same situation, Joel wallows in guilt, keeping his own emotional drama center-stage; Hiatt simply apologizes, knowing that it's too late for anything else.
"Your Dad Did," however, is the centerpiece here, by turns funny and harrowing. Chronicling those horrible moments when one recognizes one's father's (or mother's) exact words and tone in one's own mouth, the song is partially based on the Stones' "Street Fighting Man," with a hilarious sitar break by Cooder. I can't help thinking that Hiatt is saying that those days—when all a poor boy could do was to sing in a rock'n'roll band—are gone. That boy is now a man, and rock'n'roll is hardly a life for anyone who wants to live long. It's hard to resist lines like "You've seen the old man's ghost come back as creamed chipped beef on toast."
Almost as good is "Stood Up," a bartender's story of partial triumph hard won. Hiatt tells how he finally stood up to his own lost life after walking away from too many confrontations. As he says about alcohol, "I couldn't stand up after one, no, 'til twenty had me down on the floor; Now the first one doesn't get me even though I'm the last one out the door."
These are hard, sad, humble songs of loss, though not tragic: "And I don't pretend to know how you ever saw it through, 'cause I only got to where I am right now learning how to love you."
Rock'n'roll leads to or away from marriage and family; it is seldom created within or about those complex states. But Bring the Family is steeped in blood ties; it's what American music is all about.
Ry Cooder's last solo album, The Slide Area, came out in late '82. Its overbearing machismo, the final development of a trend begun in Bop Till You Drop and continued in The Borderline, evidently proved as unpopular with the marketplace as it was with me; Cooder put out nothing under his own name for five years.
He kept busy, however, scoring many films, the soundtracks of Streets of Fire, Blue City, Alamo Bay, Crossroads, The Border, and Paris, Texas all resulting in LP releases. All but the first are well worth listening to as Ry Cooder albums, and testify to his remarkable eclecticism in musical sources, which include Tex-Mex, Hawaiian, Jamaican, black country blues, old-timey, ragtime, Chicago blues, rock'n'roll, C&W, and Mexican musics.
But, in the end, they're not Ry Cooder albums, and must serve the films for which they were written. Ry is back in force on Get Rhythm, his best album since 1977's live Show Time, and with many—in fact, all—of the musicians associated with his best work: Jim Keltner on drums, pianist Van Dyke Parks, Flaco Jimenez on accordian, and gospel singers Terry Evans and Bobby King.
One of The Slide Area's problems was that Cooder wrote half the material himself (soundtracks excepted, he seems incapable of writing a decent song for an album of his own). Ironically, one of his greatest strengths has been his ability to perform the oddest, most obscure songs from the bottom of the American barrel—"novelty" songs in anyone else's repertory—with total conviction. "Alimony," "FDR in Trinidad," "How Can A Poor Man Stand Such Times and Live," "How Can You Keep On Moving Unless You Migrate Too"—even the titles defy serious performance. Cooder's committed performances of them were all the more impressive.
I'm happy to say he's back on track here, having written only one song, "Going Back to Okinawa," which sounds like a remake of Alamo Bay's "Gooks on Main Street" and is the least interesting song on the album. Johnny Cash's "Get Rhythm" couldn't get any more if it tried; the tight, funky, bursting-at-the-seams arrangement was, I'm sure, a revelation to Cash himself. Ry plays Chuck Berry's "13 Question Method" on acoustic slide with skintight rhythmic drive, and combines Caribbean phrasing with Flaco's Tex-Mex accordian in "Women Will Rule the World."
It's hard to believe that, in this day and age, someone could make "All Shook Up" as much his own song as Cooder does here. The arrangement, for all its brilliance, is so fresh it sounds as if made up on the spot. This is big-beat music stomping around in seven-league boots. Fidgeting like the man in the fuzzy tree doesn't tell the half of it—this man is real shook up.
But in "I Can Tell By the Way You Smell," as in much of Slide Area and Borderline, Cooder seems to be ruining his throat trying to sound mean and black. It's unconvincing, and ultimately condescending. He's much more believable in such ballads as "Across the Border Line," on which he's joined by a liquidly crooning Harry Dean Stanton, encoring here his Paris, Texas soundtrack cameo. And, as has been his custom on his preceding four albums, the closing song is a showcase for his quartet of backup singers, all gospel-trained.
In this day of synthesizers, rhythm boxes, and vacuous videos, I'm happy to report that Ry Cooder is back in a big way. You'll wear this one out. Get Get Rhythm's rhythm.—Richard Lehnert