Jana's First Morning at the LA Show
Approaching the Los Angeles Audio Show, two curious things happened: 1) I left my beloved Fisher 800-C in the good hands of Blackie Pagano: New York based vintage hi-fi repairman, a couple weeks prior. It was in desperate need of inspection. And, 2) I received an impromptu ear cleaning from local audiologist Ann Mundell-Noel just two days prior, whilst embarking on my first custom in-ear journey at Ultimate Ears' factory in Irvine. The amount of earwax my ears produce is simply remarkable at times.
To reference the phrase, "don't shop on an empty stomach", my ears were starved wild beasts, who had not only undergone relocation from desert to all-you-can-eat gourmet buffet, but also had their palates cleansed. Needless to say, the combination of the two left me deprived of my usual hi-fi fix, and feeling very savage.
I'd never felt so hungry for a hi-fi show in my life.
The LA Show was my first time aboard the (appropriately) hyped Magic Bus! A one-of-a-kind audiophile-mobile custom-built by Sony contractorJon Whitledge, the Magic Bus is a rare feat. The van (it's more like a van or a U-Haul type vehicle, rather than a bus) contains nine Dynaudio loudspeaker transducers, Cascade audio engineering damping and barrier materials, six hot-rodded Genesis Car Audio amplifiers, and Kimber Kable wiring throughout. The entire project took nearly seven years and over a million dollars to build! But luckily, I joked that, when Jon goes to a hi-fi show, he doesn't have to worry about speaker positioning or room correction. Sitting in the driver's seat, I listened to music from Jon's iPhone through an 11.2 DSD compatible Sony RSX-6S9 (positioned where the usual car CD player/radio is.) For readers who heard the Magic Bus at previous hi-fi shows, the main update includes the 11.2 DSD compatibility and upgraded DSP.
Jon and I were also joined by Blue Coast Records composer/vocalist/pianist Fiona-Joy (pictured above), who held the official album debut at LAAS the following day (Saturday) for her album Into the Mist. While listening to the track "Galloping" in the Magic Bus, Fiona and I talked about hi-resolution music and she promptly replied, "I think hi-res music is the music of the future!" Into the Mist is available in SACD, CD, and various hi-res audio formats.
Back inside the Sheraton Gateway hotel, I visited the Source Audio/Video Design Group's room, which contained a VPI Avenger turntable ($10,000), a McIntosh C52 preamplifier ($7000), two SAE 2HP-D power amplifiers ($19,995 each), and Pearl Evolution Victor Ballerina 401/8 DPG loudspeakers ($14,000/pair). The digital source was a McIntosh MCD550 SACD/CD player ($6500). The entire system was completed with McIntosh loudspeaker cables and Kimber Kable interconnects.
The SAE 2HP-D celebrate SAE's (Scientific Audio Electronics) 50th Anniversary! So of course we also had to celebrate the 50th anniversary of Sgt. Pepper's Lonely Hearts Club Band. It was my first time experiencing SAE after reading Michael Fremer's review of the 2HP-D published last fall in Stereophile and I was happy to also notice the wide, deep, airiness to the soundstage that Mikey noted in his review.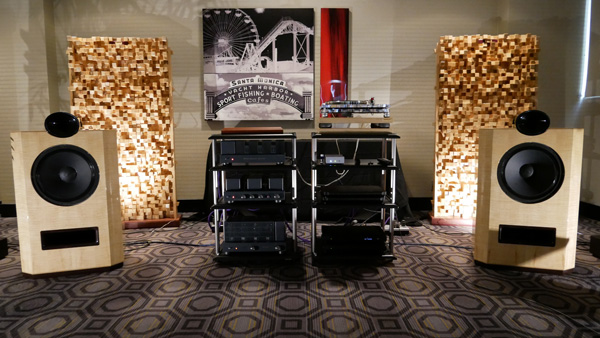 On the ground floor, in a semi-hidden room down a corridor past the hotel Starbucks and fitness center, Michael McDonald's "I Keep Forgettin'" wafted out. Music in the Natural Sound room played through an MSB Media Transport, an MSB DAC, a TFA 8695 pre-amp ($30,000), and TFM 1430 amplifier, through ($20,000) Natural Sound Field Coil Speakers with Anti-Vibration Base ($45,000/pair). Also visible in the photo but not active: a Vertere MG-1 turntable with a Koetsu Urushi Vermillion MC cartridge, and a TEA 2000 phono pre-amp ($12,000). After Michael McDonald came Yo-Yo Ma and the Philip Glass ensemble's "Definition," a cinematic piece with a repetitive slow buildup. The sound was well balanced, organic, and emotionally convincing—but placed at an awkwardly low volume that made some parts inaudible. Forgivable, considering it was shortly after 10am on the first day of the show.
McIntosh is always as McIntosh does, and has done. "What do you think of the sound?" people like to ask. "It sounds like McIntosh," I usually say. It's not a good thing—nor is it a bad thing—it just is. Going from show to show, hearing various combinations of McIntosh and Sonus Faber in rooms of varying levels of near darkness, the sonic signatures are consistent throughout. McIntosh was one of the first brands I became aware of upon discovering the audiophile world, and those undeniable Green Lantern cubes instill a certain sense of comfort within. "One day I'll own some classic vintage McIntosh gear," I periodically say to myself before falling asleep at night.
In this room, we listened to Eva Cassidy's Songbird on vinyl playing from a McIntosh MT5 turntable ($6500) and a newly released MP1100 phono preamplifier ($8000) through MC601 amplifiers ($7000 each) with MEN220 room correction ($5000) and a MPC1500 power conditioner ($5000) out through Sonus Faber Amati Tradition speakers ($29,900/pair). Also present, but not played at the time: a newly released D1100 digital preamplifier ($7000) and MCT450 CD transport ($4000).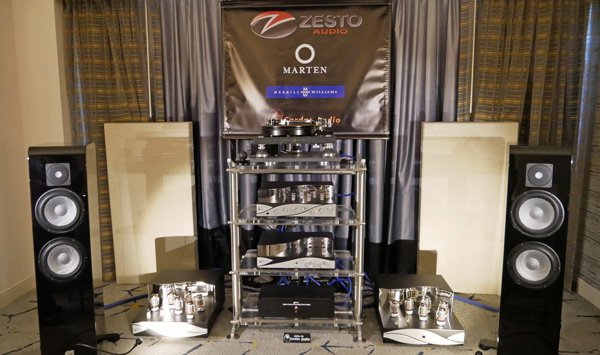 When we were going through room assignments for the show, JA gave me the Zesto Audio room, saying that I would really enjoy meeting Zesto co-founder Carolyn Counnas. I get very excited meeting other females in the audio industry. It's almost a problem. When I meet a female in this industry (not a hired booth babe; an audiophile) I feel like we need to talk about girl things, paint our nails together—connect on a female level. But there is also an initial fear that a fellow female audiophile will be on the dark side, using her powers for evil, rather than good. Thankfully, meeting Carolyn exceeded my expectations—she is a real sweetheart! People (male, female, or any other) aren't always kind show exhibitors, so it really is refreshing to enter a room being run by someone nice.
Inside the room: a Merrill Williams Audio REAL 101.2 turntable ($7200) with two Tri-Planar U2 (classic 10") tonearms ($7200 each), with a Benz Micro Gullwing SLR MC cartridge ($3600) on one—what I heard while I was in the room, and an Ortofon Cadenza Mono MC cartridge ($1280) on the other. The 101.2 ran through a Zesto Audio Téssera vacuum tube phono stage ($12,000), a Leto 1.5 vacuum tube preamplifier, an Eros 300 class A monoblocks ($19,900/pair), through Marten Django L speakers ($9000/pair)—all sat on a Stillpoints ESS42-26-5 rack ($10,000) with Cardas Audio cabling throughout. We listened to a couple tracks off of The Beatles' Sgt. Pepper's Lonely Hearts Club Band LP. My freshly cleaned ears were immediately drawn to the balance of instrumentation and naturally phrased reproduction. On turntables in hotel rooms, Sgt. Pepper's . . . can sometimes sound like grainy sandpaper around the edges—not the case for Zesto Audio.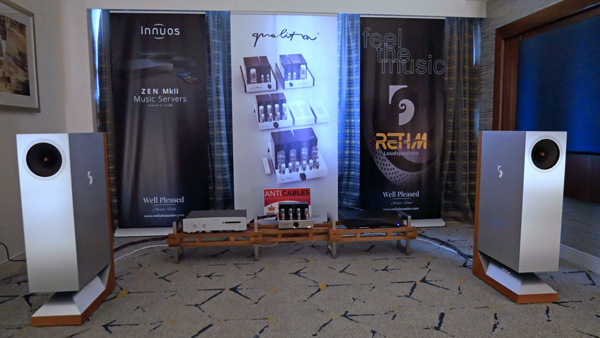 And we're back to the Well Pleased Audio Vida room that I raved about upon hearing first at Axpona just a month ago. I was overjoyed to see the Rethm Bhaava speakers ($3750) again, paired with a Qualiton A20i integrated amplifier ($4500), an Aqua La Scala Mk II Optologic DAC ($7000), and an Innuos Zenith Mk II server ($3400) with Anticables throughout. (The adjustable rack—also designed by Jacob George of Rethm—is an interior designer's dream, and is currently unnamed.)
When I entered the room, Well Pleased AV's Mark Sossa informed me that Tidal wasn't working (understandable, as was the case in many, many other rooms), so we listened to music that was on their server. First, Neil Young's "Cowgirl in the Sand", then Mino Cinelu & Kenny Barron's "Simple Thoughts", then Bad Bad Not Good's "Can't Leave the Night." The soundstage was as I remembered: out of body, room filling, and seamless through the frequencies. I left the room pleased that my sonic impressions had not changed—the Rethm Bhaavas are affordable architectural beauties with supreme sonic qualities that I will continue to lust after.