Jadis JA 200 monoblock power amplifier Measurements
Sidebar 3: Measurements
The JA 200's main chassis was quite hot following the 60-minute, 1/3-power preconditioning, but the power-supply chassis barely got warm. The Jadis continued to run hot throughout the other bench tests, suggesting high-bias operation and the possibility of frequent tube replacement (though we have no empirical data to suggest that this will be the case). Its input impedance measured above 600k ohms—high enough to be difficult to measure accurately with our Audio Precision test set. This is unusually high, even for a tube amplifier, and unlikely to cause matching problems with any conceivable preamplifier or other source. The Jadis's voltage gain when loaded with 8 ohms measured 30.3dB. DC offset at the Jadis's outputs measured between 0mV and just over 3mV, varying considerably due to 1/F noise, but generally staying below 1mV.
The JA 200 is non-inverting, a positive-going input resulting in a positive-going output. S/N ratio measured a fine 108dB (unweighted ref. 1W into 8 ohms). The Jadis's output impedance was admirably low for a tube amplifier, varying from 0.18 to 0.25 ohms depending on load and frequency. (The JA 200 can be internally strapped to accommodate various loads; our samples were strapped to produce an 8 ohm output tap, and were auditioned and measured in this configuration. Changing the output strapping to create a higher impedance tap will somewhat increase the output impedance.) The higher the output impedance, the greater the potential for frequency-response–skewing interaction with a loudspeaker load. The Jadis should be less prone to this than are amplifiers with higher output impedances—an affliction found all too often in tube amplifiers.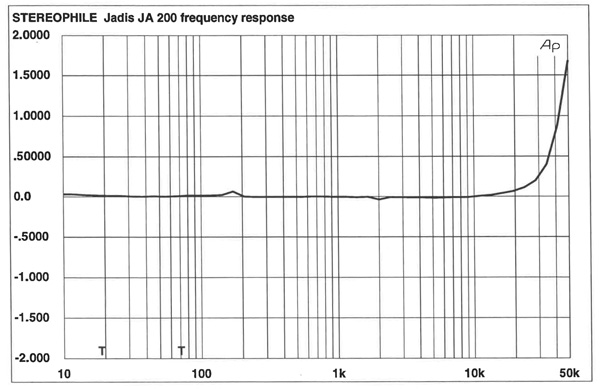 Fig.1 shows the frequency response of the Jadis at 1W into 8 ohms (the curve for 2W into 4 ohms, not shown, is virtually identical, with about 0.1dB less rise at 20kHz). The rising response above 20kHz peaks just above the 50kHz limit of the plot and drops sharply above the peak; this is very likely an output transformer anomaly.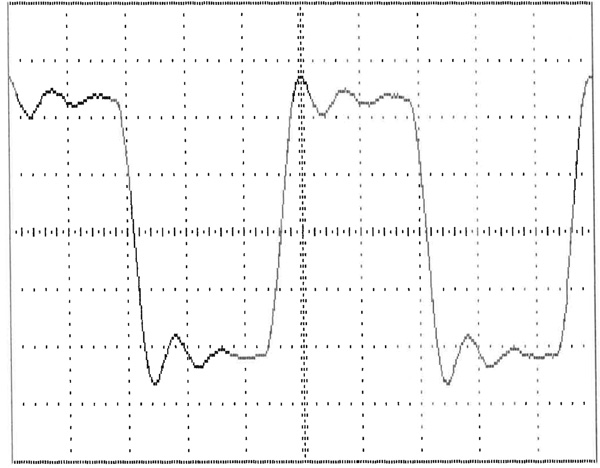 The output of a 1kHz squarewave is shown in fig.2. The damped oscillation visible at the top of the waveform is also visible in the 10kHz squarewave (fig.3), and is associated with the peak in the high-frequency response. (The frequency of the oscillation at the top and bottom of the curve in fig.3 comes out to just above 60kHz.)
The THD+noise curves in fig.4 show a sharply rising distortion at higher frequencies, but reasonable performance up to about 10kHz. Only the harmonic-distortion products of frequencies below 8kHz or so will be audible, the second harmonic of 8kHz being 16kHz. The THD+noise waveform at 1W into 8 ohms (fig.5) and 2W into 4 ohms (not shown) is primarily second harmonic plus noise; at 4W into 2 ohms (fig.6) it becomes primarily third harmonic.
The third harmonic also predominates at high powers and low frequencies. A plot showing the output resulting from a 50Hz input (106W into 4 ohms—two-thirds rated power) is shown in fig.7. While the second harmonic is at –49dB (about 0.3%), the third harmonic is higher in level at –44dB (about 0.6%), with higher harmonics lower in level and roughly decreasing. This is a relatively high level of distortion in comparison with many other amplifiers we've measured, though not exceptionally high on an absolute scale.
A similar spectral plot in fig.8 shows the IM at the output resulting from a 19+20kHz input. The Jadis would only put out very low power with this input signal before clipping; 3.8W into 8 ohms is shown here. (At 5.8W, not shown, the distortion artifacts were greater; though serious clipping had not yet been reached by this point, it was being approached rapidly.) The 18kHz and 21kHz artifacts are at about –37dB, or about 1.5%, the 1kHz slightly lower at –38.7dB, or about 1.2%. With an output of 7W into 4 ohms (fig.9), the largest artifacts are again at 21kHz, 18kHz, and 1kHz (–29.5dB, –29.7dB, and –30.7dB, respectively, or about 3%). Because of the nature of this signal, most amplifiers will not put out their rated power with it, but most do put out a significant percentage of that power. The Jadis does not; its performance on this test would have to be rated as poor. The audible significance of this performance is less clear; few tweeters will handle more than a few watts of power at these frequencies.
The JA 200's THD+noise vs output power sweeps at 1kHz are shown in fig.10. The gradual rise in distortion without a well-defined breakpoint, or "knee," is often seen in tube amplifiers. Here the distortion rises gradually above about 1W. The output is nearly the same into either 4 or 8 ohms, less into 2 ohms. But note that the output does not reach its rated 160W at a reasonable level of distortion. Using our normal 1% THD+noise figure as a standard level for clipping, the discrete measurements for the JA 200 were 109W (20.4dBW, 117V line) into 8 ohms, 110.3W (17.4dBW, 116.5V line) into 4 ohms, and 84.9W (13.3dBW, 117V line) into 2 ohms.
To confirm that this was not an atypical amplifier or power supply, I also measured the 1% THD+noise output level for the other amplifier of the pair (SN 110576, the primary amp measured being SN 110577). The corresponding values were only marginally higher: 114.5W into 8 ohms, 114.7W into 4 ohms, and 85.8W into 2 ohms (all with a 116V line). Because of these lower-than-expected readings, I also measured the output at 3% THD+noise. Here the Jadis reached 132.1W into 8 ohms (21.2dBW, 119V line), 135.7W into 4 ohms (18.3dBW, 118V line), and 100.5W into 2 ohms (14dBW, 118V line). While the JA 200 did reach its rated power output of 160W, it did so at a THD+noise level of 11%.
The Jadis's rated 160W output, based on our bench tests, is a little optimistic; I'd call it 135W at best. The difference would not be immediately noticed in listening tests which don't push the amplifier hard into difficult, low-sensitivity loads. Nevertheless, its test-bench performance was rather disappointing overall for an amplifier this expensive. That it performs as well as it does in listening tests indicates either that the threshold of audibility for certain measurable anomalies is high, or that these anomalies themselves help "create" a pleasant sound. I prefer to believe the former; the latter is not high fidelity.—Thomas J. Norton