The Shape of Jazz to Come on Rhino vinyl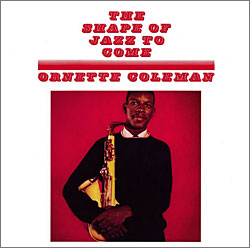 The folks at Rhino Records have just released a 180-gram vinyl reissue of
The Shape of Jazz to Come
, Ornette Coleman's groundbreaking (and still riveting) album of 1959, mastered at RTI from the original stereo tapes. It sounds in every way better than the original pressing, which itself sounds quite good.
Everything is clearer, highs are extended, bass is more defined, dynamics are wider. Ornette's white plastic alto sax has more of that palpable whoosh through the reed and horn. Don Cherry's pocket trumpet has an airier mouthpiece. Charlie Haden's bass—you can hear the wood vibrate. And Billy Higgins' drum set has more sizzle and snap.
This is one of the greatest jazz albums ever made, a recording that redefined the possibilities of ensemble improvisation and the concept of harmony without chord changes. (This came to be called "free jazz," but in fact it was extremely disciplined.)
If you don't have it, you need to buy it, in one format or another. (A 1990 CD isn't bad.) If you do have it, and you spin LPs now and then, buy this.