The Incisive Audio Technica ATH-MSR7
This story originally appeared at InnerFidelity.com
Audio Technica ATH-MSR7 ($249)

Saw these at CES with their official "Hi-Res Audio" sticker. My mind's first thought: Yeah right, like "Digital Ready" meant anything either. Turns out the label is pretty darned accurate.
The ATH-MSR7 is a circumaural, sealed headphone with a 45mm angled driver. The styling is handsome and conservative with a pretty nice mixture of materials for a headphone at this price. It does bare a striking resemblance to the Sony MDR-1R. With both in hand I'd say the Sony looks better with excellent design, and manufacturing fit and finish. But the MSR7, with it's metal capsule housings, feels a little more confidence inspiring in terms of materials.
The headband is fully covered by protein leather and is padded lightly all over, with a deeper pad where it touches the head. The padding does not appear to be memory foam however and can be a bit uncomfortable in long sessions. Clamping pressure is too high out of the box, fortunately, the headband (other than at the ends where the adjustment sliders are received) is a seemingly sturdy metal strap and can be bent around to reduce the overall clamping pressure and to conform more closely to the top of your head. (See video for bending the headband.)
Ear pad opening is on the slightly larger than average size (40mm X 60mm) and depth is ample. These headphones will fit most ears, but your ear will sometimes mildly touch a rounded ridge at the back of the ear cup, which can be a bit uncomfortable after a while. Ear pads are protein leather covered memory foam, and are removable/replaceable.
Once I got the headband shape caliper pressure dialed in, I felt the MSR7 to be a comfortable and secure fit, well suited to applications where you'll be moving around. But maybe a bit too warm and tight for those wanting a super-comfortable headphones for multi-hour listening sessions.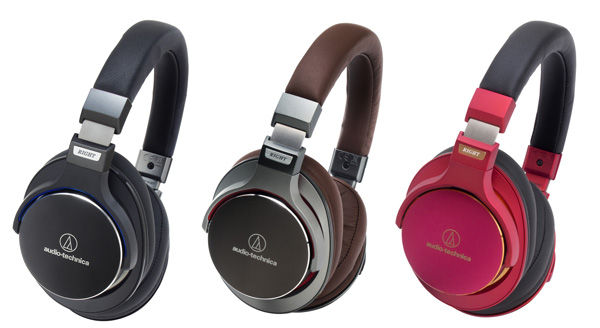 The MSR7 comes in two colors, black (left) and gun metal (center). A third red limited edition version is available in Asia, but not currently in the U.S.
Included accessories are a bit spare, but well focussed. Three cables are included: a plain-Jane 3 meter straight cable, and two 45" cables—one plain and the other with one-button remote. Cable entry is on the left ear-piece and does have a recess around the pug opening (5.9mm dia X 2.6mm depth) but there is no locking mechanism. At the player end of the two short cables is a metal and somewhat large and clunky looking 90 degree angle connector. It does have a narrowing body and snoot before the plug to reach in through protective cases, and sports a hearty strain relief. Also included are a padded pleather drawstring bag and 1/4" to 3.5mm adapter. The headphone's only folding feature is the ear pieces rotate flat for storage in the bag.
All-in-all, I'd say this is a really nice headphone for the $249 asking price. But looks matter not if the sound isn't up to snuff. All to often I put an otherwise good headphone on the measurement head and am met with an obviously overly-colored response. Woot! I'm happy to say, this was not one of those times.
Flip the page and we'll talk about the killer sound from these cans.