Herb's Postscript from the Park Lane Hotel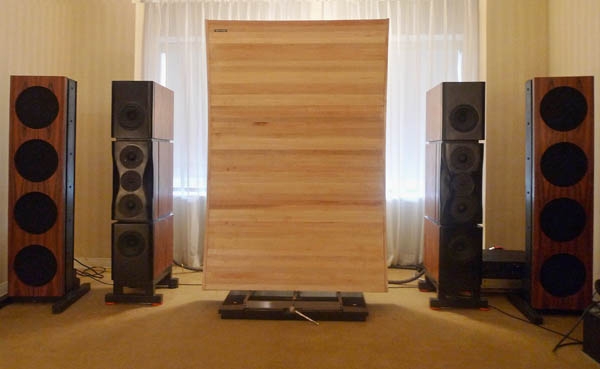 The super cool Rudy Dupuy of Dupuy Acoustique (in Congers, NY) says he used to make loudspeakers, but then he realized that the time-delayed and out-of-phase reflections from the wall behind the speakers always sabotaged any hope of loudspeaker coherence. So he stopped making speakers and developed the tunable Phase Restoration Acoustical Panel (PRAP). As Rudy tells it, "The PRAP can render a higher level of musical realism than any standard rig—no matter the cost." As the Dupuy brochure tells is, "The PRAP addresses a structural deficiency inherent in the listening room acoustics that directly affects the reproduction of recorded music. No other room treatment can claim to do this."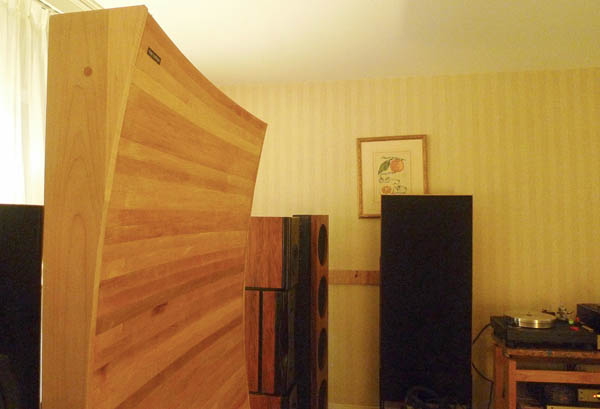 The PRAPs come in two sizes: small ($12,000) and large (seen above, $30,000). There was no way to remove them for comparison, but South African trumpeter Hugh Masekela sounded pretty damn real. The PRAPs were beautifully made and attractive, but I could not help wondering whether I'd hang a painting or a target on that big one between the speakers.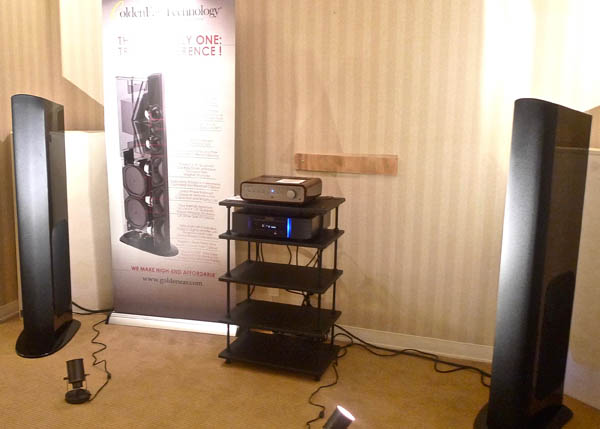 Who says audiophile gear is overpriced? Not me (I'm always finding bargains). And not Sandy Gross, the "golden ears" behind GoldenEar. The best things about Sandy Gross (beside his good taste in food, wine, and art) are: he knows exactly what a fine audiophile speaker should sound like, and he knows how to manufacture and deliver them at, like, one-third the price that others might charge for similar quality level.
Today, Sandy was demonstrating his $8500 flagship Triton Reference speakers (which will go up in price to $9000 on December 1st) by playing hits from his personal demonstration CD. I listened closely to the Beach Boys' "In My Room" via a modest $2290 Peachtree Nova 300 integrated and a $6999 Marantz SA10 SACD/CD player. (Cables were all by AudioQuest.) The sound was wet-smooth and delicious, with all the color a connoisseur could ask for. This was an under-$20k system—not one where the interconnects cost $30k/each—and the Beach Boys were definitely happening.
How about an under-$10K system? The Golden Ear room was only one of four sponsored by Scarsdale, NY dealer Value Electronics. Others showcased Technics and Dynaudio, while this one featured a distinctly satisfying system with Definitive Technology Demand 11 speakers ($999/pair), a Marantz PM-K1 Ruby integrated amp ($3999), and the $3999 40th Anniversary Ken Ishiwata Signature Ruby SA-K1 SACD player—of which only 3000 were made. Add in some matching $399 Def Tech speaker stands and a few AudioQuest cables and the whole kit comes in under $10,000. Say Amen, people! This little system could rock and boogie and deliver genuinely good tone and satisfying levels of spatial articulation. (If you don't know Marantz's nattily dressed brand ambassador Ken Ishiwata, please Google him. Some call him "Comme des Marantz" because he definitely does not need fashion tips.)
Who saw it coming? After the demise of venerable Technic SL1200MKII turntable, I figured that was the end of that brand in America. I was really wrong. Technics' well-orchestrated, phoenix-like return to the American audio scene was aided by a most skillful and loveable brand rep named Bill Voss. Now, after only a few years, Bill Voss is standing here at the Park Lane Hotel, talking about and pointing at some of the hippest gear going. Chief among them was the new smart, high-tech(nics)-looking Ottava SC-C&0 all-in-one hi-fi ($999).
What I listened to, and what sounded really damn good, was Technics' big rig: starting with the $27,000/pair SB-R1E tower speakers, driven by the oh-so-beautiful-luminous-meters SE-R1 amplifier ($17,000), the not-free ($9000) SU-R1 network audio player and ST-G30 music server ($5000). And the breathtaking new SL-1000R turntable ($18,000 complete with plinth and arm). Today, Technics in America is really happening.
• • • • • •
I spent one fun day at the 2018 New York Audio show, and experienced fewer than half of the exhibits. I saw tons of cool people. I ate lunch at the elegant Plaza Food Hall with Steve Guttenberg and Jana Dagdagan. And when the show closed at 7:00pm, it was raining nicely—so I went for a solitary fog-and-memory-filled walk under the cast-iron street lamps in the Hallett Nature Sanctuary. (I forgot my umbrella, so I hid the White Album under my coat to protect it.) I wish all my audio show days were like this.