Grind & Groove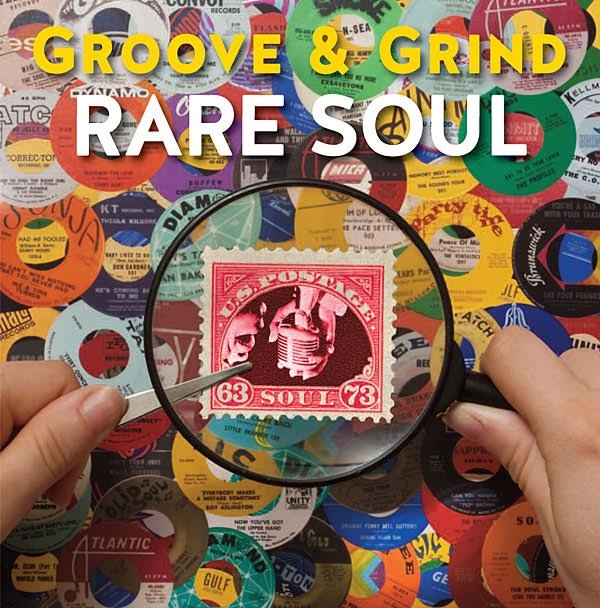 In the world of record collecting, those who are obsessed by 45's, 7" singles, are a special breed. It's a strain of record collecting that I've fortunately not contracted. I have a couple pals though who are deep into singles. After the endless arguments about sound quality, how 45s sound better than LPs—one beer and we're off—going record shopping with them is an all day affair. After digging through every box in the store, they have to listen to each and every single that looks interesting, looking of course for that special groove, that ultimate jam. They live to seek the little black holy grail…with the big hole in the middle. The new
Groove & Grind
box is exactly what they love, though the 112 singles here have all been transferred to the digital realm and are here on CDs.
James Austin formerly of Rhino Records and one of the principals of RockBeat Records, a California-based reissue label, has put together this rather nice package focusing on soul 45's from that music's late 60's/early 70's heyday. According to the very short liner note in the front of the set, the idea here was to concentrate on "songs that haven't been on legitimate compact disc before, to fill in the gaps that have frustrated CD collectors for decades." While that same liner note asserts that there's, "not much in the way of hits here," each track is given a fairly exhaustive note of its own, written by Bill Dahl who deserves a heap of credit for this mass of work. These notes, at least for collectors, are almost equal in value to the tracks themselves.
Organized into four categories/discs, Grind & Groove, Rare Soul, `63-`73 covers Urban Soul, Group Soul, Southern Soul and Funky Soul. Given that master tapes for this stuff were unavailable, clean 45 copies were used to compile this set. Austin told me that a lot of audio restoration went into this project and that singles that were too scratchy were rejected. As you'd expect, the sonics here vary from records like Buddy Grubbs, "I'm Telling You" which is thin, and sounds like it came from the single that was worn to fairly pristine like "My Baby's Gone" by Donald Height.
While there are well-known labels like Okeh, Stax and Peacock and some big name performers like Ike & Tina Turner, Betty LaVette (before she added the second "e" to her name) and Magic Sam represented here, it's the unknown performers on tiny labels—literally hundreds of 45-only labels came and went in those days—that are the reason to pick up this set ($38.99). Some of the long gone labels here are Eskee, Tru-Glo-Tone, St. Lawrence, Satch, Smoke and Salem.
While the Urban Soul and Group Soul discs have their moments it's the final two sets that were the most listenable. The Southern Soul is predictably gritty, punchy, and horn drenched with gems like Winfield Parker's "Mr. Clean (Part 1)." Part of the reason the last two discs are so potent is the influence of James Brown that got into all music, but particularly soul music, after the mid-Sixties. Two tracks on the Southern Soul disc "Don't Make Me Cry" by Matt "Ti" Mattison & Minit Men and Little Genie Brooks, "The James Brown Bougeloo," are attempts to reproduce Brown's signature style. Women singers like Carla Thomas, Ella Washington and Betty Wright, who opens "Mr. Lucky" with simulated gun shots. The Funky Soul disc is full of gems like Jesse Hill's saxophone-led, almost cool jazz soul, "Free and Easy," King Earnest's jumpy, guitar scratchin' "The Soul Stroke (Can You Handle It)" to the one chord get down "Original Funky Bell Bottoms" by Ironing Board Sam. While this won't cure singles addicts of their digging ways, it could be useful for parties. It'll keep them from having to get up every three minutes to flip sides. Oh wait, that's actually an essential part of the ritual isn't it?