Gramophone Dreams #50: Kitsuné HiFi LCR-1 MK5 phono preamplifier, Sumiko Songbird & Starling phono cartridges Page 2
The spherical-tipped Zu/DL-103 sounded less refined than the Koetsu or My Sonic Lab cartridges, but it compensated by making recordings sound bigger and bolder and perhaps even more exciting. It sounded less refined because its spherical stylus profile recovered less nanodata, and because it glared some in the presence region.
This presence-region brightness disappeared almost completely when I reduced the load to 100 ohms. But that wasn't all: Soundspace volume and midrange acuity increased dramatically. At 100 ohms, the Denon could stomp and breathe deeply. At that setting, Evensong at Ascensiontide became smoother, quieter, more spacious, and more focused, with blacker intertransient silences.
As you've probably discovered, the majority of low-priced phono cartridges sound vague and indirect—less exciting than average-to-good digital. But not the almost free DL-103. Through the Kitsuné KTE LCR-1 it sounded clear, direct, and forceful. I can't imagine a more satisfying under-$2000 cartridge–phono stage combo.
LCR comparisons: When the KTE LCR-1 was in my system, I never had an urge to remove it. What it does feels right. I believe the majority of its virtues can be attributed to the electrical authority of its LCR equalization architecture, Kuo-Wei Tsai's 20 years of experience tuning and refining sound, and Kitsuné's use of high-quality parts.
I compared the LCR-1 to my long-term reference tube phono stage, Tavish Design's Adagio with its built-in Jensen JT-347-AXT SUT ($2400), and found that the Kitsuné phono amplifier outdid the Tavish on drive, slam, and sound density but not by a giant amount. Meanwhile, the Tavish Adagio outdid the Kitsuné LCR-1 on suppleness, full-spectrum tonality, and deep-space three-dimensionality, but—again—not by a great amount.
I compared the LCR-1 to the comparably priced ($1500) Musical Surroundings Nova III phono stage and found the LCR-1's tone, solidity, and vigor preferable to the Nova's more laid-back, slightly gray refinement.
In my system, the KTE LCR-1 sounded its most polished and exciting when driven by high-quality SUTs. On its own, with its 63.5dB gain, it did not sound as smooth, refined, or "correct" as the twice-as-expensive ($3000) Parasound Halo JC 3+ phono stage, which offers both single-ended and balanced outputs as well as 13 separate MC-impedance settings, seven of which are between 200 and 550 ohms.
Sonically bettering its MK4 predecessor, the Kitsuné KTE LCR-1 has become my daily-driver solid-state phono equalizer. Highly recommended.
Sumiko Songbird & Starling
A big part of my current notion of what constitutes intelligent design and connoisseur-level sound was inspired by two classic, made-in-Japan audio products: the David Fletcher–designed, Sumiko-branded MDC-800 tonearm (aka "The Arm"), which I purchased around 1984 or '85, and the Yoshiaki Sugano–designed, Sumiko-imported Koetsu Rosewood Signature moving coil cartridge, which I bought to go with The Arm.
Back then, I mounted both Sumiko imports on a SOTA Sapphire turntable (replacing the Fletcher-designed MMT tonearm that came with it). I was still using my Linn Sondek LP12, so, a few months later, I bought a second Koetsu and MDC-800 so that the Linn didn't feel left out. I then replaced the SME 3009 on my well-worn Kenwood KD-500 with the leftover Sumiko MMT.
I guess you could say I was all-in with the Sumiko brand.
These Japanese imports became widely influential because they were the first to show American audiophiles how Japan's emerging audio design "masters" worked. In America, engineers would do their engineering until the new cartridge tested the way they thought it should, then call it done. In contrast, Japanese cartridge builders would construct a cartridge by hand from exotic woods, rare-earth magnets, high-purity copper wire, and expensive cantilever materials then listen, change it, listen, change it, and listen—until they thought it made recordings sound beautiful and natural. Only then would they measure and test to figure out why it sounded that way. This explains why a Shure V15 cartridge sounds different from a Koetsu. Or a Sumiko (footnote 3).
The Starling: The last Sumiko cartridge I owned was an early Blue Point circa 1992. I decided to reintroduce myself (and my readers) to the Sumiko aesthetic by writing to Julia Lescarbeau of the McIntosh Group (footnote 4) and requesting a cartridge or two to review. She suggested two new ones from Sumiko's Reference Series: the $1899 Starling and the $899 Songbird in both high- and low-output versions.
Installing the Starling brought me to a new place in my analog development: For the first time, I could recognize and enjoy the virtues of exposed cartridge cantilevers and not fear tearing them off. Instead of thinking of their unprotected exposure as an accident ready to happen, I saw it as a visual aid for setting overhang and zenith and spotting fuzzballs on the stylus.
The Starling is Sumiko's newest high-compliance (12 × 10–6 cm/dyne), low-output (0.5mV) moving coil. It is specified as having a 28 ohm internal impedance and a recommended loading of >100 ohms. It weighs 9.5gm and has a boron cantilever and a MicroRidge stylus. Recommended VTF is 2.0gm.
I started my Starling auditions with the Kitsuné LCR-1 set to 100 ohms and found it a little tight and short sounding. At 150 ohms, the soundstage expanded, and I could see further into the space of the bass. At 200 ohms, I realized that there is never any such thing as a "perfect" load for a moving coil cartridge.
At 200 ohms, playing the exquisitely recorded Ascensiontide, voice intelligibility became a constant joy. The choir's singing and the minister's speaking focused my attentions in a most delightful manner. The organ sang, too, and expressed its harmonics without excessive swelling or vagueness. Most obviously, the Starling's sound was sweet and smooth. Less obviously, it showed a quiet, grainless, highly spatial character that made it feel luxurious.
"It's only a paper moon hanging over a cardboard sea": If I had to evaluate the Sumiko Starling (or any other cartridge) by listening to only one album, I would choose Gene Norman Presents Mel Tormé At The Crescendo (Bethlehem Records LP BCP-6020). The band is wonderful: It swings, it delights, it is pure, simple, and poetic. This album is Mel showing the world that he is a soulful, word-bending artist's artist and not a jazz-n-cocktails crooner.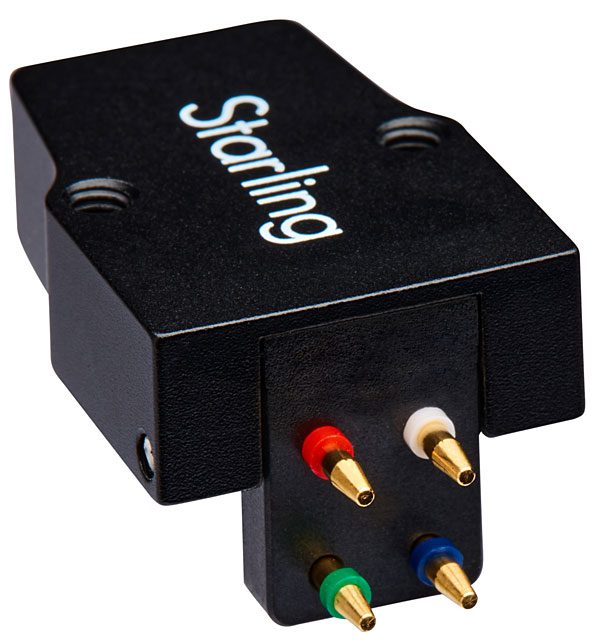 I love Mel Tormé so much that I know the sound of his voice better than my own mother's. Whenever Mel's vocal tone is not perfect, I know something is wrong with my system, and I need to figure out what.
With the Starling loaded at 200 ohms, Mel's band and their melody shifts were lively and succinct. Clarity was excellent, but Mel's voice ("the velvet fog") was not completely fleshed-out, tone-and-texture–wise. I blamed it on the cartridge load. When I changed the LCR-1's load to 150 ohms, Mel's voice sounded more as it should, and Mel Lewis's congas had more body and crack, but now Marty Paich's piano was making short notes. I wondered why.
This led me to try the Tavish Design Adagio tube phono stage ($1990–$2400), with its outboard solid state power supply and its Jensen SUTs, set to 150 ohms. After a day of warming up, I remembered why I love my Tavish Adagio: It made Mel's voice more tonally complete and dramatically lengthened the notes on Paich's piano. Best of all, the Starling-Adagio combo took my mind off audio criticism and put it on Mel and his band.
One of the high points of my Nonesuch Explorer Series LP collection is Ramnad Krishnan: Vidwan (Songs of the Carnatic tradition) (Nonesuch 2-LPs HB-72023). Before playing this record, I was struggling to get a final critical fix on the Sumiko Starling. It was smooth but not too smooth. It was rich of tone but not fuzzy or blurred. But before
I played Vidwan, I could not tell if the Starling was just a good-sounding $1899 cartridge or something much better.
Throughout this stunning Nonesuch recording, my mind focused on precisely defined, accurately placed sounds emerging from a pulsing, introspective darkness. The singing reverb of P. Srinivasan's tanpura floated behind and vibrated sympathetically in call-and-response with Ramnad Krishnan's numinous vocals. What sealed the deal on whether the Starling was merely very good or great was how readily—and satisfyingly—it conveyed the mesmerizing spell of the tapping rhythms of T. Ranganathan's mridangam. The verdict: It is something much better.
My experiences with any phonograph cartridge can only provide you, the reader, with a brief glimpse of its potential for making your listening pleasant. But in my room, through my system, the Sumiko Starling playedmy records with a dark, nanodetailed refinement that elucidated whatever sophistications the recordings and the music had to offer. Which is all I can ask from a tiny magneto on the end of a stick. Highly recommended.
Sumiko Songbird: I had space this month for only one $899 Sumiko cartridge. I chose the high-output Songbird because on paper it reminded me of the famously high-value Sumiko Blue Point I once owned. The Songbird is a little heavier than that cartridge (8.5gm vs 6gm), but its output is the same (2.5mV) and its internal impedance is just 1 ohm higher (135 ohms). At 12 × 10–6 cm/ dyne, its compliance is a little less than that of the old Blue Point (15 × 10–6 cm/dyne). Both cartridges have aluminum cantilevers and elliptical styli.
My general take on phono cartridges is that as the price goes up, the sound gets less blunt and generalized and more nuanced and refined. But sometimes "nuanced and refined" can be flat and boring, and sometimes "blunt and generalized" can be rousing and satisfying. In lower-priced cartridges, I look for accurate tone and some type of natural vitality. Which is exactly what the mildly broken-in Songbird exhibited on Artur Schnabel Plays Schubert Volume 2 (EMI/HMV Treasury 3-LP RLS 1435603). I don't need to hear tiny sounds emerging from a perfect, three-dimensional darkness to enjoy the direct pianistic authority of these Schubert interpretations. Artur Schnabel is the primary reason I have any understanding of Schubert's piano repertoire, and the moderately priced Sumiko Songbird did an excellent job of making this "treasurable" recording sing and inspire me.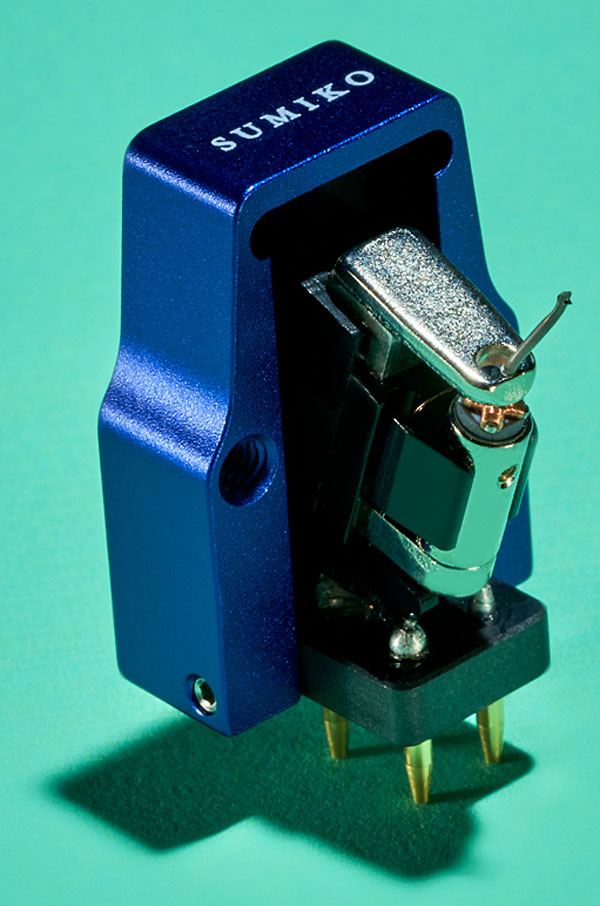 The Songbird did not blur or generalize. It excavated the full spectrum of Schnabel's pellucid tone, and, best of all, rode the tempi of the maestro's fast movements and showed the structures lurking beneath the surface of the slow movements. After a few days of comparisons, I started to forget which Sumiko cartridge I was listening to.
The Songbird, with its sweet tone and subtle textures, is cut from the same sonic cloth as its Reference series sibling, the Starling. Bravo, Sumiko!
---
Footnote 3: Sumiko, 6655 Wedgwood Rd. N Suite 115, Maple Grove, MN 55311. Tel: (510) 843-4500. Web:
sumikophonocartridges.com
Footnote 4: In 2010, Sumiko was acquired by the Fine Sounds group, which then acquired McIntosh in 2012. McIntosh then acquired Fine Sounds in a management buyout, and Fine Sounds was renamed The McIntosh Group. So today, Sumiko is part of the McIntosh Group.—Editor