Gramophone Dreams #34: The Salt Cellar System Page 2
Input signals were generated by mono and stereo LPs traced by a variety of stereo phono cartridges with their coils connected in series (for mono) by an adaptor at the end of the tonearm cable. The phono cartridges fed one channel of a Slagle step-up transformer, leading to one channel of a Slagle/Jackson–designed inductance-resistance (LR) phono preamp: an RIAA stage that uses no signal capacitors or coupling capacitors. That fed one of Slagle's famous autoformer volume controls, which in turn fed Jackson's single-ended, transformer-coupled 50 tube amp, which makes maybe 2 watts. (The globe 50 tube alternated with a WE 205d tube, which makes maybe 1 watt. Jackson's amp used that Elektromekano S6 (from his backpack) as a voltage amplifier, and two three-element mercury-vapor gas-filled Western Electric 394A thyratrons as rectifiers.
The LR phono stage and power amplifier had 80% nickel-core output transformers. The turntable was a hammertone grease-bearing Garrard 301 with two tonearms: one by Frank Schroeder, the other by Thomas Schick.
Slagle's regiment of hand-built cartridges started out as Denon DL-103s, but Dave discards the plastic body, substitutes samarium-cobalt magnets, adds new coils, formers, and a boron cantilever with a suspension and tiebacks of his own design and a microridge stylus. One of the cartridges he brought substitutes an electromagnet (field coil) for the permanent magnet.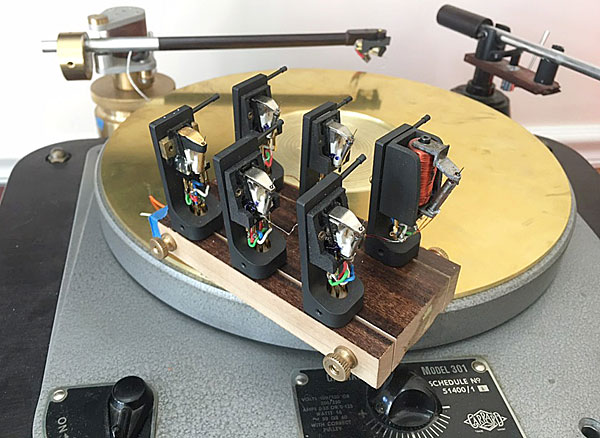 I can assure you, these unique cartridges, plus the Slagle-Jackson capless LR phono stage, plus the Salt Cellar System's extensive use of nickel-cored transformers, contributed heavily to its vibrant, attention-grabbing sound.
How good was the Salt Cellar System really?
I strongly believe that to understand why the Salt Cellar horns sounded so vivid and mesmerizing, and how this single three-way horn presented music in such a tangible, I can see and feel the musicians manner, might be a first step toward a more exciting audio future.
In my view, today's audio technology, both recording and playback, is walking a dead-end path —a path that has failed completely at making the human content of recordings more accessible. I believe the reasons for this failing to be obvious: Bean-counters and advertising hucksters with extremely limited vision are running the show. Their relentless blabber is convincing people to think abstractly and quantitatively about devices whose only designated purpose is to make recordings tangible and engaging to a listener. The last Golden Age of audiophile-quality audio (ca 1975–1985) was spawned by consumers' rejection of the knob-switch-and-feature wars, fancy faceplates, and low-THD specsmanship of 1970s Japanese receivers. These days, I sometimes feel like it's 1975 again.
As in '75, too many of today's audiophiles think audio is a numbers game. They discredit direct experience and deny the concreteness of observation and memory. Instead of listening and trusting their impressions, they block them out with graphs and numbers and sonic checklists, all based on preconceived notions about what is correct or incorrect, never wondering (or caring) why Art Dudley experienced "humans" while listening to those Jackson horns. Or why I experienced the tangible physical presence of Mississippi Fred sitting on the bass horn. Never once considering why they can't measure the cause of these effects.
Why then are so many audiophiles like this?
I suspect it is fear of being wrong, or of not knowing. The anxiety of uncertainty? Whatever it is, all musically engaging audio reproducers are forced to work harder than necessary just to overcome these fears and preconceptions. The Salt Cellar System overcame a lot of those obstacles.
My Norwegian friend and fellow ETF-er Thomas Dunker—deep thinker, historian, engineering scholar, and coauthor (with Bjørn Kolbrek) of the just-released and most recommendable book High-Quality Horn Loudspeaker Systems: History, Theory & Design (footnote 1)—talked to me about Slagle and Jackson's Salt Cellar System in a series of emails. Here is an excerpt.
Dear Herb,
I have been thinking a lot about the EMIA salt cellar system, and maybe it's horribly unfair not to consider also their electronics, the rather minimal number of amplifying devices in the signal path, Dave's cartridges, transformers, etc., but I found it shockingly enjoyable, whatever the reasons. On listening to the 24A horn like we did, you are listening almost completely in the near field, which eliminates the majority of reflected sound.
The other thing I didn't bring up—you beat me to it—and which [audio engineer and acoustician] David Griesinger also points out, is that there is no better way to play back voice recorded with a single microphone than to play it back in mono, on a single speaker. There will always be more phase "mess" with two speakers. Mono also puts you in a different mode of listening: Little or none of your attention (or brainpower) goes to picking up stereo cues. Which thereby allocates more of [what Griesinger refers to as] "working memory" to the music itself, or to recreating the tone of instruments and voices rather than their placement.
Griesinger's main requirements for improved clarity are: a) maintain a high ratio of direct to reflected sound, and b) preserve the phase (time) coherence of harmonics of (voice range) sound.
There's a bit of a story to how Bjørn and I ended up so fascinated by Griesinger's work on "clarity," proximity, attention, sound recall, etc. A lot of inspiration came from the first experience of the EMIA system at last year's ETF and how Jeffrey and Dave had attempted to implement the subtractive crossover in their amp for that system.
Over the years, people such as Joe Roberts, you, Jean Hiraga, and others have talked about certain speakers and systems having a sound quality described as "present," "attention grabbing," "they are here," etc., and it always made me curious and led me to think this is a somewhat elusive quality that nobody has really attempted to explain in terms of distortion, phase, or perception. EMIA's 555/24A combination seemed to have these qualities in spades.
You talked also about speakers that were "easy to listen to." I instantly felt I knew what you meant.
It all seemed to click into place when I read the Griesinger papers/lectures. Thinking about the LF-to-midrange crossover issues and the lower cutoff frequency of horns and then the question of group delay, the considerations in the 1924 Flanders horn theory memos —it all seemed to be about the same thing: preserving phase linearity in the midrange, where it appears most critically important, from an evolution and survival point of view, but also to how we may listen with the least amount of strain and effort!
The EMIA backstory
Back in America, Jeffrey Jackson and Dave Slagle (left and right, respectively, in the photo above) are partners in an engineering enterprise called EMIA, which specializes in designing and constructing complete "alternative" audio systems —very nearly from scratch.
According to Slagle, "The goal of EMIA is to find out why 60-plus-year-old technology sounds so right and find out why most 'improvements' to the original idea, while technically justified, sounds so wrong."
The EMIA partnership is dedicated to exploring the history and science of audio engineering —to discover what really matters, to a real listener in a real room, during the experience of listening.
Experience Music
The EM in EMIA stands for Experience Music, which is the Jeffrey Jackson part. Under that name, Jackson has developed a range of completely handcrafted solid-hardwood horn speakers —with built-from-scratch field coils —and low-power amplifiers using venerable triodes and mercury-vapor rectification.
Jeffrey W. Jackson was born in 1972 at the intersection of highways 61 and 8 in Cleveland, Mississippi. He understands Fred McDowell better than I do. He understands what makes reproduced music real and engaging better than anybody I know—and that is what sets him apart.
I was introduced to Jeffrey just after midnight at a costume party/dance in an abandoned 18th century mansion in upstate New York. I asked the "priestess" in charge where the incredible horn speakers and wall-mounted tube amps came from. "Come with me," she said, taking my hand, leading me to a screened veranda where everyone was smoking and gazing at the full moon. I told Jeffrey I was into weird audio, horns and old tubes, and that I needed to visit him at his shop. Which I did —several times. Now he is my brother.
Intact Audio
The IA in EMIA stands for Intact Audio, which was established in 2005 by Dave Slagle. It was originally an online-forum–centered place of dialogue where Dave interacted with customers for his hand-wound autoformer-based volume controls, tube amp chokes, and output transformers. I met Slagle around 1996, when I brought him a push-pull 2A3 tube amp I had built called the Feral Eye: I needed him to photograph it for Sound Practices magazine.7 Dave was also the most conspicuous participant at every NYnoise DIY event (1999–2002): Even today, people who attended are still talking about his never-finished "Hand Truck Amp," which he wheeled in every year. (Dave's crazy tube amp had no regular chassis. Instead, it was fastened to an industrial-grade enjoythemusic.com/nynoise2001">aluminum hand truck.)
Like Jeffrey, Dave also builds loudspeakers. At the last four Capital Audiofests, he has showed his extensively reimagined double-stacked Quad ESLs, which I covered in my "most recent show report. These built-from-the-ground-up Quads are biamped using two Slagle-designed push-pull 300B tube amps, which are mounted in the loudspeaker's base and connected directly to the Wayne Piquet–restored Quad panels through the driving amplifier's output transformers.
Dave explains: "This is where we think the Quad's original designers, Peter Walker and D.T. Williamson, might have ended up as an ultimate statement product."
Lately, Dave's mind is focused on some radical ideas about phono cartridges —loading, tracking, tracing mechanics, etc. He started as an amp designer and transformer winder and literally wound his way back to the coils on the cantilevers of moving-coil cartridges.
In summary
I've always enjoyed stereo and liked having mono recordings appear centered in the free air between two speakers. Now I feel gullible, like I fell for the advertising lies. But the good news is I can now see the future of extreme audio. It features minimum audio shenanigans, minimum active stages, minimum-phase transducers, minimum error correction—and maximum humans, making music, in front of three horns in a corner.
As Thomas Dunker says, "We're still turning stones."
---
Footnote 1: Kolbrek Elektroakustikk ISBN: 978-1-5272-4542-6. See
here
. I promise to compose a full-length description of Dunker and Kolbrek's book—as soon as I read it more and understand it better.