GoldenEar Technology Triton One.R loudspeaker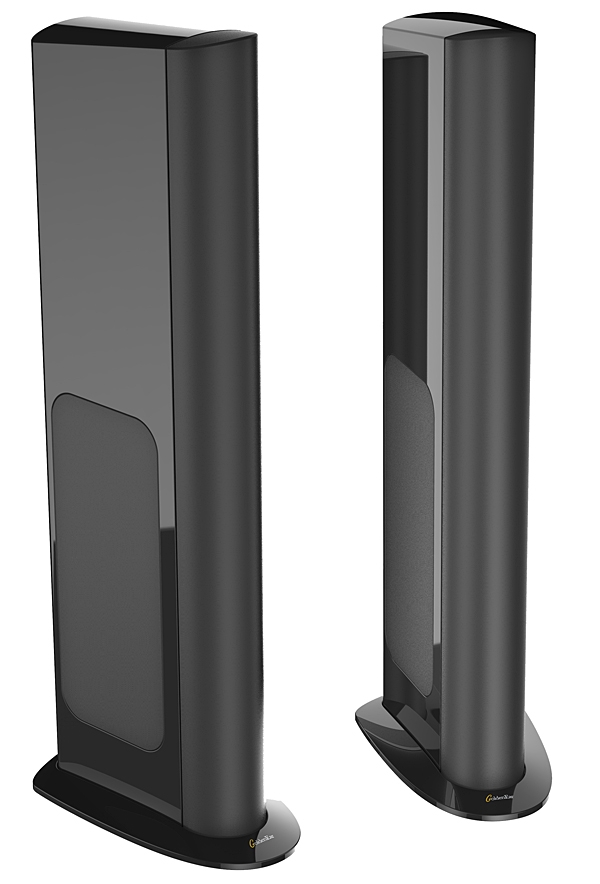 The GoldenEar Triton One.R is the successor to the
original Triton One
(footnote 1), improving on that model in both appearance and function, with features that first appeared in the
Triton Reference
.
Externally, the Triton One.R is a 54" tall by 8" wide by 16.65" deep tower that appears even slimmer than those dimensions suggest. In lieu of the sock-like fabric covering used on GoldenEar's less expensive speakers, the One.R, like the Reference, is finished in a high-gloss black, with large rectangular grille-cloth panels on the lower portions of each side and a curved, full-height front grille whose edges blend smoothly into the side panels. The front grille is not removable, and the cloth covers a very rigid form; that prevents the user from being able to see the drivers within, even when shining a bright light at them—but on the other hand, those drivers seem well-protected from damage via poking fingers.
Without being able to see the inner workings, I have to rely on GoldenEar's documentation as to what's going on under the skin. At the top of the front, there's a small folded-ribbon tweeter descended from Oskar Heil's original design of same. The tweeter crosses over at about 3.5kHz to a pair of 5.25" polypropylene-cone mid/bass drivers placed above and below it in a D'Appolito configuration. The benefit of this arrangement is to minimize any lobing or "Venetian blind" variations in the horizontal dispersion of the combined drivers. The concomitant of this desirable result is that such variations do occur in the vertical dispersion—but since we tend to listen with our head at a fixed height, one need only take care to aim the tweeter at the ear level of the listener. Since the One.R's tweeter is about 40" off the floor, lifting the back end of the base about an inch did the trick.
Physically—not to mention spectrally—below the mid/ bass and treble drivers are three 5" by 9" "sub-bass" drivers, the cones of which are made from a glass fiber–Nomex composite. These are actively driven by an internal 1600W class-D amplifier and loaded with four 7" by 10" flat-diaphragm passive radiators: two on each side of the cabinet, for inertial balance. The nominal crossover between the One.R's active low-frequency section and its 5.25" mid/bass drivers is at 100Hz, but GoldenEar's co-founder, Sandy Gross, told me via email that "the speaker is not a satellite on top of a powered subwoofer. It is, rather, a full-range speaker with a powered bass section that goes deep into the sub-bass. The crossover to the powered bass section is very complex—not just X dB per octave at Y Hertz, but rather something where the slope and phase are constantly changing through the crossover area in order to properly blend and integrate everything."
Eventually, I confirmed the first part of his statement by pulling the plug on the amplifier to silence the "sub-bass" drivers. The resulting sound was not what one would expect from a normal small speaker with two 5.25" drivers, as it was clearly being rolled off to match up with the (now missing) bass section. As for the second part, I can only attest to the success of the design by saying that the integration of drivers was seamless.
In addition to a pair of multiway speaker inputs, the One.R's rear panel includes an IEC power receptacle and a level control for the internal subwoofer amplifier. Also included is a Low Frequency Effects input jack (RCA), for connection to the user's surround-sound processor; the signal fed to that input is combined with the sub-100Hz content from the speaker inputs.
Setup and listening
I had the benefit of having Sandy Gross, a Manhattan neighbor, set up the review samples. Before he arrived, I put the One.Rs where I usually place new arrivals before listening and repositioning. (Each column sits quite stably on a large black base, fitted with a choice of height-adjustable rubber feet or spikes.) Sandy immediately asked if he could move them closer to the listener, and then he moved them progressively closer and closer until he settled on having them less than 10' from the main listening position—more than 2' closer than the starting point. He angled them in so that the listening position was nearly on-axis with both. Tilting them down a bit (vide supra) snapped everything into place. The only remaining variable was the level control for the woofers, which Sandy left at its midpoint.
And then Sandy left.
My immediate impressions endure. The One.Rs throw a wide and stable soundstage and are capable of impressive dynamic range. The frequency range, too, seemed excellent, with particularly well-defined and extended bass. Treble did not lack for sparkle and detail. This is an auspicious beginning, completely consistent with my more casual auditions at shows. The Tritons seemed to be comfortable in the room (or I with them), although it did take a little personal adaptation to adjust to their proximity to me. Attempts to push them back only served to confirm that Sandy got it right.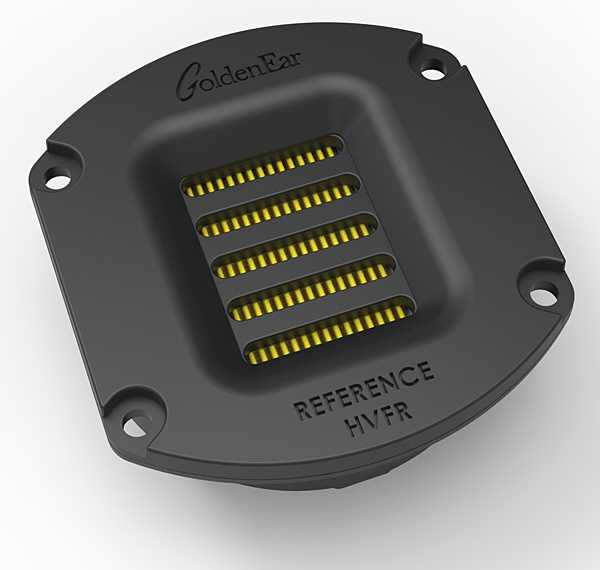 They were also significantly more sensitive than my regular speakers; in response to that, I had to raise the volume levels of my center, surround, and sub channels by 3–4dB to restore balance. (Yeah, I did resort to a mongrel speaker mix for multichannel, on occasion.)
I began my listening with recordings on my "go to" list. The delineation of the voice and piano on Finzi's "Come Away, Come Away, Death," sung by Marianne Beate Kielland (SACD, 2L Records 2L-064-SACD), was excellent: The piano had body and ping. Kielland's voice was clear, and the balance between the voice and piano was ideal. When I moved on to "Tin Tin Deo," from Oscar Peterson Meets Roy Hargrove and Ralph Moore (CD, Telarc CD- 83399), piano and plucked bass had satisfying weight, and Hargrove's trumpet was appropriately bright and cutting. All the instruments were clearly voiced and well-spaced across the stage, between and just slightly beyond the plane of the pair of One.Rs.
The breadth of the One.Rs' soundstage so impressed me that I pulled out an oldie just to take advantage of it. Andreas Vollenweider's White Winds (CD, Columbia MK-39963) was simply spectacular. Sure, it's all synthetic and there's really no there there; the effects were spread so widely around that they approached a nearly hemispheric soundstage. Bass was full, rich, and solid, and the total effect was quite amazing: Everything just popped. A more subtle demonstration was the opening track "Call Me the Breeze" on The Breeze: An Appreciation of JJ Cale (CD, Polydor 3786308). It begins with some claustrophobic mumbling and a damped and dry syncopating beat, but within a few bars, the space expands quickly to encompass the entire band, with Eric Clapton's voice front and center. Other small ensembles, like string and wind chamber groups, also benefitted from the One.R's soundstaging—a performance characteristic that spread images from speaker to speaker but, except for room ambience, not beyond. Overall, a quite realistic depiction.
---
Footnote 1: As of late September 2019, GoldenEar noted on their website that the Triton One was "still a current product."