Gold Sound Premiers Focal Speaker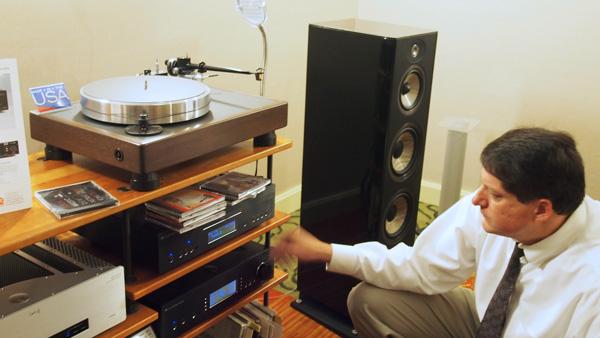 Denver retailer Gold Sound was featuring Focal's new tower speaker, the Aria 948 ($5000/pair), in its room at RMAF, in a system featuring a Cambridge Audio 851E preamp ($1799) and Cambridge 851W 200–350Wpc amplifier ($2499), both also new at the show. Front ends were either a Cambridge 851C CD player or a VPI Classic turntable fitted with the 3D-printed tonearm and an Ortofon Cadenza Bronze MC cartridge and amplified with a Parasound Halo JC3 phono preamp.
The 948 uses a new tweeter with an aluminum/magnesium dome, while the twin 8" woofers and 6.5" midrange unit use cones made from a sandwich of flax fibers within glass-fiber skins to give an optimal combination of stiffness and self-damping. Sensitivity is specified as a high 92.5dB/W/m and minimum impedance as 2.5 ohms. The sound of Madeleine Peyroux's smoky, Billie- Holiday-tinged voice form CD was remarkably natural-sounding in a room that appeared to have very little acoustic treatment.