Esoteric Grandioso C1X line preamplifier Page 2
I checked in with Haas by email before I set up the C1X. "With regard to stacking, while the units do come with felt pads to place on the bottom of the feet, I think I would still prefer they sit side by side," he wrote. "Great care has been taken in the design stage to isolate the power transformers so as to eliminate as much resonance introduced by their inherent vibration as possible, but if we stay true to that by not stacking them, all the better." Thankfully, the Grandioso C1X's power umbilical cords were long enough to enable placement on the only two available shelves of the eight on my four-tier double
Grand Prix Monza
rack. I placed the 64lb power supply on the second shelf from the bottom on the left and the 44lb preamp across the way, on the top right shelf. The flexibility afforded by Esoteric's long umbilical cords earns five gold stars from me.
"The Japan team recommends allowing the unit to warm up for a few hours each day before getting into any critical listening." I made life simple by leaving the power supply on 24/7. Two Nordost Odin 2 power cables connected the power supply to Nordost's 20A QB8 power distributor, which in turn plugged into an AudioQuest Niagara 5000 power conditioner powered via a 20A AudioQuest Dragon power cable. Haas uses the same conditioner in many of his demos. Because my sonic comparisons were conducted with my reference two-piece D'Agostino Momentum HD preamplifier ($40,000), which only accepts balanced connections, I was delighted to discover, in an email from Haas, that "XLR connectivity is preferred."
The Grandioso C1X's patented footers produce a somewhat different sound than the Wilson Pedestal supports that I usually place under the D'Agostino Momentum HD preamp. After Haas gave the okay to experiment—I love conducting back-and-forth comparisons and listening for subtle differences—I preferred the Pedestals under the C1X's power supply and relied on its own feet under the main unit. When I compared the C1X's sound with the Momentum HD's, I listened with and without the Pedestals, and found my impressions consistent.
While the factory-default gain setting produced sufficient volume for everything except blowing down the walls of the music room, the need to turn volume up quite high on some classical orchestral selections left me concerned that I might be moving the volume control past its sweet spot. While I did raise the gain in some settings, in that subsequent conversation I mentioned, Machida-san said this was unnecessary because the volume control has no sweet spot.
On with the show
Even if Esoteric's attention to detail had not convinced me that the Grandioso C1X was a class act, its sound would have, and did. For its first workout—it arrived fully broken in—I threw the deepest and most brilliant part of the kitchen sink at it: Eiji Oue and the Minneapolis Symphony Orchestra's spectacular rendition of Aaron Copland's Fanfare for the Common Man (16/44.1 WAV, Reference Recordings RR-93). Even at Red Book resolution, digital files for this recording delivered huge, distortion-free bass drum wallops and brilliant brass. Through the dCS Rossini DAC+Clock/Grandioso C1X/D'Agostino Progression Mono monoblock chain, bass was gut-shaking and pitch-perfect, the bite on brass thoroughly convincing.
Excellence continued with music for the common man's supposed nemesis: Rickie Lee Jones's eerie, slyly subversive rendition of the Stones' "Sympathy for the Devil" (Tidal, 16/44.1 FLAC), from her album The Devil You Know. Of late, I've tended to only listen to the first half of this track during equipment reviews, but, through the C1X, I just couldn't stop in the middle. Every subtle croak, every sly vocal inflection tickled my fancy in ways the word "engrossing" fails to capture. It takes a superb preamp to communicate the infinite importance of slight gestures.
As my listening continued, more indicators of excellence came to the fore. On Yo-Yo Ma, Edgar Meyer, and Chris Thile's recording of Bach Trios (24/96 WAV, Nonesuch 558933), it was the warmth and fullness of Ma's cello, and the delightful blend of the unique colors and textures of cello, double bass, and mandolin. I felt the same way about the life, color, and beauty that the Esoteric Grandioso C1X drew from violinist Isabelle Faust and the Akademie für Alte Musik, Berlin's reconstruction of J.S. Bach's Concerto for 2 Violins, Strings, and Continuo in D minor, BWV 1052R (Qobuz 24/96 FLAC, HMM902335). I sat in wonder at the natural air and spaciousness that the Grandioso C1X reproduced on the Doug Tourtelot–engineered track Eriks Ešenvalds's "O salutaris hostia" from the Portland State University Choir's sonically superb Translations (24/96 WAV, Naxos 8.574124), our June 2020 Recording of the Month, which includes many tracks engineered by John Atkinson. If you have not heard this album, you do not know how great a choral recording can sound.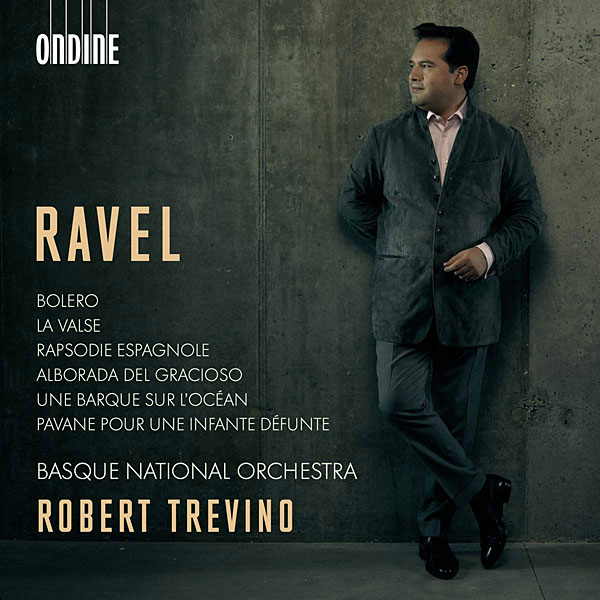 On a new Ondine recording of Ravel: Orchestral Works from Robert Trevino and the Basque National Orchestra (24/96 WAV, ODE 1385), I couldn't get enough of the beautiful colors and firm percussion that distinguish Trevino's version of Bolero. Next came something completely different: Stacy Garrop's far-from-joyous "Rites for the Afterlife," one of five fascinating compositions on Ghost Light (24/96 WAV, FCR292), the Akropolis Reed Quintet's new release from New Focus Recordings. It wasn't the music that grabbed me but rather the surprisingly warm blend of oboe, clarinet, saxophone, bass clarinet, and bassoon. (Note to self: Michael Gilbertson's "Kinds of Light" was kind of fun. You need to find out what Niloufar Nourbakhsh's "Firing Squad" and the recording's other two pieces are all about. Preferably not right before you go to bed, however.)
The Grandioso C1X delivered another revelation via a recording that changed my life many years ago. On the Deluxe Anniversary Edition 2017 remix of Sgt. Pepper's Lonely Hearts Club Band (Tidal 24/96 MQA) from some obscure British band of yore, I'd never ever heard how realistic and detailed the crowd voices can sound at the beginning of the title track. I sure don't recall those sounds from our first stoned and tripped-out listens in Chicago during the simultaneously glorious and frightening summer of 1967. This was no mere blast from a past; it was an entirely new, mind-blowing experience. Thank you, Esoteric.
Sponsored by Cecilia Bartoli, whose Cecilia Bartoli Music Foundation has created the "Decca – mentored by Bartoli" label, Rhapsody (24/96 WAV, Decca 485 0862), the recital debut of mezzo-soprano Varduhi Abrahamyan recently came my way. Abrahamyan has a huge range and impressive coloratura technique. Her recording of Brahms's Alto Rhapsody, however, casts a harsh light on her limitation: an unrelenting hardness that seems incapable of softening when more heartfelt sounds are called for. The Grandioso C1X fully exposed the mezzo's weakness and showed it in sharp contrast to the warmth and soul-touching qualities that make renditions by the very differently voiced Christa Ludwig, Nathalie Stutzmann, and Kathleen Ferrier so special.
Yello's "Electrified II" on Toy (24/48 FLAC) remains one of my benchmarks for pounding bass, zinging highs, and immersive sound. The C1X delivered bass every bit as mouthwatering and thrilling as I've come to expect from my system.
Turning from the intentionally droll to the sublime, I spent a long time with "Millefleur" (2018), one of Žibuoklė Martinaitytė's four mesmerizing compositions on Saudade (24/96, ODE1386), our April 2021 Recording of the Month. Millefleur's title refers to the thousands of flowers and plants in the backgrounds of European tapestries from Medieval and Renaissance times, and specifically to the millefleur on the famed Unicorn Tapestries at the Metropolitan Museum's Cloisters in New York. The New York–based Lithuanian composer has described the work as "acoustic hedonism, a search for acoustic pleasures, as though walking through a beautiful sonic garden and taking delight in it."
Each time I listen to Millefleur, I discover new detail—more curiously juxtaposed, intentionally discordant elements that stand out from an airy and harmonious orchestral fabric of slowly changing, sonically dazzling twinkles and rays of light. Percussion seems understated as if to draw extra attention to itself. The brief emergence of a bass drum and woodblock tremolo midway into the 13-minute work, and the strange, brief, militaristic incursion reminiscent of wars waged in the background as medieval royalty reveled in their palaces, become events of extraordinary import. Sitting in the dark listening to this piece with the Grandioso C1X was a magical experience.
Comparison
Readers prepared to shell out $40,000-plus for a component may not often comment when their reviews in Stereophile go online, but that doesn't mean that they're not paying attention. I spent a long, long time going back and forth between the D'Agostino Momentum HD ($40,000) and Esoteric Grandioso C1X preamps, exploring their differences.
These products exemplify different visual aesthetics. The D'Agostino proclaims its pedigree like a vintage Rolex, while the Esoteric is more like Greta Garbo, concealing herself offstage as her name is bathed in blue on Sunset Blvd.
Sonically, the subtle distinctions that distinguish these equally excellent preamps are well described by yin/yang. Note, however, that my acquaintance with Chinese medicine and philosophy leads me to invoke these categories in ways that differ from Harry Pearson, the man who first invoked them in audiophile contexts. Plus, it's also a bit dicey to invoke yin/yang, female/male polarities in an era when many eschew rigid gender roles. Nonetheless, with yin and yang we shall proceed.
Paradoxically, given its more understated appearance, the Esoteric makes the more forthright, more "yang" sonic statement. It knows what it wants to say and does not equivocate. An oboe sounds like this, a bass drum pounds like that. There's nothing to second guess; it is as clear and transparent and truthful as can be. As Tosca stabs Scarpia, you can be sure she's not thinking about the balance in her bank account or how well she sang the "Te Deum" last night. The D'Agostino is no more equivocal; its reach is as high, its bass as impactful. But there's a bit more pastel among the primary colors, more yin amidst the yang. In this respect, the D'Agostino reminds me a bit of the best Pass and Gryphon amplification I've heard.
When all is said and done
The Esoteric Grandioso C1X line stage preamplifier could very well be the keeper, the component that delivers a lifetime of joy and pleasure. It is one of those rare products whose excellence is proclaimed with every note. It is more than an object of beauty; it reaches into the emotional core of musical experience and opens a window onto ultimate truth.
The C1X speaks in ways that only the finest components can. If you're in a position to heed its call, by all means do