darTZeel NHB-468 monoblock power amplifier Measurements
Sidebar 3: Measurements
Because of the darTZeel NHB-468's bulk and weight, and also because the amplifiers needed to be picked up for photography as soon as Michael Fremer had finished his auditioning, I drove my Audio Precision SYS2722 system—see the January 2008 "As We See It"—its host computer, my digital and analog oscilloscopes, cables, and all the rest of my test gear to his New Jersey home to perform the measurements.
Prior to trekking to Mikey's, I had received several emails from designer Hervé Delétraz about the new circuit topology he had incorporated in ?the NHB-468, which he calls CP2C (Constant Power to Current). Hervé explained to me that CP2C, which is patent pending, "is mimicking a current source with the output impedance of a voltage source," which if you think about it involves mutually contradictory concepts. A current-source amplifier has a very high output impedance, meaning that the frequency response with a typical loudspeaker will feature huge fluctuations. By contrast, a voltage-source amplifier will have an output impedance close to 0 ohms.
Putting on my thinking cap, I came up with two possibilities for how a current-source amplifier with the low output impedance of a voltage-source amplifier could be achieved. First, if the amplifier's voltage gain were varied by a microcontroller according to the current demanded by a loudspeaker at a particular frequency, the result would be a flat frequency response. However, I understand that modulating an amplifier's transfer function with the input signal would have severe side effects, so this idea is likely a nonstarter.
Second, what if the darTZeel amplifier were a mirror image of the Quad/ Devialet feed-forward topology? The Quad and Devialet amplifiers use a high-quality, high–output-voltage amplifier that runs in class-A but cannot deliver much current, with an auxiliary amplifier that dumps the necessary current into the load. What I was thinking of was a combination of a high-quality current-source amplifier with an auxiliary voltage-source amplifier. However, in one of his emails, Hervé wrote that CP2C is "achieved by a very simple way of doing . . . This technology is fully analog and entirely full real time by design, it is part of the audio circuit itself." This idea is also unlikely, however, so I will see what the measurements uncover.
Although MF exclusively used the 50 ohm Zeel input for his auditioning, I performed the measurements using the balanced (XLR) and single-ended (RCA) inputs. I didn't have time to precondition the darTZeel amplifier for a full hour at one-third power, but after driving one of the NHB-468's XLR input for 15 minutes or so, the heatsink on the amplifier's rear panel was warm, at 95°F (35°C). The darTZeel's voltage gain into 8 ohms is specified as 26dB or 32dB depending on whether the gain is set to "26" or "32" with the front-panel menu buttons and display. Using the XLR input, I measured 20.67dB and 26.1dB into 8 ohms; unusually, the gains with the single-ended input were 6dB higher and conformed to the Menu settings. The power indicated by the NHB-468's front-panel meter was close to what I measured and correctly doubled when the load impedance was halved.
The amplifier preserved absolute polarity (ie, was noninverting) for both XLR and RCA inputs. The balanced input impedance is specified as 20k ohms, which was confirmed by my measurements. I measured 10k ohms for the unbalanced input impedance rather than the specified 30k ohms, but the difference is inconsequential. The output impedance is specified as 0.28 ohms. I measured 0.3 ohms at low and middle frequencies, rising very slightly to 0.31 ohms at the top of the audioband. This is relatively high for a voltage-source amplifier but very low for a current-source amplifier.
And then I ran into trouble. After measuring the RCA input's gain and impedance, I switched back to the XLR input. However, the amplifier's front-panel meter showed a high level of noise, the gain was at least 6dB higher than before, and the amplifier clipped just below 2W into 8 ohms. Something had gone wrong. I switched off this sample—serial number TZ-UE1468.010R—and performed a full set of measurements on the other sample, S/N '010L, using just the XLR input.
This sample's voltage gains, input impedances, and output impedances were all identical to those of the first sample. The audioband response into impedances of 4 ohms and above (fig.1, magenta, blue, and gray traces) is flat up to 20kHz, and the output into 2 ohms (red trace) was down by just 0.25dB at 20kHz. The ultrasonic rolloff varied with the load impedance. At 200kHz, the limit of the horizontal scale in fig.1, the NHB-468's output was down by 0.5dB into 16 ohms, by 1dB into 8 ohms, by 2dB into 4 ohms, and by 4dB into 2 ohms. This amplifier has a wide small-signal bandwidth, and its reproduction of a 10kHz squarewave (fig.2) featured very short risetimes and no overshoot or ringing.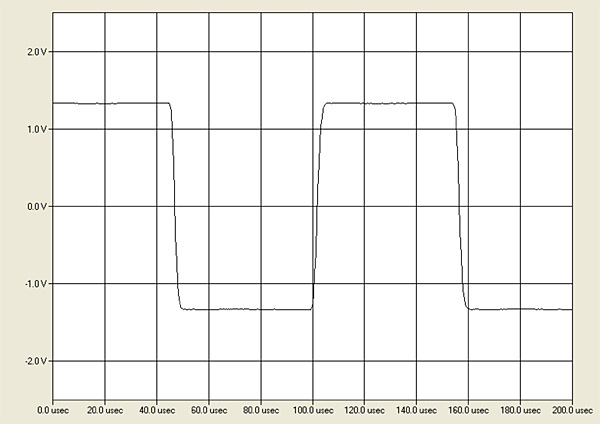 The wideband, unweighted S/N ratio, ref. 2.83V and measured with the balanced gain set to "32" and the XLR input shorted to ground, was 72.3dB, which improved to 84.7dB when the measurement bandwidth was restricted to the audioband, and to 87.2dB when A-weighted. Spectral analysis of the darTZeel's noise floor (fig.3) revealed that while the random noise was somewhat higher than I usually find, the spuriae related to the power-line frequency were all very low in level. Note, by the way, that this spectrum was taken with a 1kHz tone at 1W into 8 ohms. Referred to the NHB-468's maximum output into 8 ohms (see later), the levels of random noise components will be reduced by 26dB.
The manual specifies the darTZeel's maximum power as 475W into 8 ohms (26.8dBW), 625W into 4 ohms (25.0dBW), and 222W into 2 ohms (17.45dBW), with the latter noted as "design limited." However, Hervé noted in another email that he needed "to finalize and adjust some things in the user manual and in the technical specs, especially the power output which is a bit lower than we currently indicate on our website . . . due to the final tune-in we did before launching the production, after having already measured the beasts. I didn't want to readjust output power after our final fine tune-in (read, critical and extensive listening test sessions) since the sound would have been altered."
With that caution in mind and with "clipping" defined as when the THD+noise reaches 1%, I found that the NHB-468 clipped at 216W into 16 ohms (26.2dBW, fig.4), 398W into 8 ohms (26.0dBW, fig.5), 205W into 4 ohms (201.1dBW, fig.6), and 101W into 2 ohms (140dBW, fig.7). In each case, the amplifier's protection circuitry operated soon after the THD+N reached 1%. This amplifier offers high powers into higher impedances, but regarding the reduction in ultimate power into lower impedances, Hervé had explained in one of his emails that the 468's circuit is optimized for loads of 6 ohms, with the distribution of power "as if we would always work into the SOA (Safe Operation Area), not only for the output devices, but for the entire amplifier circuit design."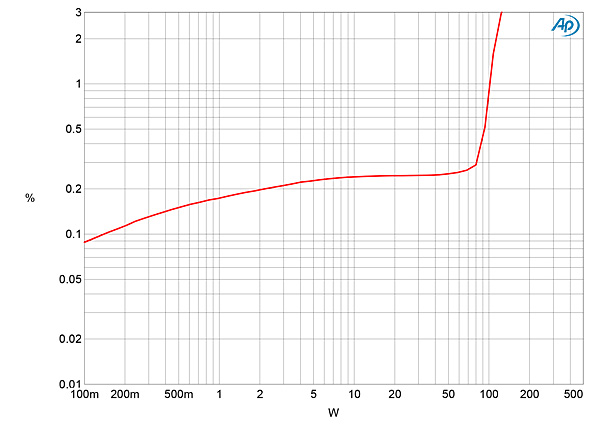 "This is also one of the reasons John will measure output powers not at all doubling when load will be halved," he wrote, "and even output power decreasing under 3 ohms."
Hervé had also predicted that, as the NHB-468 has no global negative feedback, there would be "plenty of THD for John." This can be seen at high powers into 4 ohms (fig.6) and 2 ohms (fig.7), as well as in fig.8, which shows how the darTZeel amplifier's THD+N percentage varied at 8.975V with frequency into 16, 8, 4, and 2 ohms. (This voltage is equivalent to 40W into 2 ohms, and while the NHB-468 had no problem delivering higher powers into higher impedances, I ran this test at 8.975V to make sure I was not operating the amplifier too close to clipping into 2 ohms.) More significantly, even without global negative feedback, the traces in fig.8 reveal that the NHB-468's distortion doesn't increase with frequency, which you often see with solid-state amplifiers that don't have a lot of feedback.
The waveform of the residual distortion and noise with a 1kHz signal (fig.9) suggests that the subjectively benign second harmonic is dominant, which was confirmed by spectral analysis (fig.10), though higher-order harmonics are present at lower levels. High-order intermodulation products with an equal mix of 19kHz and 20kHz tones at a peak level of 50W into 8 ohms were relatively low in level (fig.11), though the second-order difference product lay at –70dB (0.03%).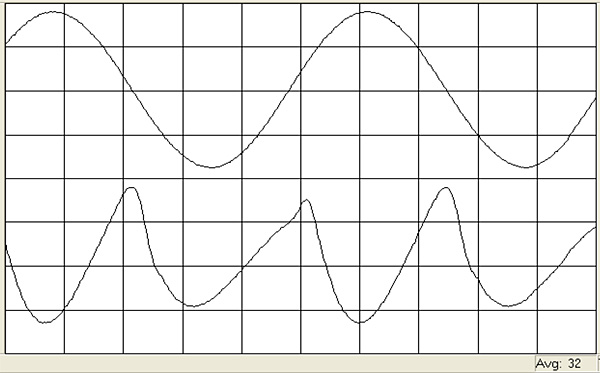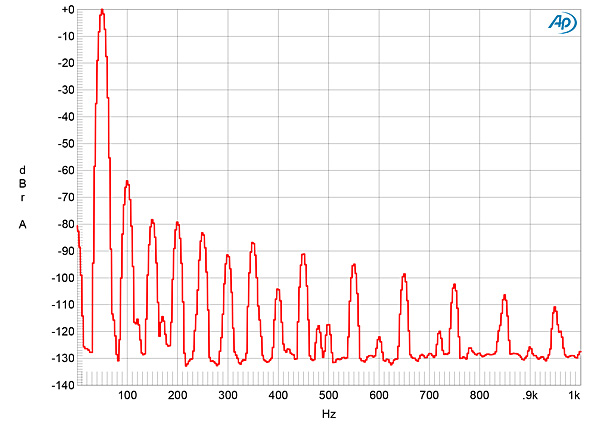 The darTZeel NHB-468's measured performance reveals it to be an intriguing design, though I couldn't find anything that would be due to the CP2C circuit. And while I was measuring the second sample, Michael Fremer found that selecting the first sample's meter options with the Menu seemed to force the amplifier to reset itself, after which gain, noise, and distortion returned to normal. Therefore, it looks as if when I selected the RCA input with the Menu then went back to the XLR input, the gain was not reset correctly, leading to the problems I found. As I found this occurred with both samples, I suspect that this must therefore be a firmware problem and could be addressed with a firmware update.—John Atkinson